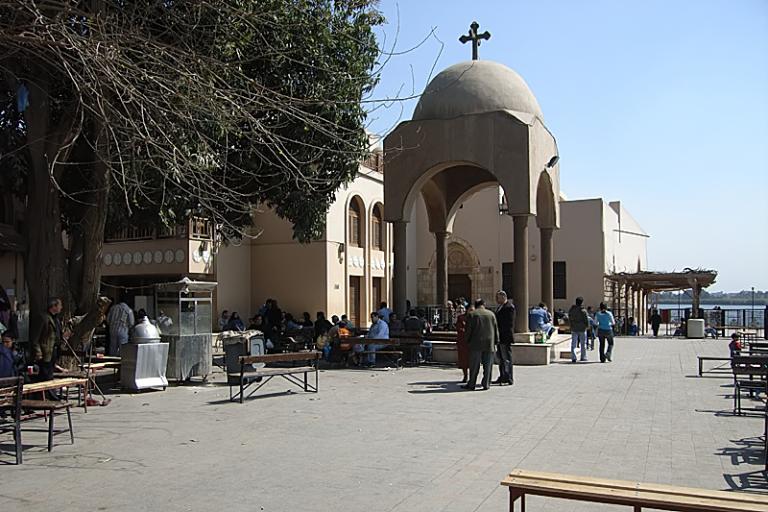 Within weeks of our marriage in the Salt Lake Temple, my wife and I moved to Cairo, Egypt, where I wanted to shift gears quite dramatically from classical Greek and philosophy (the major fields of my undergraduate coursework) to classical Arabic and Islamic studies. In retrospect, it was clearly a rather crazy move in multiple senses of the word crazy. But, against all reasonable expectations, we survived.
One of the reasons for doing so was the presence, in Cairo — or, to be more precise, in the Cairo suburb of Ma'adi, a short distance to the south of the city proper — of a rather small but quite active branch of the Church of Jesus Christ of Latter-day Saints. The president of the branch at the time we arrived was Arnie Green, a professor of modern Near Eastern history at the American University in Cairo. In those earliest days, our branch meetings were held in the Green family's "villa" — at first, as conventional, on Sundays, and then, later, on Fridays.
The branch became our lifeline in a huge, densely populated, sometimes rather difficult, and very foreign city. I believe that I've mentioned here the comment that another American professor at the University once made to me, that he would like more Latter-day Saint students in the program he administered. Why? Because, he said, they tended to handle the stresses of life in Cairo and Egypt rather well, whereas many of his other students crashed and burned. He thought that the immediate support-group afforded by our membership in the Church made the difference, and I'm inclined to agree. We had friends virtually within minutes of landing at the airport. (In fact, we were met at the Cairo Airport — a much more chaotic and intimidating place in the late 1970s than it is now — by my friend and former teacher S. Kent Brown, to whom I owe a future panegyric, and taken in by his family until we could more or less get on our own feet.)
Arnie Green, his remarkable wife Lani, and their family were a substantial part of what made the Cairo Branch so very supportive. Arnie died very nearly a year ago after wrestling for several months with the effects of a catastrophic stroke. I paid inadequate tribute to him then:
But I would like to say just a bit more about him and his family today, on Father's Day.
My wife and I were, as I say, newly married when we landed in Cairo. (She has said many times since then that the principal reason she married me was because she knew that I would take her to Egypt.) Obviously, we had no children as yet. But I was thinking then about what it meant to be a husband and potentially a father, to be, in the Church's terms, a patriarch in an eternal family unit. Although my own family was very close and although my parents were wonderful and I loved them dearly, I had not come from a Gospel-centered home. My (half-)brother was a decade older than I was, which meant that I had grown up something like an only child. He had found his own way to full Church activity (eventually serving as a high councilor for many years and as a bishop). My father had joined the Church only six years before, after I had moved away for college and the very week I left on my mission to Switzerland. And that was about the time that my mother began to be fully active in the Church.
So I had no real model for how a fully-committed Latter-day Saint family might look. But Arnie and Lani furnished a good one. They were close, fun-loving, free and easy, often hilarious, generous to others, wonderful storytellers, unconventional, free-spirited, welcoming, open, bright. And very genuine.
I'm sure that it would have made them feel really awkward if they had known how I was watching them and how much I admired them. But so it was.
And there's a lesson in this: We're all being watched. We're modeling our real values for others all the time. Some, of course, will judge us unfairly and unjustly. There's little help for that. But, if we're really serious about what we believe, we should try as hard as we can to make sure not only that the fair and just judgments that some will inevitably reach concerning us will be favorable but that they will serve and do credit to our beliefs.