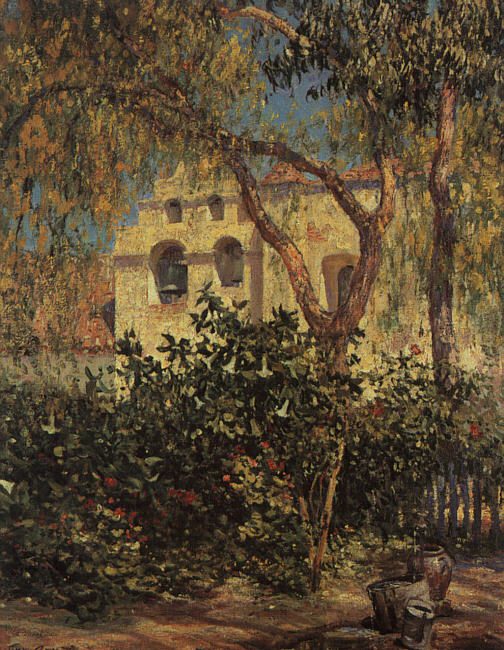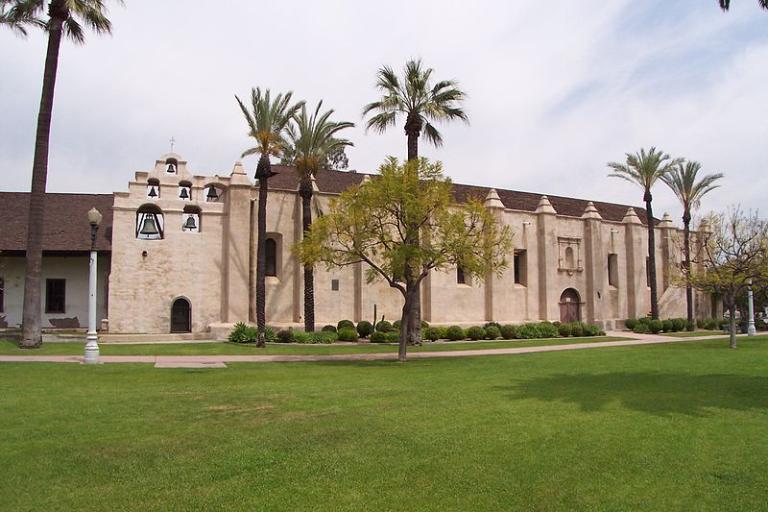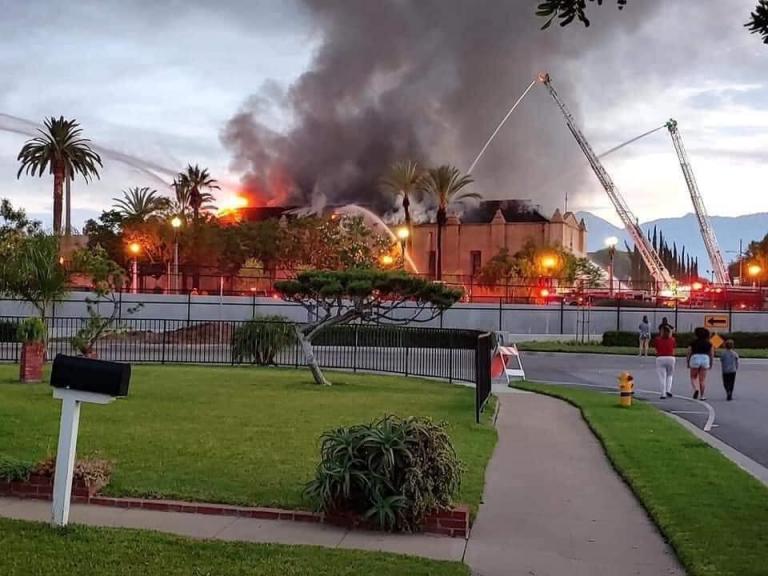 Chris Miasnik kindly called my attention to a horribly painful story that apparently began during the early hours of Saturday morning in San Gabriel, California, the town in which I grew up:
USA Today: "Fire destroys much of 249-year-old church in California"
San Gabriel Valley Tribune: "4-alarm fire destroys most of Mission San Gabriel"
New York Times: "Fire Badly Damages San Gabriel Mission in California: The fire broke out one day after $200,000 in renovations had been completed at the church, which is more than 200 years old."
NBC: "'It's Heartbreaking': Historic 249-Year-Old San Gabriel Mission Damaged in Fire: Extensive damage was reported to the roof and inside the building, a significant part of Southern California's history"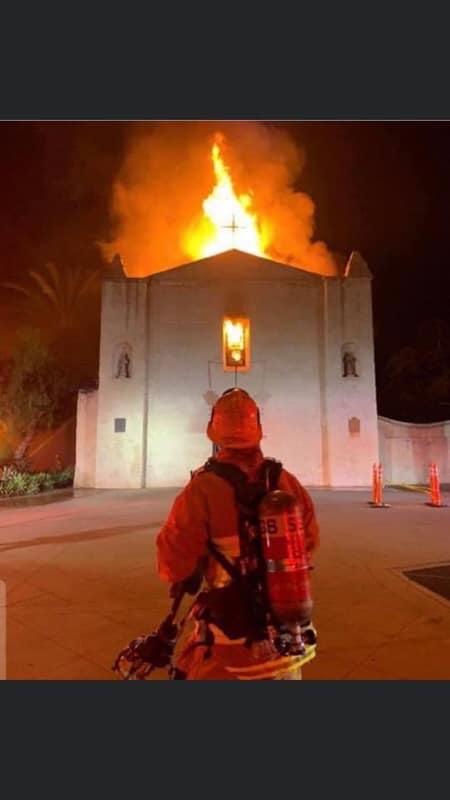 My home was not far from the San Gabriel Mission — more properly, the Mission San Gabriel Arcángel or, even better, the Misión de San Gabriel Arcángel. I saw it nearly every day of my life for my first seventeen years. It was essentially across the street from my high school, but we drove by it constantly from the earliest time I can remember. When I lived there (and perhaps still), the somewhat corny motto of my home town was "The City with a Mission," and the chapel's bell tower was featured on the city seal, on city stationery and city vehicles.
I think that I may have written here once about seeing the iconic bell tower of the Mission collapse during the 1974 ensemble disaster film Earthquake. I remember thinking how gloriously happy many of us would have been when we were in high school at seeing that. Not because any of us had any particular hostility toward the Mission — quite the contrary, since, with its associated buildings, it was our town's one real mark of historical distinction — but because, if the massive seismic catastrophe depicted in the film destroyed the Mission it would presumably also close our school and lead to dismissal from classes.
Now, seeing the destruction that has actually been visited upon a beloved landmark (and upon, for many, a sacred place), I'm not happy in the slightest. I'm deeply saddened.
As I write, nobody yet knows the cause of the fire. The building was undergoing renovations to prepare for its 250th birthday, so I suppose that the fire could be related to that work. (Happily, some of the historical artifacts associated with the Mission had been removed from the chapel while renovations were underway, so they're safe.)
But there is also the possibility, especially in our current time of ethnic tension, that somebody torched La Misión de San Gabriel Arcángel. Father Junípero Serra, who superintended the founding of the mission in San Gabriel along with many others and who was canonized by Pope Francis on 23 September 2015, has become quite controversial in recent years because of his treatment of indigenous Americans, and more than a few statues and images of him have been vandalized. Consider, for example, this item from the Los Angeles Catholic newspaper Angelus, dated 9 November 2017:
"Person attempts to decapitate statue of St. Junípero Serra at Mission San Gabriel"
And, in much more recent news:
On 19 June 2020, a thirty-foot image of Father Serra was toppled in San Francisco's Golden Gate Park. Red paint was poured on it and political slogans were spray-painted on the pedestal where it had once stood.
On the next day, 20 June 2020, a crowd ripped down a statue of Father Serra in a park, named after him, near Olvera Street in downtown Los Angeles.
On 4 July 2020, a mob of roughly 200 tore down the statue of Father Serra that had been located near the California State Capitol in Sacramento.
I understand. I've long been at least somewhat aware of Junípero Serra's maltreatment of the California Indians of his day. I was, frankly, surprised when Pope Francis — of all people! — declared him a saint. But if the fire at the San Gabriel Mission turns out to have been caused by arson, I hope that the authorities will punish the perpetrator or perpetrators of the outrage with the maximum severity permitted by the law.