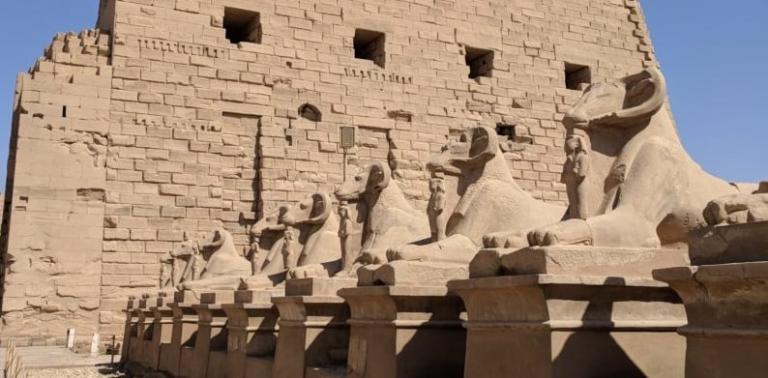 I'm being attacked.
That's not news, of course. I'm attacked every single day on one message board, and very likely on others. What varies from day to day and hour to hour is the angle of attack. One of my recent crimes — in which I'm joined by some of my friends — is that a company called Cruise Lady: Latter-day Adventures has had me accompany a couple of its tours annually for the past decade or so. And others of my friends have been implicated in this same sordid activity.
So my friends and I are being accused of greed, priestcraft, exploiting the faith of gullible Latter-day Saints, and so forth.
In the immortal lyrics of the song "EI Preso Numero Nueve," Padre no me arrepiento. Ni me da miedo la eternidad. (I've loved the rendition by Joan Baez since I was a young teenager.)
When I accompany tour groups to Israel, Egypt, Jordan, and elsewhere, I give them academically solid historical background and commentary. I'm not ashamed of that. I don't just give them sacrament meeting talks or Sunday School lessons, though, where appropriate, the history and commentary will be more or less influenced by the specifically Christian and Latter-day Saint beliefs that I share with the large majority of those who join these tours and will, to the extent that I'm capable, have a spiritual dimension. (I think that true history and accurate scriptural understanding can be very inspiring.)
I'm scarcely getting rich from doing this. My airfare, food, and lodging are paid for, as are those of my wife. Beyond that, we receive no compensation. Well, says one harsh critic, that's still substantial compensation. And it is, in a sense. But not really. My wife and I always incur significant expenses on these trips, including substantial tipping of local people and things of that sort.
When I pay my own way to such places, I sense no obligation to lead a tour group, to follow its itinerary, and so forth. It seems unreasonable to me that I should be expected to lead tour groups to the Middle East and Europe at my own expense. I enjoy leading such groups. I genuinely do. But I also enjoy traveling on my own, with my wife. I'm willing to pay for that, but my resources for paying to lead others are distinctly limited. Anyway, crass as this may sound, the background that I've developed over the decades for travel in these places was hard won, and I don't think it exorbitant to ask that I not be obliged to go into debt for the privilege of sharing my knowledge with others who evidently want me to do so.
Is what I do worthwhile for other people? Well, the company that has asked me to do this — and some other companies have asked, as well, but by far most of my "tour guiding" has been done for Cruise Lady — judges it to be of value, or they wouldn't do it. And those who come on these tours must be wagering that it will be worthwhile, or they wouldn't sign up. Nobody forces them to do so.
What do I get out of it? Well, my wife and I love to travel. And although traveling on our own, at our own pace, on our own itinerary, would be considerably easier, the millions that I earn as a corrupt, vicious, and lying apologist aren't quite sufficient to get me to Europe and the Middle East, etc., as often as I would like to go. Nor will my university pay me to simply go wandering about the globe. But doing so recharges my Middle Eastern and European batteries and keeps me current on culture and civilization abroad. Seeing the Sagrada Familia and the Temple of Karnak and the springs at Caesarea Philippi and the carved buildings at Petra and the trees of the Sacred Grove never fails to inspire. So these trips are valuable to me.
But we scarcely invented the idea of lectures at sea or the notion of accompanied tours with a more academic, historical, or intellectual bent. Years ago, I met some friends from San Diego who had just returned from a couple of weeks on the legendary Mediterranean island of Crete. When I asked them how they had liked the magnificent Cretan site of Knossos, they responded with blank looks. They had never heard of it. They had spent their entire time on that ancient and archaeologically rich island sunning themselves on a beach — a beach no better than many in southern California, whence they came. There are at least some strange people, though, who, when they visit Egypt, want to learn something about the builders of the pyramids. When sailing on the Nile, they're curious about the Temple of Edfu and the Mausoleum of the Agha Khan. They want to see the Madrasa of Sultan Hasan and the directly adjacent Mosque of al-Rifa'i, where the late Shah of Iran is buried. And I can give them historical background on both and relate my own experiences with the Shah and his family. When they climb up to the Athenian acropolis, they want to hear something about classical Greece and even, depending on who they are, about Paul's sermon on Mars Hill.
There are many such accompanied tours and lecture cruises and, for all my personal depravity and my boundless lust for mounds of gold bullion, I neither invented the idea nor hold a monopoly on it.
COVID-19 has, of course, virtually destroyed international travel and the tour industry, so I picked up a randomly-chosen issue of the Biblical Archaeology Review — May/June 2017 — and skimmed through its ads for tours. The issue was poorly-chosen, in a sense, because, while tours of the Holy Land are obviously very common and are (for obvious reasons) very commonly advertised in the Biblical Archaeology Review, there were no such ads in the May/June 2017 number. And there were fewer tour listings overall than I think typical in most issues of the magazine. Still, these should suffice to make my point:
12-24 August 2017 — Mark Fairchild, of Huntington University, was scheduled to accompany a tour on the theme of "Seven Churches of Revelation, Nicaea, and Istanbul." (That's a specific itinerary for which I myself have led groups. It's one of my favorites, partly because it calls into play my interests in classical, early Christian, and Islamic history.)
23 September 2017 – 6 October 2017 — Mark Wilson, of Stellenbosch University in South Africa, was scheduled to lead a tour called "By Sea and Land: Paul's Journey to Rome," which was to visit Malta, Sicily, and mainland Italy.
7-24 October 2017 — H. Wayne House, of Faith Seminary, was scheduled to host a tour entitled "Greece and Turkey: The Cradle of Christianity."
4-11 March 2018 — Carol Meyers and Eric Meyers of Duke University were scheduled to accompany an "Eastern Caribbean Cruise," lecturing on the Bible and archaeology.
26 May 2018 – 11 June 2018 — Mark Wilson, of Stellenbosch University in South Africa, was scheduled to accompany a cruise under the theme of "Sailing the Aegean with Paul and John"
8-20 June 2018 — Mark Wilson, of Stellenbosch University in South Africa, was scheduled to accompany a tour labeled "Iran: Persia and the Bible."
6-23 October 2018 — Mark Fairchild, of Huntington University, was scheduled to accompany a group under the theme of "Greece and Turkey: The Cradle of Christianity."
Scientific American sponsors tours, as well. So I grabbed a randomly selected past issue of the magazine — that of April 2017 — to see what was being offered in that particular number. I found that, from 2 October through 14 October 2017, Scientific American Travel was running a four-part seminar aboard a cruise ship on the Adriatic Sea. For $1575 each, in 2017 dollars, interested persons would be admitted to four (4) private 90-minute seminars:
"The Nature of the Universe," with John D. Barrow, FRS, of the University of Cambridge (a favorite science author of mine)
"Inventions that Made the Modern World," with Bernie Carlson of the University of Virginia
"The Greco-Roman World," with Robert Garland of Colgate University
"Engineering in the Ancient World," with Stephen Ressler of the United States Military Academy at West Point
That's roughly $400 per lecture. Almost $4.50 per minute. On top of the cost of airfare and other transportation and the cruise itself.
Here are the tours that I'm currently slated to lead for Cruise Lady, the coronavirus permitting:
https://www.cruiselady.com/tours/?sname=1977
I don't intend to become a full-time tour guide — I have a lot of writing projects that I really want to work on — and I have trips of my own that I want to take. But I'll be retiring from BYU on 1 July 2021, mainly to write without frequent interruptions, and so my schedule thereafter will be more flexible. (I'll be able, for one thing, to visit Egypt when it's relatively cool!)