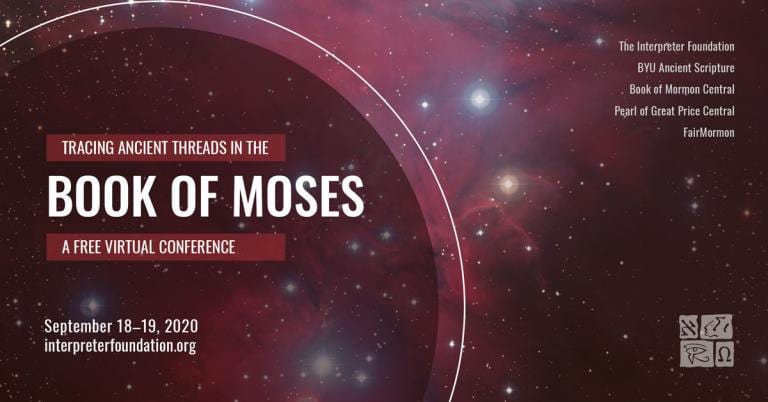 I've been slow in calling attention to the latest installment of my bi-weekly column for the Deseret News. Here it is:
"How spirituals, such as 'Michael, Row the Boat Ashore' and 'Swing Low,' bridge the Bible and Greek mythology"
One of the most familiar of all spirituals is "Michael, Row the Boat Ashore" and it seems to have been written down first on St. Helena Island, off the coast of South Carolina, during the Civil War
***
"Tracing Ancient Threads in the Book of Moses" (18-19 September 2020)
***
Now up on the website of the Interpreter Foundation:
"Book of Moses Textual Criticism Article Preview 1: Did God or Enoch Weep?"
[In this context, I would like to call attention to my own article from some years ago, "On the Motif of the Weeping God in Moses 7," which can be downloaded here.]
Interpreter Radio Show — August 23, 2020
The 23 August 2020 broadcast of the Interpreter Radio Show was hosted by Steve Densley, Matthew Bowen, and Mark Johnson. In this episode, which has now been shorn of commercial and other interruptions and made accessible to you at no charge, special guest Jeff Lindsay discusses recent research and the new Interpreter Foundation article on Lehi's journey through Arabia. The second hour was a roundtable on the upcoming Come, Follow Me Book of Mormon lesson #38 on 3 Nephi 12-16.
"Producing Ancient Scripture — "Approaching Egyptian Papyri through Biblical Language: Joseph Smith's Use of Hebrew in His Translation of the Book of Abraham" with Matthew J. Grey"
And here's an important announcement regarding one of our publications:
"Black & White Volume 37 of Interpreter: A Journal of Latter-day Saint Faith and Scholarship"
As Jeff Lindsay points out, the color can be seen online when desired.
***
I know. I know. Your Christopher Hitchens Memorial "How Religion Poisons Everything" File has a voracious appetite that demands food. So here are a couple of items for it:
"2020 All Africa Service Day held across West Africa. Day of Service"
"President Bingham Celebrates Women's Equality Day"
***
Here's a passage from Fiona Givens and Terryl Givens, The Christ Who Heals: How God Restored the Truth that Saves Us, that really impressed me. It's from pages 104-105:
No loving parent would propose a plan that shuts the door of happiness to any of his or her children. God reminds Job of a time when "all the sons of God shouted for joy." Only a proposal that opens the path to salvation for all God's children would be praiseworthy. And that was clearly understood in the early Christian centuries. Morwenna Ludlow has recently written that, "Indeed, in the early Christian Church there were two important streams of eschatological thought: a universalist stream, which asserted that all people would be saved, and a dualistic stream, which stressed the two parallel fates of eternal heaven and eternal hell." The first tradition was represented by Origen, Gregory of Nyssa, his sister Macrina, Maximus the Confessor, and others. Origen saw mortality as the crucial second stage in an ongoing saga of eternal progression. "The saints who depart this life," he wrote, will progress to a
place of instruction, and so to speak, class-room or school of souls, in which they are to be instructed . . . and are to receive also some information respecting things that are to follow in the future, . . . all of which are revealed more clearly and distinctly to the saints in their proper time and place. If any one indeed be pure in heart, and holy in mind, . . . he will indeed, by making more rapid progress, quickly ascend . . . and reach the kingdom of heaven. . . . And thus he will in order pass through all gradations, following him who hath passed into the heavens, Jesus the Son of God, who said, "I will that where I am, these may be also."
Gregory of Nyssa taught the same consoling truth: "[God's] end is one, and one only; it is this: when the complete whole of our race shall have been perfected from the first man to the last . . . to offer to every one of us participation in the blessings which are in Him."
Here is no automatic salvation, but a process in which, following death, we would move on to a "school of souls" in which the departed will continue to be instructed "by word, reason, and doctrine; by a call to a better course of things," but always "consistently with the preservation of freedom of the will." Any correction would be medicinal and pedagogical — and therefore not of infinite duration. (Like Joseph, Origen rejected the interpretation of eternal as "nonending.") Men are educated insofar as they are drawn by love. This was Origen's emphasis: "the redeeming power of God's love and the universal scope of Christ's incarnation and resurrection." These Greek Fathers championed a God who never shut the door of salvation to their children, here or hereafter.
***
Finally, though, I confess that, having read the following article, I may now be obligated to become an aggressive unbeliever:
"10 Irrefutable Atheist Arguments That Will Explode Your Feeble Christian Brain"