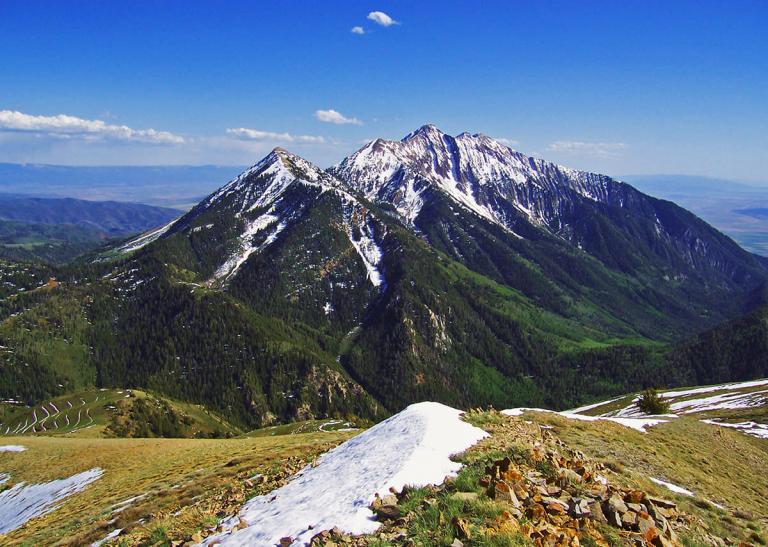 Permanently stashed in the glove compartment of our car — you do know the term glove compartment, I hope; my wife's family tend to call it a cowl pocket, a phrase that I had never heard before but which, for much of my marriage, I mistakenly heard as the even weirder and more mysterious cow pocket — my wife and I keep a copy of Halka Chronic's Roadside Geology of Utah.  (When we spend significant time in adjacent states or in Hawaii, we bring along — or, if necessary, buy — the equivalent books for those areas.)  Consulting the Roadside Geology has made otherwise rather routine drives both interesting and informative.
Relatively recently, though, we've added Cynthia Larsen Bennett, Roadside History of Utah (Missoula, MT: Mountain Press Publishing Company, 1999) to our cowl pocket (or glove compartment) library.
Driving down from Orem to St. George the other day, we read about the towns through which and by which I-15 passes.
One of them was Santaquin, the last town in Utah County as you go southwards, which sits atop the crest or the ridge of a number of hills — and which, for that reason, was originally known at its founding in 1851 as "Summit City."  It was abandoned already in 1853 owing to troubles with the the local Indians.  When the settlers returned three years later, in 1856, it had been taken over by the Indians, who fired from the houses at the white men who entered the town.  There was no love lost between them.
In 1857, when the news reached Utah that the federal troops of "Johnson's Army" were coming to put down the mythical "Mormon rebellion" and destroy the Latter-day Saints, the northern settlements of the territory evacuated southward the following spring.  More than a few of those who abandoned their homes and fled went to Summit City.
Among these refugees was a young man named Josiah Gibbs, who had been born in Nauvoo, Illinois, in 1845, just prior to the forced exodus of the Latter-day Saints from the city that they had founded there.  He had spent the entire winter of 1857 seriously ill with inflammatory rheumatism.  As Josiah began to improve, his father moved him outside to recuperate in the sunlight.  However, although he felt considerably better, his legs were still very weak and he spent a great deal of time simply sitting outside, under the cover of a quilt.  Many years thereafter, though, he published an article through the Utah State Historical Society entitled "Boyhood Memories of Josiah F. Gibbs."  Included in that article is what Gibbs called "one of the most cherished memories" of his life:
Presently there came to my super-sensitive ear drums the faint pit-pat of human feet.  With easy, swinging strides a slender Indian boy was approaching from the south.  He paused at the foot of my cot and keenly looked at the rheumatic invalid.  (141)
The two boys somehow managed to communicate with one another by means of a combination of speech and gestures.  Josiah was able to indicate that he felt reasonably well, but that his legs didn't work.
After setting a target at a distance of about 25 feet, he returned to the side of my cot and gave me my first lesson in . . . bow and arrow shooting.  During an hour or two the Indian boy chased arrows for his pupil, manifesting as keen delight when, by accident, I made a close or center shot, as if made by himself.
At about the same hour next morning, my Indian friend was at my cot-side.  Again he chased arrows for me, and shared my boyish pleasure at evidences of rapid improvement.
A few days of penetrating sun-rays, exercise of my arms and body, and mild perspiration — thanks to the ingenious method of the Indian boy, figuratively, "put me on my feet."  With his aid I was soon able to walk, and then began our hunting trips for rabbits and other small game.  One morning my companion surprised me with a gift of a beautiful bow, made from mountain sheep horn, backed by sinew, and a dozen or so cane arrows, tipped with greasewood spikes.  It was a priceless token of friendship that in memory has never dimmed.  (141)
To me, that story is a marvelous illustration of human care and kindness across a chasm of cultural and even linguistic difference.  If it can happen in such a case, it can happen in cases where the differences are nowhere nearly so significant.
Josiah F. Gibbs went on to serve in the British Mission from 1867 to 1869, and he lived to the age of 86, dying in 1932.  Summit City changed its name to Santaquin in roughly 1875 — to honor a peaceful Indian chief.
We also read about Nephi, which was originally established in 1851 under the name of Salt Creek.
Joseph L. Heywood, the LDS Church leader who led the settlement of the town, had a vision during the first night he camped on Salt Creek.  He saw a railroad coming from the east to Salt Lake City, extending south to Salt Creek, and branching through Salt Creek Canyon into Sanpete County.  This was the exact path the railroad finally took.
The first train arrived in Nephi in May 1879, and the line connecting Nephi with Sanpete County was constructed in 1880.  The junction of the railroads brought prosperity to the town.  (142)
The road to that prosperity wasn't entirely straight and without obstacles, however.  For instance, because of danger during the so-called Walker War with local Indians, the residents of Salt Creek built a fort for self-protection.  At one point, while the fort was still under construction, Chief Walker paid them a visit.  "I cannot shake hands over a wall," he told them, asking that they stop building.  They didn't.  They finished it.  However, as it happened, they were able to live in peace and the settlement lost no lives during the conflict.
Posted from St. George, Utah