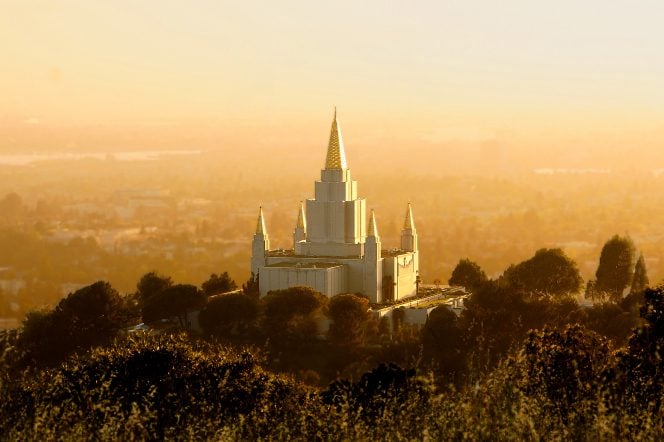 I read just this morning that Latter-day Saint apologetics is literally soaked in hate. Now, obviously, that's true of me. My perpetual rage and my life-long consuming hatred of all who differ from me — and most especially of religious faiths other than my own (another observation that has recently been made) — are abundantly documented and are manifest in everything I write and say. But I'm not sure that the same case can be made for Latter-day Saint apologetics more generally. I encourage you to take the links that I provide here below as a representative specimen and to judge for yourself.
First off, this article has just now gone up online as the latest installment in Interpreter: A Journal of Latter-day Saint Faith and Scholarship:
Matthew B. Brown, "The Handclasp, the Temple, and the King"
Abstract: In this article Matthew Brown examines the possible meaning behind the imagery of the handclasp between God in heaven and the earthly king. He focuses on this imagery as it is articulated in Psalms 27, 41, 63, 73, and 89. He argues that Psalms 41 and 73 feasibly indicate that when the king of Israel was initiated within the precincts of the temple into the office of kingship he passed through the veil of the Holy of Holies (see Exodus 26:33) and symbolically entered into God's presence.
[Editor's Note: Part of our book chapter reprint series, this article is reprinted here as a service to the LDS community. Original pagination and page numbers have necessarily changed, otherwise the reprint has the same content as the original.
See Matthew B. Brown, "The Handclasp, the Temple, and the King," in Temple Insights: Proceedings of the Interpreter Matthew B. Brown Memorial Conference, "The Temple on Mount Zion," 22 September 2012, ed. William J. Hamblin and David Rolph Seely (Orem, UT: The Interpreter Foundation; Salt Lake City: Eborn Books, 2014), 5–10. Further information at https://interpreterfoundation.org/books/temple-insights/.]
And this brief piecewent up on the Interpreter Foundation's website on Saturday:
Book of Moses Essays #42: Moses 1 in Its Ancient Context: "The Words of God" (Moses 1:1–7, 35, 40–42)
I think, too, that I failed to call attention to this item, which was posted on the Interpreter website a few days back:
Interpreter Radio Show — January 31, 2021
The 31 January 2021 broadcast of the Interpreter Radio Show has now been stripped of interruptions, archived, and posted for your convenience. In this episode, Martin Tanner and Daniel Peterson. discuss the informal witnesses of the Book of Mormon plates as well as the upcoming Witnesses motion picture. The second portion of the show was devoted to a roundtable discussion of the upcoming Come Follow Me Doctrine and Covenants lesson #11 (D&C 23-26). (You'll need, of course, to filter Peterson's seething anger and unsleeping malice out. But please do listen to Martin Tanner, and make your own judgment about whether his comments are literally soaked in hate. The Interpreter Radio Show can be heard Sunday evenings from 7 to 9 PM (MDT), on K-TALK, AM 1640, or you can listen live on the Internet at ktalkmedia.com.
And here, once again, are some links to past articles published in Interpreter: A Journal of Latter-day Saint Faith and Scholarship:
Andrew C. Smith, "Hagar in LDS Scripture and Thought"
Abstract: LDS discourse vis-à-vis Hagar has changed through the years since the foundation of the Church. Her story has been considered and utilized in a number of ways, the most prominent being as a defense of plural marriage. This paper traces the LDS usages of Hagar's story as well as proposing a new allegorical interpretation of her place within the Abrahamic drama through literary connections in the Hebrew Bible combined with Restoration scripture.
Stephen O. Smoot, "Help for the Troubled "Young Mormon""
Review of Adam S. Miller, Letters to a Young Mormon. Provo, Utah: Neal A. Maxwell Institute for Religious Scholarship, 2014. 78 pp. $9.95.
Neal Rappleye, ""Until the Heart Betrays": Life, Letters, and the Stories We Tell"
Review of Adam S. Miller. Letters to a Young Mormon. Provo, Utah: Neal A. Maxwell Institute for Religious Scholarship, 2014. 78 pp. $9.95.
Neal Rappleye and Stephen O. Smoot, "Book of Mormon Minimalists and the NHM Inscriptions: A Response to Dan Vogel"
Abstract: Biblical "minimalists" have sought to undermine or de-emphasize the significance of the Tel Dan inscription attesting to the existence of the "house of David." Similarly, those who might be called Book of Mormon "minimalists" such as Dan Vogel have marshaled evidence to try to make the nhm inscriptions from south Arabia, corresponding to the Book of Mormon Nahom, seem as irrelevant as possible. We show why the nhm inscriptions still stand as impressive evidence for the historicity of the Book of Mormon.
Julie M. Smith, "A Note on Chiasmus in Abraham 3:22-23"
Stephen D. Ricks, "A Nickname and a Slam Dunk: Notes on the Book of Mormon Names Zeezrom and Jershon"
Robert F. Smith, ""If There Be Faults, They Be Faults of a Man""
Review of John S. Dinger, ed., Significant Textual Changes in the Book of Mormon: The First Printed Edition Compared to the Manuscripts and to the Subsequent Major LDS English Printed Editions (Salt Lake City: Smith-Pettit Foundation/Signature Books, 2013); with foreword by Stan Larson; 418pp+ xxxvi; hardbound edition limited to 501 copies; ISBN 978-1-56085-233-9
A. Keith Thompson, "Fashion or Proof? A Challenge for Pacific Anthropology"
Abstract: This article is a call to Pacific anthropologists to write the story of the origin of mankind in the Pacific a bit larger and perhaps to look scientifically for additional explanations. Is it possible that the early diffusionists may have gotten some things right, albeit for the wrong reasons?
Royal Skousen, "A Brief History of Critical Text Work on the Book of Mormon"
***
Here I share with you some items that are quite unrelated to anything above:
First, a piece in Meridian Magazine by my economist-friend Mark Skousen that some of you might find of interest:
"Know the Signs of the Financial Times"
Some might find this Financial Times article interesting, too, since it expressly mentions Senator Romney's membership in the Church of Jesus Christ of Latter-day Saints. For the record, I have some major disagreements with it:
"Mitt Romney is the model for a new Republican party"
Two very contrasting views of the pre-1978 priesthood restriction:
"Whether the temple and priesthood restriction was mistaken"
"Apostles, Prophets, and God's Former Priesthood Restriction"
Sigh. I wish this weren't necessary. But it is:
"Jonathan Neville sows doubt, blames others"
"Another round of Jonathan Neville vs. Royal Skousen"
"The desolate Heartland theory"
***
And, finally, here are two even more unrelated items, regarding vaccinations and the novel coronavirus:
"Pfizer-BioNTech vaccine sharply reduces symptomatic Covid-19 in the real world, Israeli researchers say"
"Covid-19 vaccine hesitancy is splitting dangerously along partisan lines"
"Whatever the cause of the partisan differences, vaccine hesitancy among Republicans could be quite dangerous."
Please. Get your vaccination against the pandemic as soon as you are allowed to do so.