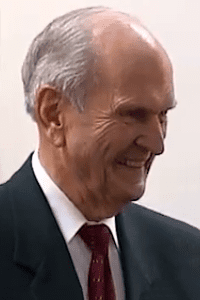 In yesterday's video message for Palm Sunday, President Russell M. Nelson alluded to a dramatic experience that he had approximately forty-five years ago. I recently read Sheri Dew, Insights from a Prophet's Life: Russell M. Nelson (Salt Lake City: Deseret Book, 2019). and thoroughly enjoyed it. (I've recommended it here before, I believe.) Anyway, here is a slightly more detailed version, from that book, of the incident that President Nelson related in yesterday's message:
On November 12, 1976, Russell Nelson had boarded a commuter plane in Salt Lake City to fly the quick route to St. George, Utah, where he was to give the invocation at the inauguration of W. Rolfe Kerr as the president of Dixie College.
It was a short hop of less than an hour in a small, two-engine propeller plane. Only four passengers were on board. The pilot had just announced that they were halfway to St. George when the engine on the right wing exploded, spewing oil all over the right side of the aircraft and then bursting into flames. In an attempt to douse the flames, the pilot turned the fuel off, causing the small plane to go suddenly into a free fall death spiral.
The woman across the aisle from Russell began to scream hysterically. But Russell felt calm. "It was the most amazing thing," he said. "I thought, 'My wife and I are sealed. Our children are sealed to us. I've honored my covenants. I'll meet my ancestors and go on to a glorious resurrection..'"
He was, however, impressed with how quickly and comprehensively the mind can work. "It's true, your life does flash before you. I had a bright recollection and perfect remembrance of my whole life. One major thought was that all of the framed awards and honors on my wall, the various clothes I'd worn — tuxedos and uniforms and doctoral robes — didn't mean anything. What mattered was that I had my garments on and had been faithful to the covenants I'd made in the temple. I knew I was going to die, but I knew I would be fine."
Miraculously, the free fall extinguished the fire, and, in the nick of time, the pilot was able to start the left engine, regain control of the plane, and guide it to an emergency landing in a farmer's field not far from Delta, Utah. Everyone walked away from the incident unharmed. Another plane was dispatched, and Russell made it to St. George in time to give the invocation.