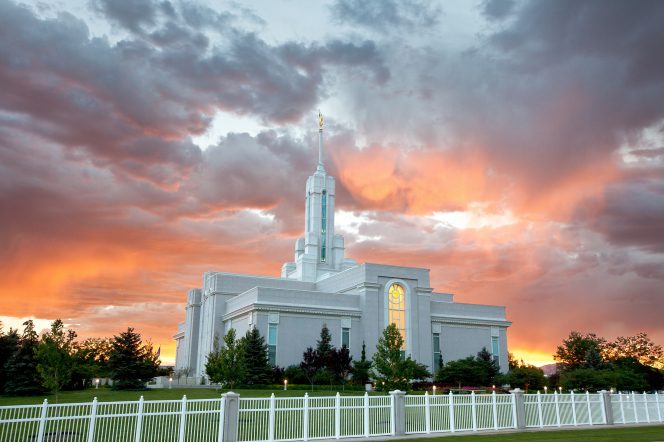 It started off as a pretty busy Saturday. We had a meeting — virtually, online — of the board of the Interpreter Foundation. There are interesting (and good) things on the horizon, and the Foundation, I'm happy to report, is in pretty good shape.
Unfortunately, we also officially bade adieu today to Noel Reynolds, who indicated to us some months ago his desire to step off of the board (although he says that he still intends to contribute articles to Interpreter: A Journal of Latter-day Saint Faith and Scholarship). Since he completed his doctorate at Harvard University, Noel has held important leadership and administrative positions in both Brigham Young University (as a department chair and [twice, I believe] as an associate vice president) and in the Church of Jesus Christ of Latter-day Saints (as, among other things, a bishop, a stake president, a mission president, and president of the Mount Timpanogos Utah Temple), as well as serving as the director (again twice, I think) of the Foundation for Ancient Research and Mormon Studies, or FARMS, in its heyday. He retired from BYU several years ago and, quite understandably, he would like some time now for relatively uninterrupted writing. His vast experience and wisdom have been of inestimable value to us, and we both wish him well and look forward to future contributions from him. (I happen to know that he's doing some very interesting research and writing these days.)
Immediately after the board meeting, a small group of us gathered at the home of Lynn and Margaret Dayton — for whose hospitality we've often had occasion to be grateful — for the formal presentation to Louis Midgley of a Festschrift — a volume of essays written by friends, former students, and colleagues in his honor:
Ted Vaggalis and Daniel C. Peterson, eds., Remembrance and Return: Essays in Honor of Louis C. Midgley
The presentation was followed by a small lunch for him, a few members of his family, and those who were involved in the editing and production of the volume. (They included me, Jeff Bradshaw, and Shirley Ricks. Ted Vaggalis, who lives and teaches in Missouri, was unfortunately unable to be physically present, but he participated virtually, thanks to the splendid and generous technological help of my friend Tom Pittman.)
***
I've been reading (and thoroughly enjoying) Bruce Greyson, After: A Doctor Explores What Near-Death Experiences Reveal about Life and Beyond (New York: St. Martin's Essentials, 2021). What follows is a letter that he received from a listener named Katherine who had heard him on a late night radio show in Detroit called The Last Word.. The radio show is, or at any rate was, hosted by one Greg Jackson. Katherine was an elderly woman, and she was very plainly not well educated. But her earnest sincerity deeply touched Bruce Greyson:
Dear Dr. Greyson,
I really did enjoy your Program on the last Word. I call but the line were all tide up. . . . The Lord Bless me in 1973. . . . About six o clock in the Morning the Lord Come in got me in kerry me to Heaven in show it to me. Lord have mercy, it was the most peaceful place, I didn't want to Come back I seen my body laying there waiting for me. I kept asking him to let me stay he said no I have to go back. You no Dr. you don't think about nothing on Earth. that really a experience. . . . Dr. I was so shock. But I wish he Would have kept me. Oh What a day. It's no fear to die. I don't think no one want to come back. But Dr. I told my pastor in my husband I think they thought I were out of my mind But they can think what they want. But I no I been there. I no where I'm going. . . . But Dr. I were bless, the Lord just bless me and let me see it. I praise him everyday for that. He was prepare me for later things in my life. Heaven is there I no it is. My mouth was open in joy all over you, a new person, it make you walk right it make you talk right it make you treat everybody right. It is something different once you been there. You have a different out look on life. Material things don't count. Every body just look good to you. You have a reason for every man fault. He will make you more close to him. Dr. Greyson I just had to write to you to tell you it is real in I am now no make believe. I won't for get it, it's no something I'll ever want to for get. I don't no what you think, but God no it's true I was in his hand. (Greyson, After, 173-174)
***
Nobody, it seems, is going to get out of here alive:
"The latest Ebola outbreak may have started with someone infected years ago: Rather than jumping from animals, the virus may have laid low in a person, then spread"
Here's something that might (should) cheer you up a little bit, though:
"The Worst of the Pandemic Is Truly Behind Us"
However, "Herd immunity in the U.S. will never be reached if a sizable portion of the community remains hesitant to get vaccinated."
And here's some very old news:
"Signs that Earth was once almost entirely molten found in ancient rock"
And some extraterrestrial news, including a piece that may undo your newfound good cheer:
"We Finally Know What's Going on With That Weird, Long, Recurring Cloud on Mars"
"Andromeda's and the Milky Way's black holes will collide. Here's how it may play out: Supermassive black holes will merge less than 17 million years after galaxy merger"
So you might want to rethink your long-term financial plans.
"A tour of 'Four Lost Cities' reveals modern ties to ancient people: Annalee Newitz's book explores what drives humans toward an urban life — and what might send us away"