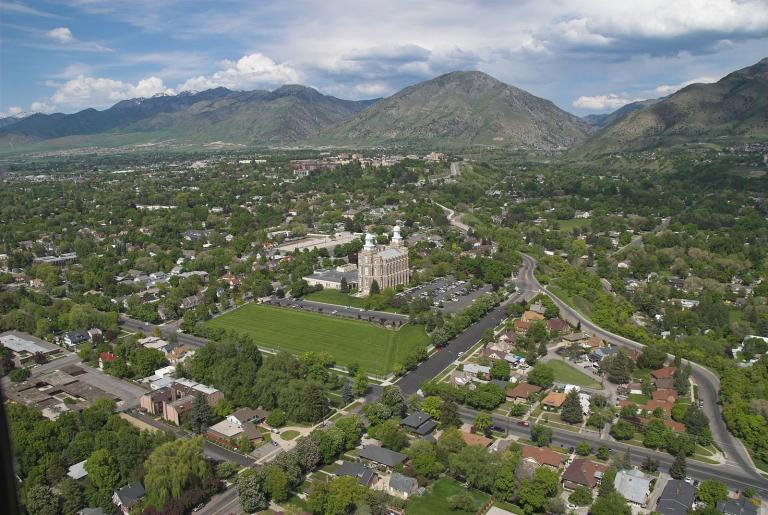 ***
A little piece by yours truly went up today in Interpreter: A Journal of Latter-day Saint Faith and Scholarship:
Abstract: Is the Gospel profound? Yes, it is. And one of the goals of the Interpreter Foundation is to call attention to that sometimes-overlooked profundity. In one sense, though, the question is a peripheral one. If we were drowning — which, figuratively and from the vantage point of eternity, we absolutely are — we wouldn't complain at a life preserver thrown to us if it were chipped, poorly painted, or unattractive, let alone if it were defective as a work of great art. We would simply be grateful to be saved. In another sense, the Gospel is clearly profound because it answers the deepest and most basic of human questions.
***
And now again, as has become my practice over the past few months, I provide links to several articles from a previous number of Interpreter. Perhaps you missed them. Perhaps you've forgotten them. Perhaps you'll want to read them again. Anyway, here they are:
Matthew L. Bowen, ""He Did Go About Secretly": Additional Thoughts on the Literary Use of Alma's Name"
Abstract: Mormon describes Alma the Younger's "go[ing] about secretly" to destroy the church that his father, Alma the Elder, had established (Mosiah 27:8–10), this as a narratalogical inversion of that period when Alma the Elder "went about privately" teaching the words of Abinadi and establishing a church "that it might not come to the knowledge of the king" (Mosiah 18:1–6). In Mosiah 27:10, Mormon subtly reworks Alma the Younger's autobiographical statement preserved in Alma 36:6, adding in the former passage a word rendered "secretly" to create a midrashic or interpretive pun on the name Alma, echoing the meaning of the Semitic root ʿlm, "hide," "conceal"). Mosiah 27:8–10 contains additional language that evokes the introduction of the name Alma in the Book of Mormon (at first in terms of ʿelem ["young man"] but also in terms of the homonymous root ʿlm) in Mosiah 17:2–4 but also re-invokes allusions in the latter passage to Mosiah 14:1 (Isaiah 53:1).
Jeff Lindsay, "Janus Parallelism in the Book of Job: A Review of Scott B. Noegel's Work"
Abstract: Janus parallelism is a recently discovered tool evident in ancient Hebrew poetry. Like the two-faced Roman god Janus, Janus parallelism employs a Hebrew word with two meanings that faces two ways. One meaning of the word relates to the preceding text while the other meaning of the word relates to the following text. Examples of such wordplays have been found in many parts of the Old Testament, though the Book of Job appears to be especially rich in these sophisticated puns.1 A valuable tool for exploring the richness of Janus parallelism is Scott B. Noegel's detailed work, Janus Parallelism in the Book of Job (Sheffield, UK: Sheffield Academic Press, 2009), where over 50 examples are considered. His book can greatly strengthen our appreciation for the intense and clever wordplays in Job, a book laden with puns and semantic artistry. In many cases, important new layers of meaning are revealed by understanding the long-overlooked wordplays in Job's many Janus parallelisms.
Craig L. Foster, "An Important Year in History"
A review of Turtle Bunbury, 1847: A Chronicle of Genius, Generosity & Savagery (Dublin: Gill Books, 2016). 388 pages, $43.00, hardback.
Steven T. Densley Jr., "Heralding a New Age of Book of Mormon Scholarship"
A review of John W. Welch, Neal Rappleye, Stephen O. Smoot, David J. Larsen, and Taylor Halverson, eds., Knowing Why: 137 Evidences That the Book of Mormon is True. Covenant Communications, Inc., 2017, 380 pages including endnotes and biographical material. $34.99 (paperback).

Abstract: Book of Mormon Central has produced a fantastic resource for students and teachers of the Book of Mormon. Knowing Why updates prior discoveries and provides new and interesting insights based upon solid scholarship.
Matthew L. Bowen, "Jacob's Protector"
Abstract: The name Jacob (yaʿăqōb) means "may he [i.e., God] protect," or "he has protected." As a hypocoristic masculine volitive verbal form,1 it is a kind of blessing upon, or prayer on behalf of the one so named that he will receive divine protection and safety (cf. Deuteronomy 33:28). Textual evidence from Nephi's writings suggests that his brother Jacob's protection was a primary concern of their parents, Lehi and Sariah. Lehi saw Nephi as the specific means of divine protection for Jacob, his "first born in the wilderness." Moreover, the term "protector" is used twice in LDS scripture, in both instances by Jacob himself (2 Nephi 6:2; Jacob 1:10), this in reference to Nephi, who became the "great protector" of the Nephites in general and Jacob in particular. All of the foregoing is to be understood against the backdrop of the patriarch Jacob's biography. Lehi, Nephi, Jacob, and Enos all expressed their redemption in terms reminiscent of their ancestor Jacob's being "redeemed … from all evil," a process which included Jacob "wrestling" a divine "man" and preparing him to be reconciled to his estranged brother by an atoning "embrace." Mormon employed the biblical literary etymology of the name Jacob, in the terms "supplant," "usurp," or "rob" as a basis for Lamanite accusations that Nephites had usurped them or "robbed" them of their birthright. Mormon, aware of the high irony, shows that the Gadianton [Gaddianton] robbers take up the same polemic. The faithful Lehites, many of whom were descendants of two Jacobs, prayed "May the God of Abraham, and the God of Isaac, and the God of Jacob, protect this people in righteousness, so long as they shall call on the name of their God for protection" (3 Nephi 4:30). By and large, they enjoyed the God of Jacob's protection until they ceased to call upon their true protector for it.
Jenny Oaks Baker, "Christmastime: When Our Souls Can Sing"
Abstract: Christmas is upon us, and it is a special, magical time. I have seen the love of God touch countless lives through the glorious music of the season.
Posted from Logan, Utah