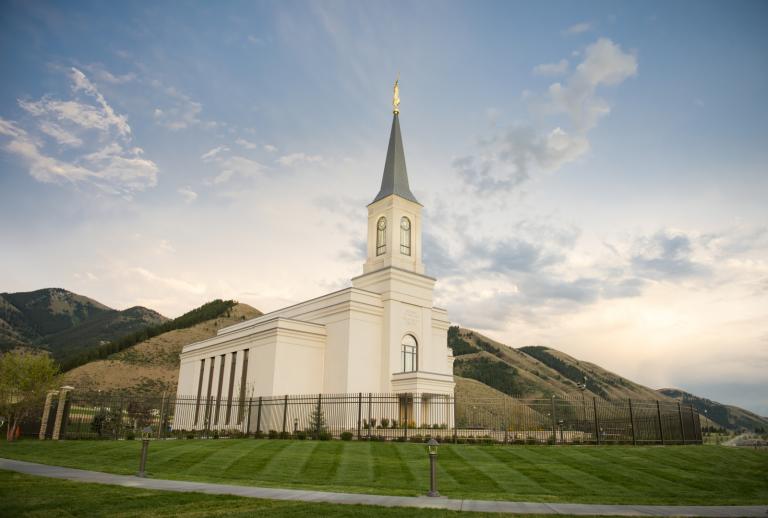 ***
Driving down from Jackson Hole, Wyoming, today, we took roads that I, at least, have driven only two or three times before — at the very most. And we made some interesting new discoveries, as well as visiting some familiar places.
For one thing, we drove through Star Valley, Wyoming, a beautiful green place that first impressed me back when I was an early teenager. I wanted to see it again.
In Afton, Wyoming, thanks to information supplied by a longtime neighbor and friend who has strong ties to Star Valley and who has exceptionally good taste (in food and in other things), we had lunch at Rocky Mountain Seafood. It's pretty funny to me, frankly, to have seafood in Afton, Wyoming. But, to my surprise, the fish and chips and the fish tacos — both made with halibut — were some of the best we've ever had. (We had some really terrible fish and chips in Dana Point, California, a few weeks back. Within maybe twenty yards of the sea. And these from Afton, Wyoming, were far, far better! They were made, I can only assume, from fresh-caught wild Wyoming halibut.). Then, also thanks to our friend's recommendation, we went for dessert at Shumway Farms, which is also in Afton, although off the main drag (and even back off the street that it's on). To my shame, I had two large scoops of ice cream — one huckleberry and the other cookies and cream — and they were extremely good. So, if you're ever driving through Afton, think about dropping in at Shumway Farms and Rocky Mountain Seafood. But go hungry.
And, of course, we also drove past the still relatively new Star Valley Wyoming Temple, which stands at the south end of Afton (though not as far to the south as Shumway Farms).
Coming through the tiny town of Randolph, Utah — even today, its population is less than 500 — I found myself reflecting on the remarkable fact that David M. Kennedy had come out of such a tiny and isolated place. He went on to serve as chief executive and chairman of the board of the Continental Illinois National Bank and Trust Company during the 1950s and 1960s, and then as Secretary of the Treasury and, thereafter, as the ambassador of the United States to the North Atlantic Treaty Organization (NATO), both during the Nixon administration. Finally, called by President Spencer W. Kimball, he served as a special international representative of the First Presidency of the Church of Jesus Christ of Latter-day Saints. The David M. Kennedy Center for International Studies at Brigham Young University is named in his honor.
I'll share here a story from Brother Kennedy, which I hope I'm recalling correctly and not garbling. He told it to a small group that included me: Many years ago, while the late Palestinian leader Yasser Arafat and the rest of the leadership of the Palestine Liberation Organization were in exile in Tunisia — so, roughly, sometime between 1985 and 1993 — Arafat invited Brother Kennedy and the late Senator George McGovern to come to PLO headquarters. He was obviously trying to find his way out of isolation and looming irrelevance. It's a trivial thing but, when Kennedy and McGovern arrived, they were almost immediately served with some simple food and drink. (Traditional Arab hospitality.) McGovern was given tea or coffee. (I don't remember which.) Kennedy was given orange juice. They had, it turned out, already researched him. And not only him. In the course of their conversation, Arafat thanked Kennedy for the scholarships that BYU had given to Palestinian students, but wondered whether it might be possible to increase the percentage of Muslim recipients just a little bit; thus far, he noted, Christians seemed to be disproportionately represented among the scholarship recipients. And one more thing, he said: If the BYU Jerusalem Center should ever be in danger from Palestinian violence where it sits in Arab East Jerusalem, BYU should call him. He would intervene.
While driving through Randolph, though, we also noticed an old building with a sign in front, identifying it as Wilford Woodruff's house. So we stopped and had a nice chat with the lady there. It turns out that Elder Woodruff had helped his son build the house in 1871, I think, and that his fifth (and last) wife, Sarah, had occupied it. Anyway, I had previously had no idea (or hadn't paid attention to the fact) that Wilford Woodruff had had a connection to Randolph.
Then we drove to Huntsville, the birthplace of President David O. McKay (1873-1970). We drove by his old white home there. I'm so ridiculously old that, for me, President McKay was "my prophet" when I growing up. I can still recall the January 1970 day on which I found out that he had died. I even remember the person who told me of his death — one of my fellow high school seniors, a bright and funny fellow named Russell Austin. "Are you saddened at the passing of Dr. McKay?" he asked me. It was the first that I had heard. And the "Dr. McKay" thing sticks in my memory because President McKay had no doctorate and because I had never heard him called that. Curiously, I had experienced a memorable dream just the night before. (I can still see part of it very clearly in my mind, more than half a century later.) It was a pitch dark night, and a line of very sad people were moving slowly along from the top right of the "image "to the lower left. They were looking downward and to the side, and somehow I knew that they were walking slowly past the bodies of Joseph and Hyrum Smith in Nauvoo at the end of June 1844, shortly after the mob had done its murderous work at Carthage Jail. That's all that i remember. I woke up strangely oppressed and, when I heard the news about President McKay at school later that morning, I thought the timing of the dream significant. I still do.