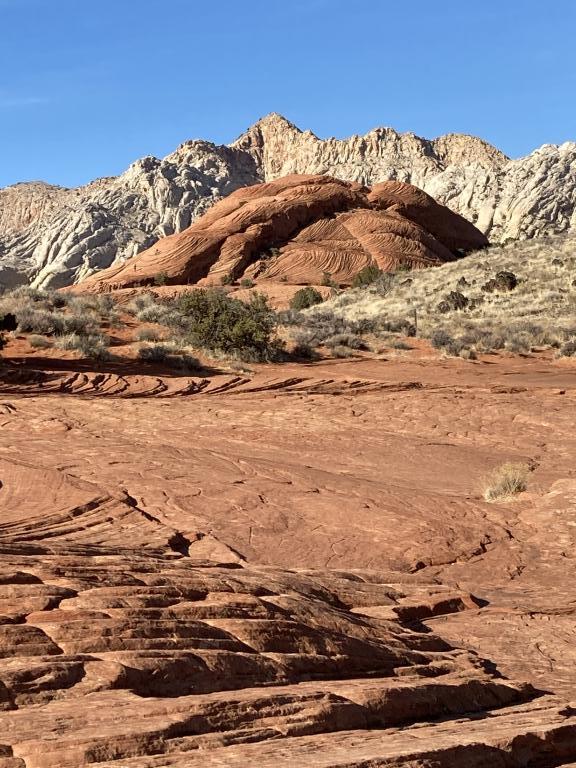 ***
The fourth play that we saw during this sojourn in southern Utah was a musical adaptation of The Count of Monte Cristo on the stage at Tuacahn, near St. George. Very near to Snow Canyon State Park. The setting among the red rocks at Tuacahn is so magnificent that I sometimes think that I don't really care whether the play is any good. Fortunately, though, The Count was quite enjoyable. My only real complaint is that the very personalized schemes of vengeance that I seem to recall from the novel and that I certainly recall from various film versions of the story were collapsed into one single devastating manipulation of the Paris stock market. I found it quite underwhelming. In the end, too, Edmond Dantès and Mercédès are back together again. That's not how the novel concludes, but several of the film versions end so. For obvious reasons, audiences tend to prefer the happier ending (with Mercédès).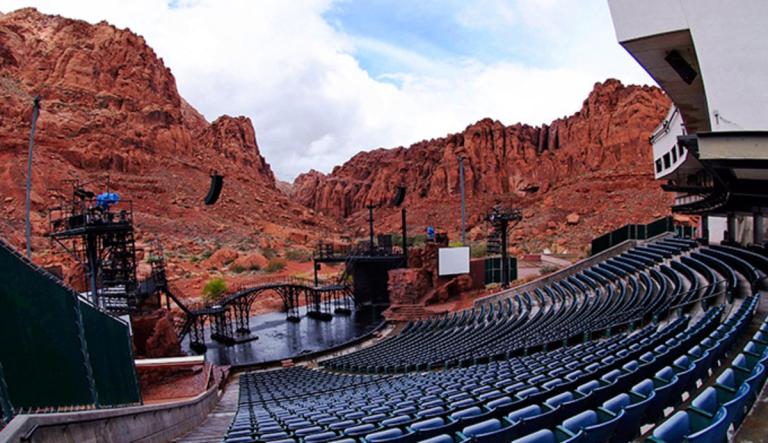 Our fourth play back in Cedar City, at the Shakespeare Festival, was a really fun production of Gilbert and Sullivan's The Pirates of Penzance. (I always get a kick out of the fact that Sir Arthur Sullivan, the co-creator of H.M.S. Pinafore, The Pirates of Penzance, and The Mikado, also wrote the music for the hymn Onward, Christian Soldiers.) It was, as it ought to be, boisterous and energetic. My only complaint is that the enunciation in the singing was often somewhat unclear, so that the audience (if I'm a representative sample) missed out on some of the famously sharp wit of the lyrics. A problem in repertory theater companies like the Festival's is that, while the singing is generally good, it's usually not great — and that problem had an impact on the 2021 Cedar City Pirates. But would I recommend this production? Absolutely. Great fun.
That evening, we saw Shakespeare's Pericles, Prince of Tyre, in Cedar City. (All the rest of the plays this week will be in Cedar City. We saw only one at Tuacahn.) I had thought that I had seen the entire Shakespearean canon, but Pericles rang no bells with me. However, although we saw plenty of flaws in it, my wife and I enjoyed it considerably more than we had expected to do. (Our very drama-savvy friend Scott Woolley, who now lives here in Cedar City and on whom I'll have just a tiny bit more to say below, tells us that Pericles is actually his favorite among this season's shows.) It's full of familiar Shakespearean tropes but seems uneven and perhaps just a bit disjointed. One explanation that has been proposed is that the play was pieced together from actors' memories after Shakespeare's death, rather than published from a written text.
On Friday afternoon, we saw Ragtime. I had forgotten how powerful and affecting it can be. Again, a strong performance. My wife and I think that this may be one of the best seasons, overall, that we've attended here. And we've been coming faithfully, to every play, for decades now. With one exception, when we were at the BYU Jerusalem Center. (See below.)
Last night, we watch a production of Shakespeare's Richard III. I was just a bit worried about this one, because Gary Armagnac's performance in the title role here in Cedar City was, in my view, one of the greatest pieces of acting that I have ever seen. And, for a while when Aidan O'Reilly came out on stage as Richard, Duke of Gloucester (the future King Richard III), my disappointment was confirmed. But he grew on me. Richard actually seemed to become more deformed as the play progressed and as his catalogue of murders grew. By the end, I had begun to regard Richard as possibly mad — an excuse that I had never felt to extend to him before — and as emotionally damaged by those around him in his childhood. I think that it was a very good, very thought-provoking, performance, and, overall, a fine production.
By the way, according to the Wikipedia entry for Gary Armagnac, "Mr. Armagnac was Artist-in-Residence and Director of Education for five seasons with the Tony Award® Winning Utah Shakespeare Festival (USF). His work on stage there included the title roles in Richard III and Pericles, Iago in Othello, and Sir Toby in Twelfth Night. He also directed productions of Macbeth, Hamlet, and Romeo & Juliet that toured to communities throughout the southwest." So have I seen Pericles before? Maybe even with Gary Armagnac in the lead role? Or were we in Israel that year? Well, it turns out that USF did Pericles in 1997. Which means that we did see it. We had simply forgotten. Completely. Which means that we have, indeed, seen the whole Shakespearean canon.)
While down here, we've had dinner with Scott Woolley three times, and twice with his family. Last night, at his house. He's an old friend that we've both independently known since before our wedding. (In my case, since before my mission, which ended several years before our wedding.) As a matter of fact, he was there at our wedding in the Salt Lake Temple. We've really enjoyed spending some time with him lately. Many years ago, his parents included me in a family trip from their then-home in the California Bay Area up to the Shakespeare Festival in Ashland, Oregon. I was hooked, and I decided then and there that I wanted to make such things a part of my own future family life. (I hope, by the way, that the revelation that I actually have friends doesn't drive one or two of my critics into some sort of health crisis.)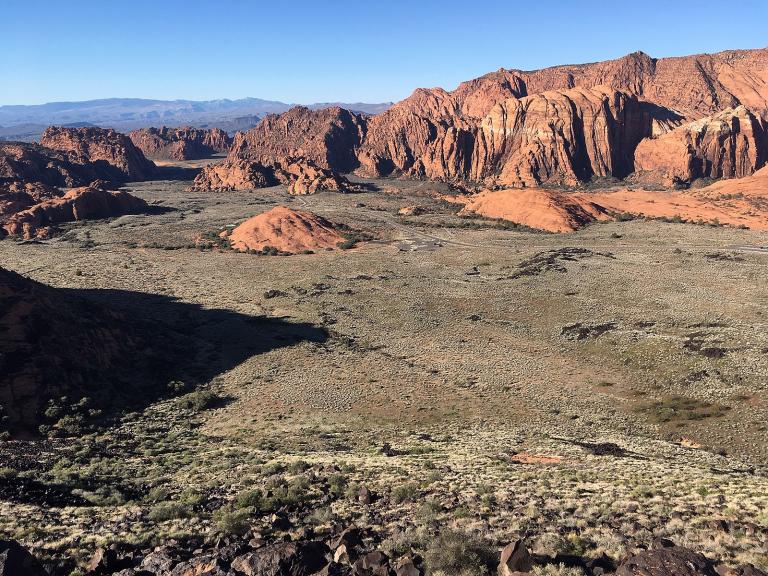 Leaving our digs in St. George this morning, we went over to Snow Canyon State Park, one of our favorite places, where we marveled at the rich geological record of Jurassic sand dunes and lava flows. Inspired, I bought a couple of books at the visitors center on the geology of southern Utah, one of them specifically on Snow Canyon. Coming back into town, we went for lunch to Irmita's Casita, which we liked very much. My wife ordered a pink chicken molé, which was a novelty to us and which we liked a lot. As my wife said to our (exceptionally pleasant and informative) server, we seem to have just discovered a new favorite restaurant in St. George. Then we drove around the St. George Utah Temple in order to observe the current status of the massive renovation project that has been underway there since late 2019. Afterwards, we drove back up to Cedar City, taking time to drive off from I-15 for a brief visit to the Kolob Canyons section of Zion National Park.
Just one more play to go. Tonight. Shakespeare's A Comedy of Errors. One of my best decisions ever was to marry a theater major.
Posted from Cedar City, Utah