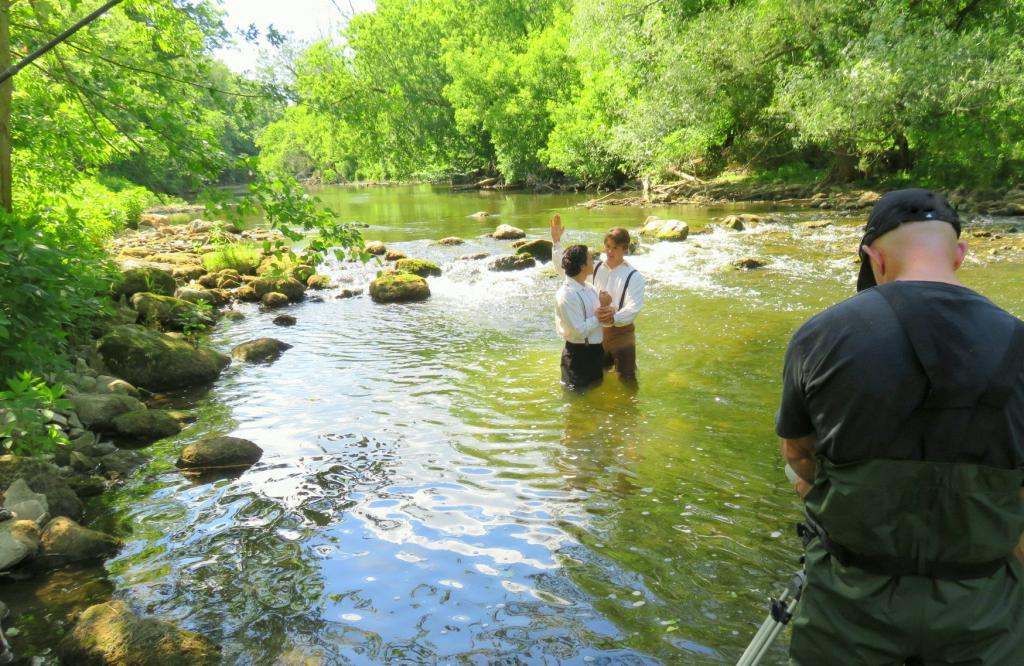 An article — this one by David M. Calabro — went up yet again today in Interpreter: A Journal of Latter-day Saint Faith and Scholarship. I think that many of you will find it interesting:
"An Early Christian Context for the Book of Moses"
Abstract: This study argues that the Book of Moses was an early Christian text. The book's language, literary genre, and references to its own production could fit with a date in the late first century ad. Further, the study argues that a possible ritual context of the book was a baptismal ritual, as suggested by the detailed description of Adam's baptism in Moses 6. A comparison between the content of the Book of Moses and early Christian sources on baptism shows some close resemblances, which may suggest that the Book of Moses was read aloud, and perhaps portrayed as a ritual drama, on sacred space during a baptismal ritual.
[Editor's Note: Part of our book chapter reprint series, this article is reprinted here as a service to the Latter-day Saint community. Original pagination and page numbers have necessarily changed, otherwise the reprint has the same content as the original.
See David Calabro, "An Early Christian Context for the Book of Moses," in Tracing Ancient Threads in the Book of Moses: Inspired Origins, Temple Contexts, and Literary Qualities, ed. Jeffrey M. Bradshaw, David R. Seely, John W. Welch and Scott Gordon (Orem, UT: The Interpreter Foundation; Springville, UT: Book of Mormon Central; Reding, CA: FAIR; Salt Lake City: Eborn Books, 2021), 505–90. Further information at https://interpreterfoundation.org/books/remembrance-and-return/.]
And you might also like this little item, which went up on Saturday last:
Book of Moses Essays #73: The Two Ways (Moses 5): The Five Celestial Laws (Moses, chapters 5–8)
***
Moreover, it's possible that you'll find these two (closely related) items of interest:
"An Attack of Mormon Mania: Embarrassing blunder by WaPo and Benjamin Park on vaccine hesitancy among LDS Church members and what it reveals about our ruling class"
"Zeal Without Data: Blaming the Church for Utah's Allegedly Low Vaccination Rates"
***
I liked this article, which is about a "Mormon Bible" and Supreme Court Justice Sonia Sotomayor:
"Sarah Jane Weaver: The lesson of understanding from a Supreme Court justice and the mother of the defendant she sentenced"
And this one, regarding the Latter-day Saint head football coach at the Naval Academy in Annapolis, Maryland:
"Navy's Ken Niumatalolo keeps beating the odds. How long will it last?: The football coach just keeps winning despite obvious disadvantages"
***
One of the high points of my recent vacation in New England (which took us to Massachusetts, New Hampshire, Vermont, and Rhode Island, but also included a brief incursion into Maine) was our discovery of Blessed Sacrament Church — a rather small Catholic parish building — in Stowe, Vermont, where, as it happens, Maria von Trapp (of Sound of Music fame) was a driving influence and, until her death, responsible for parish music. Driving past the church a couple of times, we noticed its unusual façade — which you'll be able to see for yourself if you click on the embedded link that I've just provided for you — and we eventually decided to pull into the parking lot, get out of the car, and take a closer look.
Things looked even better when we were closer, and we soon found that the interesting designs on the façade weren't simply pious images but that they told a rich story that we already knew something about and that they extended, much larger and more elaborately, onto both sides of the building. (They don't continue around to the rear.)
Created by the French liturgical artist (and anti-Nazi Resistance worker) André Girard (1901-1968), who also did the little church's richly colorful stained glass windows, they tell the story of Brother Joseph Dutton (1843-1931). Brother Joseph — born a Protestant under the name of Ira Barnes Dutton — was a veteran of the American Civil War, a former lieutenant in the Union Army, who came to suffer from what we today would probably call PTSD or post traumatic stress disorder. But his disintegrating life was saved when he converted to Catholicism. Eventually, he joined the famous Father Damien (1840-1889) — since 11 October 2009, St. Damien — and dedicated his life to caring for the lepers on in the settlement on the Kalaupapa Peninsula of the Hawai'ian island of Moloka'i. He may soon himself become a candidate for canonization as a saint.
Why would a church in Stowe, Vermont, memorialize Brother Joseph? He was born and raised in Stowe. In fact, Blessed Sacrament Church stands on the very farmland where he once lived. I have yet to read the book about the church that we bought there, but we had a fairly sustained conversation with Matthew H. Strong, a local artist and sculptor who has nearly completed the third restoration of the exterior murals. (We only discovered his name when we looked at the book we had bought.)
If you think that the story of Father Damien and Brother Joseph sounds like some horrifying tale from the Christopher Hitchens Memorial "How Religion Poisons Everything" File©, you would certainly be right. I intend eventually to write something longer about both that inspiring story and the church, and I may include the closely related story of the prominent early Hawai'ian Latter-day Saints Jonathan and Kitty Napela.
But, of course, the shocking and vicious Christian work for the victims of leprosy at Kalaupapa is far from alone there in the Hitchens File — as is illustrated in this octet of additional potentially traumatizing links:
"Church members, missionaries help flood victims in Germany and Belgium"
"Lessons from the Restoration: When James E. Talmage Ministered to a Family Plagued with Disease"
"9/11 National Day of Service Memorializes 20th Anniversary of Attacks: Tens of thousands of Latter-day Saints join with others giving service nationwide"
"Three national outlets rank BYU one of the best values in the country"
"How Latter-day Saint Helping Hands are serving Hurricane Ida victims in Louisiana"
"'This is what heaven is going to be like': What other faiths had to say about their Pocatello Idaho Temple tour"
And my thanks to Cody Quirk, who retrieved these two appalling stories from the Hitchens File:
"Packing in the protein: LDS church donates tons of meat, butter to Lubbock food bank"
"LDS Humanitarian Aid, PACC work together on large food donation"