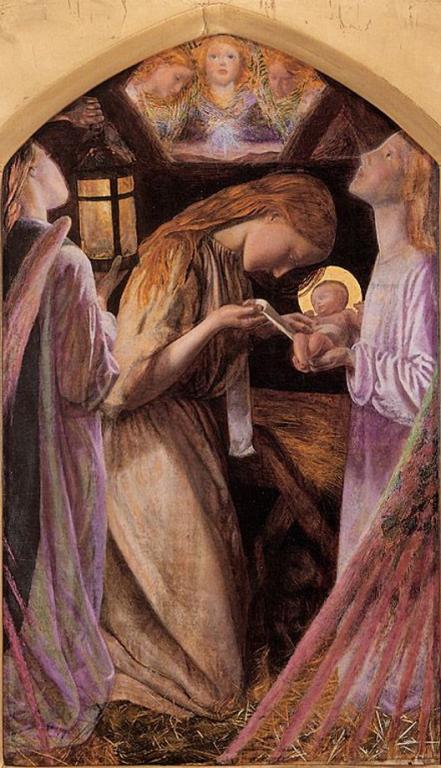 ***
In our sacrament meeting this morning — today is fast and testimony Sunday — one of those who bore testimony read a quotation that struck me deeply. Happily, owing to the wonders of modern technology, I was able to find it within just a few seconds. I located it as quoted in the text of a commencement address given by Elder Paul V. Johnson of the Seventy on 17 December 2011. Elder Johnson, who was also serving at the time as the commissioner of the Church Educational System, was speaking at the Laie, Hawaii, campus of Brigham Young University. He attributed it, in turn, to one F. W. Boreham, who, he explained, was speaking of the events during the Napoleonic wars in the early part of the nineteenth century:
[M]en were following, with bated breath, the march of Napoleon, and waiting with feverish impatience for the latest news of the wars. And all the while, in their own homes, babies were being born. But who could think about babies? Everybody was thinking about battles. . . .
[I]n one year . . . between Trafalgar and Waterloo, there stole into the world a host of heroes! . . . in 1809. . . Gladstone was born at Liverpool; Alfred Tennyson was born at the Somersby rectory . . . Oliver Wendell Holmes made his first appearance at Massachusetts . . . and Abraham Lincoln drew his first breath at Old Kentucky. Music was enriched by the advent of Frederic Chopin at Warsaw, and of Felix Mendelssohn at Hamburg. . . Elizabeth Barrett Browning [was born] at Durham. . . . But nobody thought of babies. Everybody was thinking of battles. Yet. . . which of the battles of 1809 mattered more than the babies of 1809? . . .
We fancy that God can only manage His world by big battalions . . . when all the while He is doing it by beautiful babies. . . . When a wrong wants righting, or a work wants doing, or a truth wants preaching, or a continent wants opening, God sends a baby into the world to do it. That is why, long, long ago, a babe was born at Bethlehem. (F. W. Boreham, Mountains in the Mist: Some Australian Reveries [1919], 166-67, 170)
Something on which to reflect, I think.
***
Every year since I launched this blog, I've used it to call attention to some of my favorite Christmas music. So I'm doing it again.
I remember very clearly when and where the marvelous carol "Es ist ein Ros entsprungen" (often called in English "Lo, How a Rose E'er Blooming"), which was given its classical form by the German composer Michael Praetorius in 1609 but which originated sometime before that, first hit me. (I suppose that I had probably heard the carol before, but, if I had, it hadn't registered. Not even slightly.) I was attending a Latter-day Saint sacrament meeting in Interlaken, Switzerland, shortly before Christmas 1973. Curiously, I don't recall who sang it. It may have been a branch or district choir.
I was enraptured. Riveted. I had seldom heard anything so beautiful. And it still affects me that way.
Es ist ein Ros entsprungen,
aus einer Wurzel zart,
wie uns die Alten sungen,
von Jesse kam die Art.
Und hat ein Blümlein bracht
mitten im kalten Winter,
wohl zu der halben Nacht.
Das Röslein, das ich meine,
davon Isaias sagt,
hat uns gebracht alleine
Marie, die reine Magd.
Aus Gottes ew'gem Rat
hat sie ein Kind geboren
wohl zu der halben Nacht.
Das Blümelein, so kleine,
das duftet uns so süß,
mit seinem hellen Scheine
vertreibt's die Finsternis.
Wahr Mensch und wahrer Gott
hilft uns aus allem Leide,
rettet von Sünd und Tod.
Here's a literal and quite unpoetic translation (partially my own):
A rose has sprung up,
from a tender root,
As the ancients sang to us.
Its line came from Jesse
And it has brought forth a small flower
In the middle of the cold winter,
In the middle of the night.
The little rose that I mean,
Of which Isaiah told,
Mary alone, the pure maid,
Has brought to us.
By God's eternal counsel
She has borne a child
In the middle of the night.
The tiny flower, so small,
That smells so sweet to us,
With its bright gleam
Dispels the darkness
–True man and true God–
Helps us from all suffering,
Saves us from sin and death.
I've always loved the German lyrics. The English words just don't move me as much — and not merely in the literal and unpoetic version supplied above. But the music is gorgeous in any language. Here's one rendition that I like: