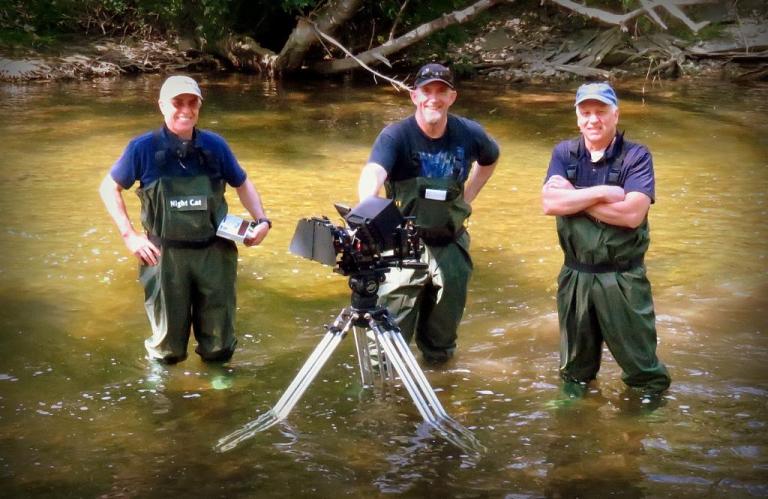 ***
How, you may ask, is the Interpreter Foundation's forthcoming two-part 2.5-hour docudrama, Undaunted: Witnesses of the Book of Mormon, different from the Foundation's theatrical film, Witnesses?
Thank you for asking!
Both Witnesses and Undaunted are parts of the same overall project, and the docudrama's production and release have long been intended to follow on the heels of the earlier film's run in theaters.  Unlike Witnesses, though, which focused entirely on Oliver Cowdery, Martin Harris, David Whitmer, the official "Three Witnesses" of the Book of Mormon, and Joseph Smith — it was hard enough telling a story with four protagonists — Undaunted will bring in the official "Eight Witnesses" along with several of those whom I like to call the informal or unofficial witnesses (e.g., Mary Musselman Whitmer and Josiah Stowell).  Also unlike Witnesses, Undaunted will feature interviews with historians and others, both Latter-day Saints and non-Latter-day Saints, who will provide depth and background for the witness accounts.  Furthermore, unlike Witnesses, it won't be distributed primarily through theatrical screenings, although we're still exploring the best alternative methods of getting it out there to the public that we wish to see it.  Certainly these will include DVDs and eventual streaming.
Undaunted: Witnesses of the Book of Mormon will premiere on the evening of Friday, 4 March 2022, as part of this year's LDS Film Festival, which is slated to take place at the SCERA Center for the Arts in Orem, Utah.  Seating will be limited, and tickets are on sale now.
***.
In other film news related to the Latter-day Saints, here are seven published responses — some positive, some negative, at least a couple of them with, umm, a bit of an attitude toward the Church — to a new Sundance Film Festival movie about young missionaries in Finland.  The Mission is an entry in the Festival's World Cinema Documentary Competition.  I hope to watch it later tonight:
Filmmaker Magazine: ""LDS Folk Are the Same Whether They're North Americans or Finns": Tania Anderson on Her Sundance-Debuting Doc The Mission"
The Utah Review:  "Sundance 2022: The Mission documentary balanced, enlightening, realistic chronicle of four LDS missionaries in Finland"
Variety:  "'The Mission' Review: A Mormon Documentary In Which Travel Seems More Narrowing Than Broadening: Bland and short on insight, Tania Anderson's debut feature offers a superficial look at young U.S. Mormons doing missionary service in Finland."
But Why Tho:  "SUNDANCE 2022: 'The Mission' Is a Fascinating Dip Into Mormon's Missions"
LDS Living:  "Unprecedented documentary featuring missionaries premieres at Sundance"
SlashFilm:  "The Mission Review: Mormon Missionaries Take A Life-Changing Journey In A Somewhat Stagnant Doc [Sundance 2022]"
The Hollywood Reporter:  "'The Mission': Film Review | Sundance 2022: Tania Anderson's documentary follows four young Mormons on their mission to Finland."
***
Here's a thought-provoking piece, written from an unconventional angle, on wearing masks:
"Being pro-life demands sacrifice — for a pandemic, too: It is not asking too much — in fact, it's really the bare minimum — for those of us who believe we are justified in asking a woman to sacrifice much to preserve a life growing inside her body to inconvenience our own bodies by wearing a piece of cloth."
***
Over the past week or two, for some reason, I've seen several critics — disaffected former believers in each case, I think — declare that Joseph Smith's prophetic claims were motivated by a desire to avoid farm work.  The claim has reminded me of a relevant passage in one of Hugh Nibley's books:
Everybody says Joseph Smith was lazy because of the things he didn't do, but what about the things he did do? What good does it do to say that you, with your tiny routine of daily busywork, think another man is lazy if that man happens to accomplish more than ten ordinary men in a short lifetime? Joseph Smith's activities are a matter of record and they are phenomenal. You might as well claim that Horowitz doesn't know how to play the piano to a man who owns a library of Horowitz recordings, or that Van Gogh couldn't paint to the owner of an original Van Gogh, or that Dempsey couldn't fight to a man who had fought him, as to maintain that Joseph Smith was a lazy loafer to the historian who gets dizzy merely trying to follow him through a few short years of his tremendous activity.
I think this constantly reiterated unfailing charge that Joseph Smith was a raggle-taggle, down-at-the-heels, sloppy, lazy, good-for-nothing supplies the best possible test for the honesty and reliability of his critics. Some of them reach almost awesome heights of mendacity and effrontery when, like Mrs. Brodie, they solemnly inform us that Joseph Smith, the laziest man on earth, produced in a short time, by his own efforts, the colossally complex and difficult Book of Mormon.  ("The Myth Makers," Collected Works of Hugh Nibley, 11:144-45)
On that same subject, one or two of you might be interested in a couple of columns that I wrote quite a while ago for the Deseret News:
"Were Smiths workers or slackers?"
"Did Joseph Smith take the easy path?"
***
Finally, here's something that I located in a folder adjacent to the Christopher Hitchens Memorial "How Religion Poisons Everything" File©.  I sometimes see references to "Morgbots" and "Mor(m)ons" and "Utard," which, in the circles who think in such terms, is characterized as pretty much the armpit of the universe, a place inhabited by ludicrous and inept buffoons who are both hilariously funny and, well, evil and malevolent and dishonest.  (Come to think of it, by these standards I really am a representative specimen of the breed.)  Anyway, I don't think that my adopted home state deserves such scorn.  And here's just one recent little news item that, in my judgment, puts Utah in a light that certainly merits no scorn:
"These 4 states have fully regained the jobs lost during the pandemic"
Posted from Newport Beach, California