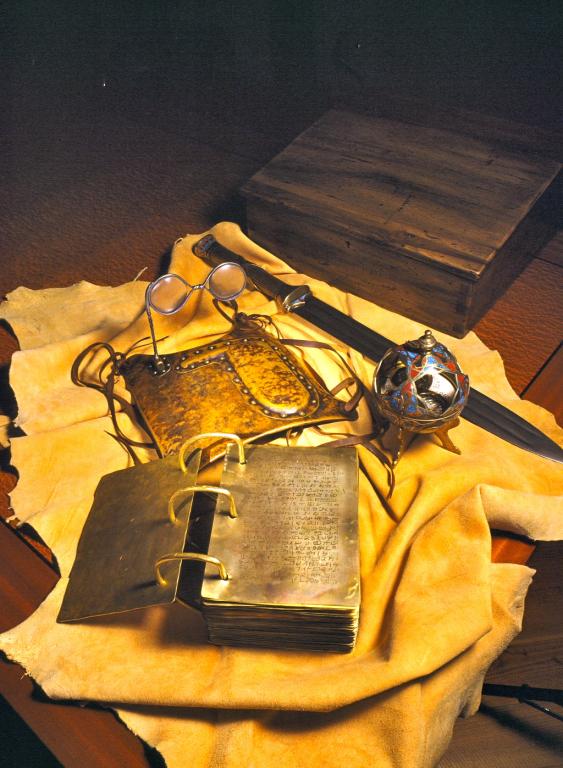 ***
In case you haven't heard, Deseret Book and Excel Entertainment have now established a program for streaming videos called Deseret Video+ and, if you scroll down on its initial page, you will see that Interpreter's theatrical film Witnesses is one of the program's premiere offerings.  Please take a look.  And — I think Deseret Video+ has had some glitches, but I hope they're now mostly in the past — I would love to hear from you how it's worked.  (Preferably no later than Monday noon, Utah time.)  I'm especially interested in hearing from people outside the United States.  And, although I haven 't yet checked, I'm told that French, Spanish, and Portuguese subtitles are available on the DVD as well as in the streaming version.  Can somebody tell me whether these features are really there and, if so, whether and how well they work?  I would be much obliged.
***
In the meantime, the website of the Interpreter Foundation continues to post new articles and recordings of various kinds.  Here are four of the latest, for your delectation:
Come, Follow Me — Old Testament Study and Teaching Helps Lesson 5, January 24-January 30: Moses 7 — "The Lord Called His People Zion"
Jonn Claybaugh kindly contributed this, the latest in his series of brief "study and teaching helps."
Audio Roundtable: Come, Follow Me Old Testament Lesson 5 "The Lord Called His People Zion": Moses 7
The Interpreter Radio Roundtable for Come, Follow Me Old Testament Lesson 5, "The Lord Called His People Zion," on Moses 7, featured Bruce Webster and Kris Frederickson.  This roundtable, denuded of commercial and other distractions, was extracted from the 19 December 2021 broadcast of the Interpreter Radio Show.  The complete show may be heard at https://interpreterfoundation.org/interpreter-radio-show-December-19-2021/. The Interpreter Radio Show can be heard live on Sunday evenings from 7 to 9 PM (MDT), on K-TALK, AM 1640.  That works best in the Salt Lake Valley.  If you're outside of Salt Lake County, you can listen live on the Internet at ktalkmedia.com.
Nibley Lectures: Come, Follow Me Old Testament Lesson 5 "The Lord Called His People Zion": Moses 7
During the Winter Semester of 1986 at Brigham Young University, Dr. Hugh W. Nibley, professor emeritus of ancient scriptures, presented a series of 26 lectures to an Honors class on The Pearl of Great Price. This class was videotaped in the Maeser Building and made available by FARMS as both video and audio recordings. The text was then transcribed and included in Ancient Documents and the Pearl of Great Price, published by Deseret Book.
Interpreter Radio Show — December 26, 2021
The 26 December 2021 broadcast of the Interpreter Radio Show starred Steve Densley, Matthew Bowen, and the lamentable Dan Peterson. In this episode, Densley, Bowen, and Peterson talked during the first hour of the broadcast about Christmas as well as about updates on the Interpreter Foundation docudrama project Undaunted: Witnesses of the Book of Mormon. The second portion of the show was devoted to a roundtable in which the three amigos discussed the upcoming Come Follow Me lesson #6 (Genesis 6-11; Moses 8).  Other than the omission of commercial and news breaks, the complete 26 December 2021 conversation is now available to you, easily and at no charge.  The Interpreter Radio Show can be heard weekly, on Sunday evenings, from 7 to 9 PM (MDT), on K-TALK, AM 1640. As an alternative, interested parties can listen live on the Internet at ktalkmedia.com.
***
In the past couple of days, I happen to have run across declarations (elsewhere) from critics of the Church who express their absolute certitude that there were no physical Book of Mormon plates.  Period.  End of story.  They're not just saying, I think, that the plates weren't really ancient or that the plates weren't really engraved with an ancient Nephite text, nor even that they're unpersuaded that such plates really existed..  They're saying that the plates were flatly nonexistent, either a lie ginned up by the boundlessly mendacious Joseph Smith or, if they're feeling more charitable, a figment of his deranged imagination.  And that there is no debate on the matter, no contrary position even to be considered.  Case closed.
I'm struck, and mystified, by their certitude.  I personally judge the evidence — chiefly provided by Joseph Smith, the eleven official Book of Mormon witnesses, and the half dozen or so unofficial witnesses (e.g., Emma Smith, William Smith, Katharine Smith Salisbury, Lucy Harris, Josiah Stowell, Mary Musselman Whitmer, and, indirectly, Lucy Mack Smith) — for the literal, physical existence of some sort of metallic plates in the possession of Joseph Smith in the late 1820s to be extremely strong, indeed nearly if not altogether conclusive.  Whatever one thinks of their nature or provenance, their flat existence seems to me difficult to plausibly deny.
And yet these folks deny it, and seem to have no real problem denying it.  For them, or so they say, the issue is unambiguous.  There just weren't any plates, and (they sometimes add) it's simply ridiculous to imagine that there were.
I'll shift gears just a bit:
When I was much younger, I had heard the term invincible ignorance, and I thought that I understood it.  But I didn't.  Invincible ignorance, I imagined, was the kind of determined lack of knowledge that not only doesn't know x but doesn't want to know x.  The kind that utterly refuses to know x.  The kind that stubbornly goes on asserting falsehoods about x no matter how often and how thoroughly it is corrected.
These plate-denying folks, I would have thought, are prime examples of invincible ignorance.  However, as I said, I was wrong.  They're not.
Invincible ignorance is a term developed  in Catholic moral theology — it goes back at least to the great Summa Theologica of St. Thomas Aquinas (d. 1274), after whom one of my sons is named — and it refers to the moral status of persons who, through no personal fault of their own, are ignorant of the fact (as Thomas and subsequent theologians viewed it) that the Christian message is true.  A person who fails to know x because he or she could not and cannot know x is not culpable for being ignorant of x.  He or she cannot be considered accountable or morally responsible for such ignorance.
The precise opposite of invincible ignorance in Catholic moral theory is vincible ignorance.  It refers to people who were or are in a position that renders them capable of knowing x by means of reasonable effort, especially where knowledge of x is in some sense obligatory, but who freely choose not to do so.  People in a state of vincible ignorance may be granted some excuse for it if they made at least some effort to overcome their lack of knowledge but, if they made no serious effort at all to correct their error, it actually renders their culpability for it greater and more serious.
These are some of my thoughts, contemplating a few folks who claim to know for certain, without any shadow of doubt or any trace of awareness that there is evidence against their position, that absolutely no physical Book of Mormon plates of any kind, whether miraculously provided or not, ever existed.
Posted from St. George, Utah