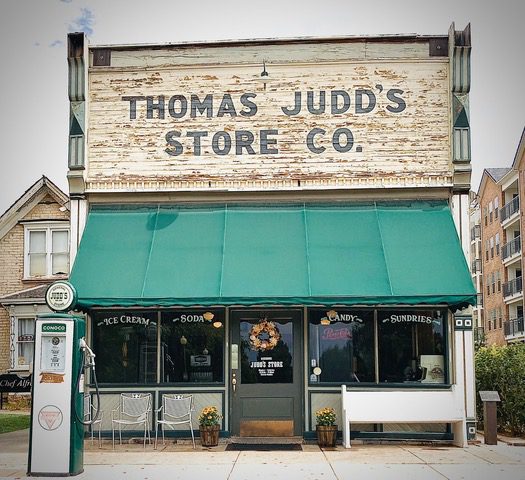 ***
I recently sat down for a "Come, Follow Me" podcast with Scot and Maurine Proctor.  It's now up online, and a few of you might perhaps find it more or less endurable:
"Come Follow Me- Old Testament Podcast #13-God Remembers His Covenant to a Thousand Generations, Exodus 1-6"
Tomorrow night — Sunday, 20 March 2022, at 6:00 PM — I'll be speaking at a Latter-day Saint chapel in Panguitch, Utah.  The address is 550 South 100 West.  If any of you happen to be in the neighborhood, I would enjoy seeing you there.
On Thursday afternoon, two of my very favorite cousins came down here to St. George to stay with us.  They spent their earliest years here, and we've long wanted to wander around the town with them.  We had a really enjoyable time, basically reminiscing and trying to track down some family history.  We visited Judd's General Store, which was one of the centers of my own mother's childhood universe.  (On the eponymous Thomas Judd, see here.)  We also had a really good meal at Benja Thai and Sushi, on St. George Boulevard — the much smaller St. George of my earliest memories would probably not have had a Thai restaurant, let alone several of them — and tried to have a really good meal at Don Pedro's.  But we ran out of time after eating a lot of chips and salsa (and waiting) and eating more chips and salsa (and waiting) and eating more chips and salsa (and waiting) but eventually had to leave in order to attend a Friday night Josh Turner concert at the magnificent Tuacahn amphitheater.  Most importantly, though —  besides the rich morning and evening conversations —  we spent substantial time at the Washington County registrar's office, and visiting family graves at the St. George Cemetery.  And, enormously satisfying to me, they took us to the house in which they were children, which (we were able to confirm) is also where my grandfather (who died in 1943) and my grandmother (who died in 1958) raised a family, including my cousins' father and my own mother.  Today, after considerable modification, it houses the St. George Bicycle Collective.  I vaguely recalled where it was, but now I know for sure and exactly.
This was a very worthwhile trip for me.  Last night, as we were driving home from the concert, one of the cousins told me that she felt that her father and my mother were very pleased at our getting together and spending time on the history of our family.  Curiously, earlier in the afternoon, I had felt a very strong impression to that same effect.  For several years now, I've experienced powerful promptings to devote more attention to such matters.  Members of the Church of Jesus Christ of Latter-day Saints often speak of "the spirit of Elijah."  I now understand better what that means, and what it feels like.
***
From David Wilkinson, God, Time and Stephen Hawking: An Exploration Into Origins (London: Monarch Books, 2001), 145-146:
Some may ask at this point, why is the universe so vast?  If God is a creator, then why not just one Sun and one planet?  This would be sufficient to support life.  Part of the answer is to be found in the previous chapters.  We saw that the universe was so balanced that in order to give the billions of years for stars and elements like carbon to be produced, then it needs to be large.  However, it is not a full answer, for it simply begs the question of why did carbon have to be formed that way?  The only thing that Christianity replies at this point is that the God of the Bible is a God of extravagant generosity.  Theology calls this characteristic 'grace'.  He creates with an extravagance that reflects his own greatness and glory.  Another Old Testament psalm celebrates this by beginning, 'The heavens declare the glory of God' (Psalm 19:1).  It again is not a full answer, but it does make sense that the creation should in some way reflect the creator.
There is also awe in the scientific enterprise itself.  If most of science is dull hard work, there are those moments of discovery which John Habgood, the former Archbishop of York and research chemist, would call, 'Wow, look at that!' moments.  The physicist Richard Feynman, though not a Christian, nevertheless spoke of being a scientist as: 'The same thrill, the same awe and mystery, comes again and again when we look at any question deeply enough . . . it is true that few unscientific people have this type of religious experience.'
This kind of response has a long history in scientific thought.  Kepler spoke of 'joy' and being 'ravished' at the creation.  Einstein, who was hesitant about the idea of a personal God himself however, was struck by the logical simplicity of the universe.  The complexity of the physical universe flows from the basic laws and initial conditions that are comparatively simple.  That underneath complexity lies simplicity is a discovery which evokes awe in many scientists.  Perhaps it is this that is reflected in the words of Simone Weil: 'Scientific research is simply a form of religious contemplation.'
Rev. Dr. David Wilkinson is a British Methodist theologian — he holds a Ph.D. in systematic theology — who teaches at the University of Durham.  So what does he know — anti-scientific fundamentalist and obscurantist that he undoubtedly is! — about science?  How dare he speak on the subject?  Well, it's probably worth mentioning that he also holds a doctorate in theoretical astrophysics and that he is a Fellow of the Royal Astronomical Society.
***
Incidentally, the notes I've been posting here are being cited by certain of my critics as proof of my lack of originality.  And I must confess that I'm so very unoriginal that it had never so much as occurred to me that notes drawn from one's reading ought to be original.  They're notes, after all.
Posted from St. George, Utah