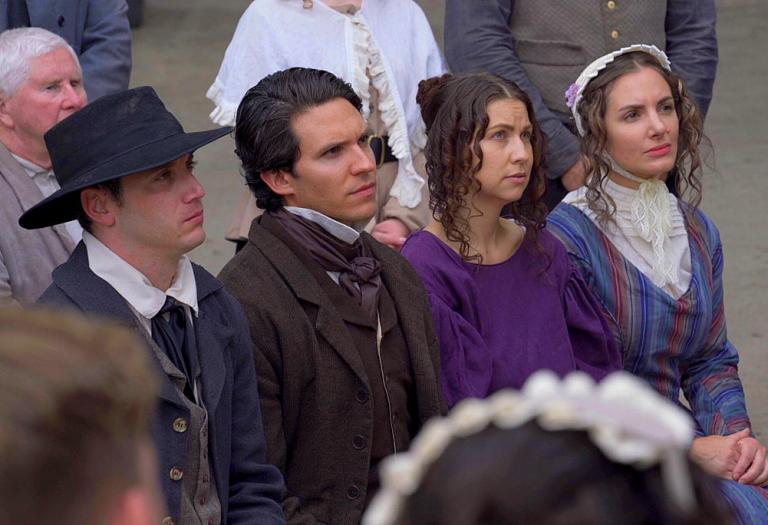 ***
I've said for quite some time here that, as part of the overall Witnesses project — which was not at all exhausted by last summer's Witnesses theatrical film — we would eventually be posting a series of short features on social media, for viewing at no charge.  Well, I'm extremely gratified to announce that the first of them, this one weighing in at slightly more than eight minutes in length, is now up:
Undaunted Witnesses Episode 1: Oliver Cowdery, Witness
From Book of Mormon scribe, to angelic visitations, and the Gold Plates, to leaving the Church—and eventually returning. Who was this scholar, lawyer, and early Church founder?
This is the first episode in a series of posts supporting the testimonies of all the various witnesses to the Book of Mormon. This episode focuses on the experiences of Oliver Cowdery, one of the Three Witnesses. For more information, go to https://witnessesofthebookofmormon.org/ or watch the documentary movie Undaunted.
There will eventually be at least twenty of these short features.  They'll be going up each week from now on, probably (as this one did tonight) at 7 PM on Saturday evenings.  We hope that you'll enjoy them.  And that you'll share them and call the attention of others to them.
Please note, too, that even shorter versions of our short features are also available:
"Interpreter Now Has Instagram and TikTok Channels"
The Interpreter Foundation is expanding its social media outreach today by adding channels on TikTok and Instagram to our channels on YouTube, Facebook, and Twitter. The new channels will focus on short videos complementing the longer videos available on our YouTube channel. The initial posts on both channels are a short clip from the first video in our new series, Undaunted Witnesses (https://interpreterfoundation.org/category/undaunted-witnesses/).
Also newly up on the Interpreter Foundation's website is a short piece written by Kyler Rasmussen:
"Interpreting Interpreter: Some Priestly Put-Downs"