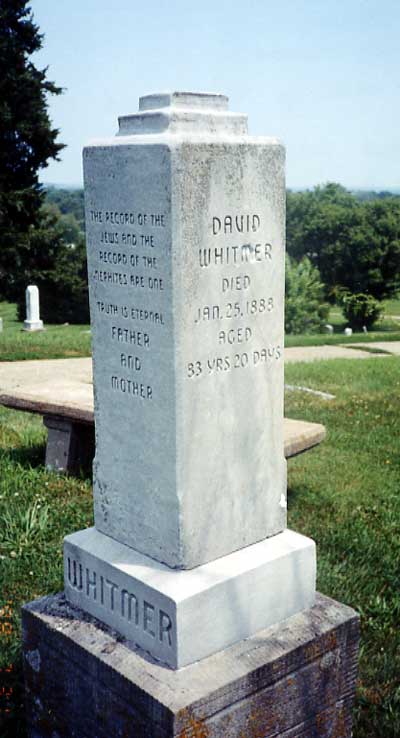 ***
I'm pleased to announce (although, owing to my schedule today, I'm announcing it about four and a half hours late) that the third installment of the Interpreter Foundation's "Undaunted Witnesses" reels went up this (Saturday) evening:
Undaunted Witnesses Episode 3: David Whitmer, Witness, with Camrey Bagley Fox and Gerrit Dirkmaat
David Whitmer was one of the Three Witnesses, from a whole family of witnesses of the Gold Plates. Yet after falling out with Joseph Smith, David left the Church and never returned. But he also never denied his testimony of the Book of Mormon—and, in fact, emphatically repeated that witness countless times through the remainder of his life.
This is the third episode in a series of posts supporting the testimonies of all the various witnesses to the Book of Mormon. This episode focuses on the experiences of David Whitmer, one of the Three Witnesses. For more information, go to https://witnessesofthebookofmormon.org/ or watch the documentary movie Undaunted.
A short clip from this episode is also available on TikTok and Instagram.
It would be very helpful if people were to "Like" and "Share" the videos as they come out. And we also hope that many will subscribe to our YouTube channel and other social media platforms.
***
Did any of you in the United States or elsewhere outside of Palestine happen to hear about this story?  In Israel, we marveled at it.  I mean, what kind of a moron do you have to be in order to pull a stunt like this?
"Panic at Israel airport after US family bring unexploded shell to security check: One man was taken to hospital for treatment for injuries sustained as he tried to flee the area over a baggage carousel."
"Chaos as American family brings unexploded shell to Israel airport"
Fortunately, we and all of the members of our tour group arrived at Ben Gurion before the incident, and we all left after it — and it didn't seem to be affected in any permanent way.  In fact, it's worth mentioning that Ben Gurion is a much more friendly airport than it was when I first arrived at it in January 1978.  It was horrible back then.  But now it's really quite pleasant.
And not a single one of us brought an unexploded piece of ordnance to the airport.  At least, so far as I'm aware.