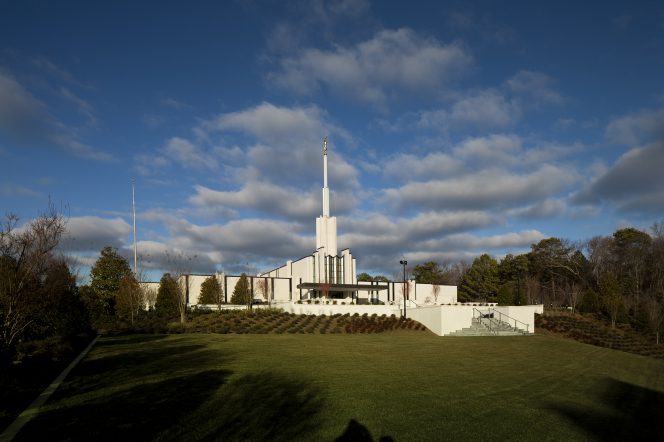 I'm not in Jacksonville, but I am in Florida, and this Florida-related story from twentieth-century Church history seems Sabbath-appropriate to me:
Elder Charles A. Callis had presided over the Southern States Mission for over twenty-five years prior to his being called to the Council of the Twelve and was virtually "sainted" in the hearts of Church members living there. The assignment to create the first stake of the Church in the South had been long contemplated in 1946, but was reserved for Elder Callis to perform when his failing health permitted him to travel. At the beginning of 1947 Elder Lee was assigned to accompany this mighty Apostle and on January 11 the Lees departed for Jacksonville, Florida.
Elder Callis arrived in Florida a day ahead of the Lees to clear up a personal matter with a dear friend. Once this was taken care of, Elder Callis told Elder Lee, his junior companion, that he was willing to leave the details of organizing the stake in his hands. In the course of the interviews, however, some difference of opinion arose concerning whether Orlando and some of the other mission branches should be included in the new stake. Differing from Elder Lee and some of the local priesthood leaders, Elder Callis was insisting that Orlando, Florida, ought to be included.
Eleven years later Elder Lee used this experience to teach an important characteristic of prayer to seminary teachers of the Church. He recalled:
When Mission President Heber Meeks and President Douberly from the Orlando Florida Branch and I all disagreed, it worried President Callis. That was always a rather serious situation to me, too, to not be in agreement with Brother Callis. He was a man of strong, vigorous, and powerful thinking.
He said finally, "I will have to sleep on this." With that statement he dismissed me. The next morning he called me into his room, and as he pulled his chair close alongside mine, he said to me with an impressiveness which I shall never forget, "Last night I talked with God, and he has given me to understand that you are right and I am wrong." (From an advanced course in theology at Brigham Young University, July 6, 1956.)
As they concluded their interviews they overheard the choir practicing in the chapel. When the choir began singing the hymn "O My Father," Elder Callis broke into tears, and said to the brethren, "Take care of your wives; I haven't and she's gone." His emotions were close to the surface, and it became apparent to those who were with him that he was preparing for the end of his life. He ordered a room in the church fitted up as a bedroom, and he insisted upon spending two nights alone in that room. He told the brethren that everywhere he went he saw Sister Callis. Elder Lee wrote:
I had the impression, and so expressed myself to Sister Jenkins, that Brother Callis wanted to die and had wished it could take place in that room, by himself. He had us drive him to the old chapel and to the home where his twin sons were born and died. He seemed to be reliving these experiences for the last time.
Members of the Church came to Jacksonville, Florida, from as far away as Miami and Charleston, South Carolina, with 789 in attendance at the morning session and 1,043 present for the afternoon session of the history-making event. The spirit of prophecy was upon Elder Callis as he presided at the conference, all the time very near his departed loved ones to whom he made frequent reference.
After the announcement of the new stake presidency in the Sunday morning session, Elder Callis seemed to have suffered a mild heart attack, but grew stronger during the day. He spoke with great emotion to the Saints he loved and paid tribute to Sister Callis, declaring that she and others who had labored as missionaries in the South were in attendance at their meeting that day. He prophesied that there would be other stakes organized in the South, and that eventually a temple would be built there that the younger members of the stake would live to see. The fulfillment of his prophecy came on June 1-4, 1983, with the dedication of the first temple to be constructed in the South, in Atlanta, Georgia.
After setting apart sixty-four ward and stake officers, the visiting authorities were guests for dinner at the home of Brother and Sister O. H. Hawkins. The Lees left at 9:00 p.m. for St. Augustine, where they spent the night. Elder Callis, in excellent spirits that night, requested his host, Brother Hawkins, to retell a famous fight story. Later in the evening he asked Brother Hawkins to arrange for his return trip to Salt Lake City the next day.
The following day, driving toward Miami, Elder and Sister Lee were stopped by a highway patrolman who informed them that he had a death message for them. They learned then that Elder Callis had died suddenly the night before of a heart attack.
Elder Lee reported the death immediately to President David O. McKay in Salt Lake City, advising him that the Saints in the South were desirous of holding services in Jacksonville for their beloved leader, before the Lees left with his body for Utah. Elder Lee cleared the proposal with President George Albert Smith, and memorial services were delayed in Salt Lake City until after funeral services were concluded in Florida.
Twelve years later, while teaching a group of student leaders, Elder Lee drew on an experience he had at Elder Callis's funeral to illustrate the importance of praying for each other:
I was the one to conduct Brother Callis's funeral service in Florida. It was a sorrowful trail that I had followed. I loved Brother Callis. My heart was tender. In the quiet of my hotel room I shed some tears; I tried to prepare. Finally the day came. It was Thursday, January 23, 1947. The funeral was to start at 10:00 a.m. in the Jacksonville Ward Chapel.
Speakers were President D. Homer Yarn. President of tile Georgia District; A. E. Jenkins, senior member of the high council and dear friend of Elder Callis; President Heber Meeks, president of the Southern States Mission; and myself.
As the first two speakers concluded it was now about a quarter to eleven, and as the song was being rendered, before the president of the mission and I then were to conclude the service. a Western Union messenger arrived with a telegram for me. When I opened it, it was a message from the First Presidency requesting that I read it at the service. I arose to read it and I suddenly found myself overwhelmed with some kind of a great feeling that I couldn't quite understand. It wasn't sorrow. because I had conquered that in those two days preceding. And then I began to think, "This is Thursday." What was it that I felt? Suddenly when that telegram came it was as though I was just as close to the Council of the Twelve and the Presidency as though they had walked in and taken their seats on the stand behind me. Up to that time I had felt so much alone, with such a heavy responsibility. Twelve o'clock in Florida meant it was 10:00 a.m. in Salt Lake City, and knowing the way the Council meeting is held, at 10:45 a.m. every member of the Twelve and the First Presidency would be dressed in temple clothing surrounding an altar in the place nearest to heaven on earth. And I said. "Now I know what is happening. They have offered a prayer for me. and this is the answer. I am receiving the answer of the prayers of the First Presidency and the Twelve."
When I returned home, my first question to President George F. Richards was: "Brother Richards. in your temple meeting last Thursday do you remember whether or not at the prayer at the altar there was a prayer offered for me particularly?" He thought a moment and said: "Yes, Brother McKay led us. And he prayed that the Lord would bless you down there all alone so that you would feel the strength of the Presidency and the Council of the Twelve to be with you." I said: "I received it in one of the most dramatic experiences of my life."
I was taught by that experience how important it is to receive the prayers of the faithful.
Elder Lee entered this final comment in his journal about a sacred moment at the conclusion of the services for Brother Callis in Jacksonville: "As the services ended and I went to Brother Callis's room in the Church to get my hat, I seemed to hear him say to me, 'Well done, son, well done' – and I felt satisfied."
On January 28, 1947, a funeral service was held in the Salt Lake Tabernacle for this powerful missionary-Apostle so revered in the South. Nearly four thousand persons attended, despite a snowstorm. At the following Thursday meeting with the Quorum of the Twelve, Elder Lee voiced Elder Callis's opinion that other stakes in the mission should be created, rather than further dividing the mission. He then repeated in the presence of the First Presidency the prophecy made by Elder Callis that other stakes, and one day a temple, would grace the Southern States.
At the meeting of the Twelve on April 24, 1947 it was decided to organize two new stakes from the missions, one centering at Columbia, South Carolina, which partially fulfilled the prophecy, and another one at Spokane, Washington. (Harold B. Lee, Prophet and Seer, by L. Brent Goates, 205-09).
The Orlando Florida Temple was dedicated on 9 October 1994 by President Howard W. Hunter.  President Dieter F. Uchtdorf dedicated the Fort Lauderdale Florida Temple on 4 May 2014.  The Tallahassee Florida Temple is currently nearing completion.  On 2 April 2022, President Russell M. Nelson announced the building of a temple in Tampa, Florida.  And — in a nice sequel to the story of Elders Charles A. Callis and Harold B. Lee quoted above, President Nelson announced on 2 October 2022 that a temple will be built in Jacksonville, Florida.
Posted from Miami, Florida