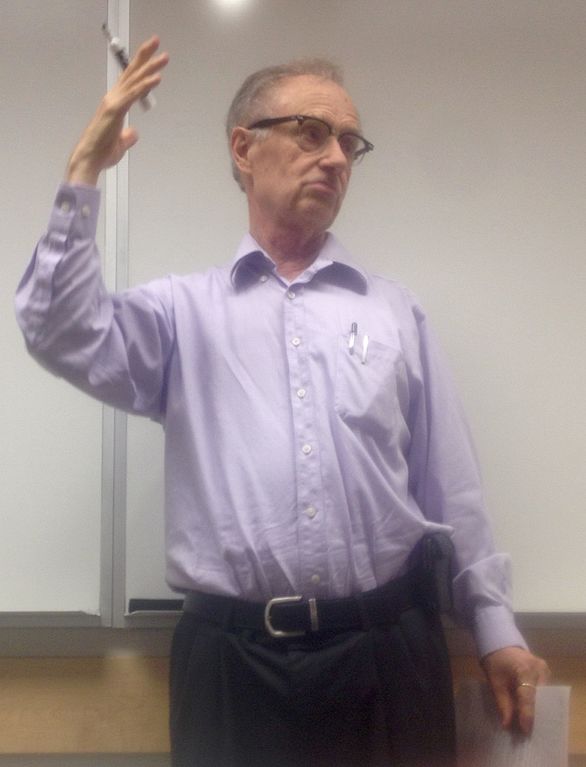 I received a note late last night from Royal Skousen.  I excerpt part of it below:
I will be presenting on the current status of the [Book of Mormon] critical text project at UVU [Utah Valley University] on November 12, 2022, a Saturday, from 7 to 9 p.m. The entire campus is open for parking except the parking garage, which costs $1 an hour.
The location is the Sorenson Center Center Stage. . . .  I would like to present on my current work . . .  because of the important results I am coming up with as I write parts 7 and 8 of volume 3, the last two printed books in the critical text series. . . .
The title of my presentation will be "Textual Criticism and the Book of Mormon". . . . I will speak for about an hour and a half, then we'll have half an hour for questions. . . .
The first part of my presentation will deal with the early transmission of the text and will include what we know about how Joseph Smith translated and how the scribes wrote down his dictation, with evidence not only from witnesses of the translation, but also supporting evidence from the original manuscript itself. Then I will turn to how the text was copied from the original manuscript to the printer's manuscript (and for one-sixth of it directly to the 1830 edition). My work on this transmission completely overthrows the traditional view of textual critics that a text becomes easier and longer when it is copied. To the contrary, the original manuscript text, when copied, became more difficult and shorter. This finding has huge implications for the theory of textual criticism. Even more important, the Book of Mormon is a long, repetitious text, and this allows us to objectively define what are difficult and easier readings.
In the second part of the presentation, I will discuss conjectural emendations. Textual critics have claimed that their goal is to avoid conjectures, but in actual fact texts have many conjectural emendations, mostly hidden since we do not know the transmission history of most texts. But for the Book of Mormon, we do. And I will be discussing the fact that there are hundreds of conjectural emendations in the current text of the Book of Mormon. Even more surprising is the large number of conjectural emendations in foreign language translations of the Book of Mormon, even when these translations are supervised, so to speak.
And finally, I will be discussing volume 5 of the critical text, which will be released in January. Volume 5 is the computerized collation of the text and it includes every change, not only in words and phrases, but in typos, scribal slips, punctuation, capitalization, versification systems. Only I have had access to this computerized collation, but in January it will become publicly available. And more important, it will be linked to volume 4 of the critical text, Analysis of Textual Variants of the Book of Mormon, so that when users view a particular variant of some significance in the text, they will be able to read what ATV has to say about how the Book of Mormon text should read for that variant. The collation will be presented in a WordCruncher format, thus conveniently allowing users to find all the variants of any given type.
It's going to be an enlightening evening. I can guarantee that there will be substance in this presentation, not fluff.
***
I took some satisfaction in a blog entry here the other day in the fact that, by flying from Fort Lauderdale to Atlanta and from Atlanta to Richmond, I had connected three "temple cities."  And, after Richmond, I was headed for Boston, which also has a temple.  But we didn't make it.  Instead, our flight from Richmond to Boston was delayed and delayed and delayed and, in the end, cancelled.  By which time we had long realized that we would never make our scheduled flight from Boston on to Tel Aviv.
I'm not sure that more than a quarter of my flights over the past six or eight months have departed on time.  (One that did depart on time never reached its destination.)  Some, like yesterday's Richmond to Boston trip, have been altogether cancelled.
Not to worry, though:  Delta had our backs.  They sent us to a real dump of a motel about twenty miles from the Richmond Airport.  I probably shouldn't look a gift horse in the mouth, but it was the dreariest, most run-down hotel or motel that we've stayed in for probably thirty years or so — and I'm including some real horrors in the Middle East.
So here we are back in New York City, in John F. Kennedy International Airport, awaiting a flight to Tel Aviv that will be leaving, in sha'a Allah!, nearly thirty hours later than the flight on which we had originally been booked.  (Happily, though, there's also a temple in New York City; my wife and I attended a session in it just a week or two ago.)
And here's where I feel that I need to offer my regular explanation for such trips, so that those who police my finances in hopes of finding yet more redundant evidence of my depraved corruption will have the chance to understand what's going on and, if they feel so inclined, to claim that I'm lying about the matter:
We're headed to Israel to accompany a tour there.  We had planned, as usual, to arrive a day earlier than anybody else, both to greet our group as it arrived and to lead those who came earlier than others on a walking tour of Jaffa (or Yafo, or Joppa), the very ancient peninsular town that sits immediately to the south of Tel Aviv.  But it was not to be.  I also like to arrive a bit earlier, frankly, because I want to have a slightly longer opportunity to recover from jet lag; the people on my tour bus are free to fall asleep while I drone on and on, but I am not.
But here's the burning question:  Who finances my travel to Israel for such tours?  Answer:  It's not the Church of Jesus Christ of Latter-day Saints.  It's not the Interpreter Foundation.  It's also not the Illuminati or the Koch brothers.  It's the tour company that organizes the trips, which is now Bountiful Travel.  For reasons best known only to their leadership, they deem that my accompanying such tours works in their interest.  Critics are welcome, of course, to ridicule so silly an idea and to pronounce the people participating in the tour brainwashed and exploited dupes — as, in fact, some critics have regularly done in the past.
They are also free to claim that such trips as these make me very wealthy.  As I've explained before, though, I've never been paid for accompanying these tours.  My expenses are paid, as are those of my wife.  (Otherwise, I couldn't afford to go so often, generously lecturing and providing background for other people's vacations.)  But I've received no cash for them — which may prove me dimwitted but doesn't seem to point very clearly to a greedy financial master plan.  Although we may eventually revisit the arrangement; many others who accompany such tours as these, both Latter-day Saint-oriented tours and non-Latter-day Saint-oriented tours, do receive relatively modest compensation for doing so.
Anyway, when next you hear from me, we should be in אֶרֶץ יִשְׂרָאֵל, "the land of Israel."  And it's on to Egypt thereafter.
P.S.  That will probably mean that my time and opportunities for email and for banter in the comments section of this blog will be substantially reduced.  Sometimes, there's no email at all.  Even when there is, though, I'm very busy on these trips — we'll probably reach our hotel in Tel Aviv at about 7 PM on Thursday, Israel time; we'll have a meeting with our group at 8:30 PM, and our wake-up time the next morning, for a very full day, is at 5:45 AM.  I know, I know.  Cue the violins.
Posted from New York City