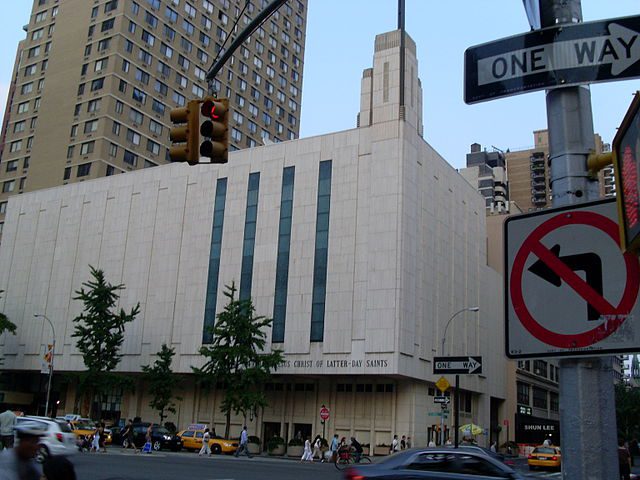 Three new items have gone up on the Interpreter website:
"Nibley Lectures: Time Vindicates the Prophets — Prophets and Gnostics"
Between 7 March 1954 and 17 October 1954, Hugh Nibley delivered a series of thirty weekly lectures on KSL Radio that were also published as pamphlets. The series, called "Time Vindicates the Prophets," was given in answer to those who were challenging the right of members of the Church of Jesus Christ of Latter-day Saints to call themselves Christians.  This lecture suggests that the end of the primitive church came about due to the ceasing of prophetic revelations.
Come, Follow Me — Old Testament Study and Teaching Helps: Lesson 43, October 17–23: Jeremiah 30–33; 36; Lamentations 1; 3 — "I Will Turn Their Mourning into Joy"
Yet again, Jonn Claybaugh has contributed a helpful and concise set of notes to the Interpreter Foundation for the use of students and teachers of the "Come, Follow Me" Old Testament curriculum.
Audio Roundtable: Come, Follow Me Old Testament Lesson 43 "I Will Turn Their Mourning into Joy": Jeremiah 30–33; 36; Lamentations 1; 3 1–3; 7; 16–18; 20
The Interpreter Radio Roundtable for Come, Follow Me Old Testament Lesson 43, "I Will Turn Their Mourning into Joy," on Jeremiah 30–33; 36; Lamentations 1; 3, featured Terry Hutchinson, Kevin Christensen, and Mark Johnson.  It was broadcast on 11 September 2022 as part of the regular weekly Interpreter Radio Show.  But the roundtable has now been extracted from that show and made available to you free of charge and free of commercial and other interruptions. The complete show, of course, may also be heard at https://interpreterfoundation.org/interpreter-radio-show-September-11-2022/. The Interpreter Radio Show can be heard on Sunday evenings, without fail, from 7 to 9 PM (MDT), on K-TALK, AM 1640.  Or, if you can't get them on your radio dial — perhaps because you live in Johannesburg or Bangkok or Melbourne or American Fork — you can still listen live on the Internet at ktalkmedia.com.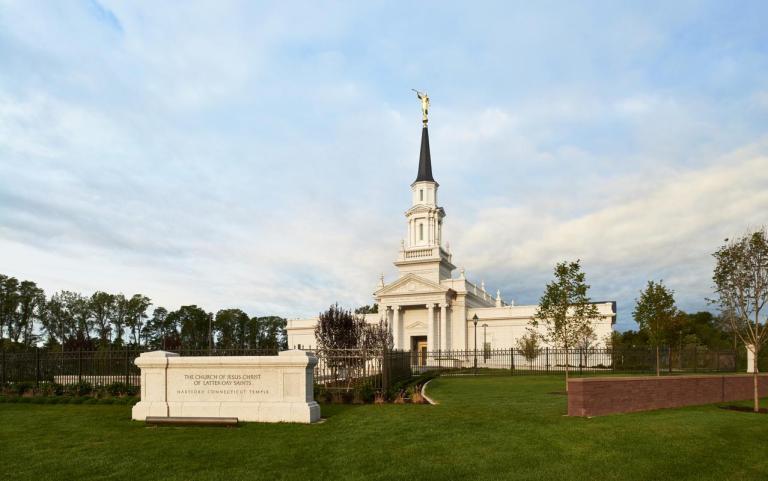 My wife and I attended a session at the Manhattan New York Temple late this morning.  It's a remarkable place, a small gem, astoundingly quiet and serene despite its being surrounded by the noisy and insistent bustle of New York City — located at the intersection of West 65th Street, Broadway, and Columbus Avenue, near Lincoln Center, the Juilliard School, and Central Park — and literally worlds apart from everything around it.  I was pleased to see that none of the ordinance workers involved in our session, and relatively few of those who were in our company of temple patrons, were standard-issue white Utah-style Latter-day Saints.  They represented, I think, every major ethnic group.  Some of them spoke little or no English.  I had a good time.  (I officiated on behalf of James Alexander Wray, who was born on 17 December 1856 in Henry, Sussex County, Virginia, which is still today an unincorporated community down near the northern border of North Carolina.  I wonder how long it's been, until Latter-day Saint family history and temple service took up his case, since he has been remembered by anybody or his name uttered.)
I've always felt, after attending the temple, that, no matter what else I do that day, the day has been a good one.  That I've done something worthwhile.  Going to the temple also reorients me.  It gives me my bearings again.  I used to feel that especially strongly when emerging from the Provo Utah Temple and from the Los Angeles California Temple because of the view that greets you upon emerging from the building.  I felt it again today, exiting the serenity of the Temple into the traffic and congestion of Manhattan.  But we adjust, right?  My wife and I had a very good lunch just a short walk from the Temple, at Cafe Fiorello.  We've eaten there two or three times before, after temple sessions or after having given a fireside in the chapel below the Temple, and it has never disappointed us yet.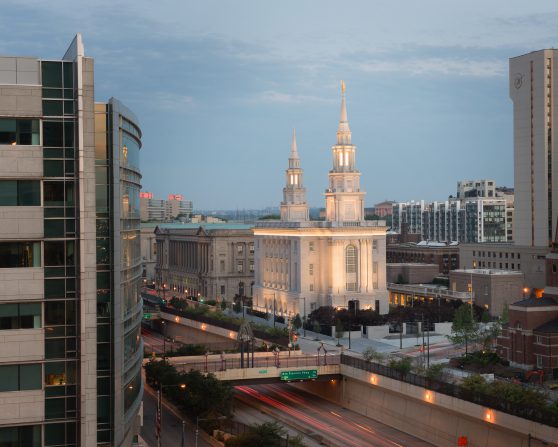 We've just walked back from a performance of Tom Stoppard's latest play, Leopoldstadt.  It's a remarkable piece, fictional but — very plainly — heavily influenced by his own autobiography and the history of his own family.  Despite his name, which he came by honestly growing up as a refugee in England — he's now Sir Tom Stoppard — he was actually born Tomáš Sträussler to a Jewish family in what is today the Czech Republic.  Leopoldstadt is an affectionate, wistful, even loving, tribute to a family that, for the most part, he never knew.  It expressly draws on, and uses visuals based upon, family trees and old photographs.
The play takes its name from a district of Vienna that, before Hitler's Holocaust, was known for its high proportion of Jewish residents —  38.5 percent in 1923 — which also gained it the nickname Mazzesinsel ("Matzo Island").  Leopoldstadt follows an extended Jewish family in Vienna from 1899, under the relatively tolerant Austro-Hungarian Empire, through the rise of the Nazi Third Reich and the Anschluss of Austria, to the reemergence of a postwar independent Republic of Austria in 1955.  Some of them die natural deaths; most of them die in Auschwitz (a few in Theresienstadt or Dachau).  By the end of the play, only three members of the family are still alive.  One had gone to New York to work as a Freudian psychoanalyst — the play opens in fin de siècle Vienna, after all — another had somehow survived Auschwitz, and the third, obviously a surrogate for Tom Stoppard (aka Tomáš Sträussler), had been taken by his widowed mother to England when he was very young.  She remarried there, took her new husband's quite un-Jewish name, and raised her boy, originally named Leopold Rosenbaum, as Leo Chamberlain.  He is scarcely aware of being Jewish, and he only gradually begins, in the play's very last scene, to remember even vague portions of his Viennese childhood.
Human lives and family stories are inexhaustibly rich, and people are the most important things in the universe.  In their very different ways, Leopoldstadt and the vicarous work of Latter-day Saint temples are both predicated on that fact.
Posted from New York City, New York