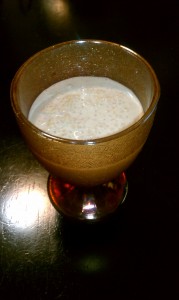 Halloween is my favorite holiday, hands down. I plot and plan costume ideas all year (and then usually don't do any of them), I make an annual "pilgrimage" to the Spirit Store (where I usually buy nothing), and I spend some time working on my family tree (where, if I'm lucky, I'll find a little bit more than nothing).
This year, the season of the Ancestors came early to my home. I had an extremely vivid dream visitation at the beginning of the month from my oldest step-sister, Maimouna Sall, also known as Bato, who died 7 years ago after complications in childbirth. I've had enough dream visitations from beloved departed, that I can usually tell, in the dream, when something is going on and remind myself, "Pay attention to this so you can tell so and so!" This instance was no different. She showed up, looking like herself, but different. Looking at me with such intensity I could feel her gaze, and communicating with me in English, a language we never shared, her mouth never moving. I told my mother about it the next morning and she instantly called my step-father, to have me recount the dream to him.
For the last several years, a group of friends and I have gotten together for an Ancestor Dinner, creating foods from our various genetic lines. There has been the expected Southern Black "soul food" contributions as well as foods from all over the globe. We've shared why we created what we did, create an ancestor plate with a little taste of every offering and then we GRUB!
This year, as a result of my dream, I decided to make degue (pronounced dey-gey) as my ancestor food to share with my family. I was first introduced to this dish when visiting my step-father's family ten years ago. My aunt (and hostess) in Paris offered me my first taste. I had to struggle to maintain the pretense of even the barest minimum of any home training. I wanted to eat that whole bowl. I kept stealing glances into kitchen to see if there was just a little bit more I could taste. Seriously, folks, when you read about ambrosia and the divine foods of the gods, they are probably talking about degue.
When we got to Mali, we told Bato and another sister, Asetu, about my newfound degue passion and they went out and got the ingredients for me to learn how to make it. The especially amazing thing about the experience was that the grain used, millet, came in a flour texture so they had to first teach me how to mix it with just the right amount of water and then roll it, by hand, in a specific pattern that made the tiny balls before adding in the rest of the ingredients.  It took a really long time. And then, after quite a bit of work, it tasted so very good.
That experience was only a small sample of the generosity Bato showed us during our months with them. As I get older, my awareness of her generosity and my appreciation for it continues to grow and to deepen. I offer prayers and petition Spirit on her behalf, that wherever she finds herself, there she gets and extra measure of ease and rest and pleasure and joy. She worked very hard to take care of her younger siblings after her mother died while her father worked, here in America, to be able to send money home to support them.
To make this year's batch, I found a recipe online and modified it. I also saw where someone posted a vegan recipe, for those who lean that way.
Ingredients
200g millet couscous
500ml buttermilk
1 tsp vanilla sugar
1 tbsp butter (optional)
sugar, to taste
Method: Boil water in the base of your steamer. Place the millet couscous in a colander or in the steamer basket. Sit over the boiling water, cover with a lid and steam for about 25 minutes or until cooked through and tender. Turn the cooked millet couscous into a bowl, stir in the butter and mix thoroughly to separate the grains. In another bowl, mix the buttermilk with the vanilla sugar and sugar. To serve, place the millet couscous in a bowl and add the buttermilk. Mix thoroughly then place in the refrigerator and chill for at least 2 hours before serving
I also found a video link on YouTube for those who are interested.
Blessed Ancestor Season. May your dreams be rich with visitations from your ancestors of blood, of family and of Spirit.



Nadirah Adeye is a priestess and mother who also dreams true. Please forgive her any lack of smoothness or clarity in this sharing. It has been written, for the most part, as an offering of recognition to Bato on a public, sacred altar.