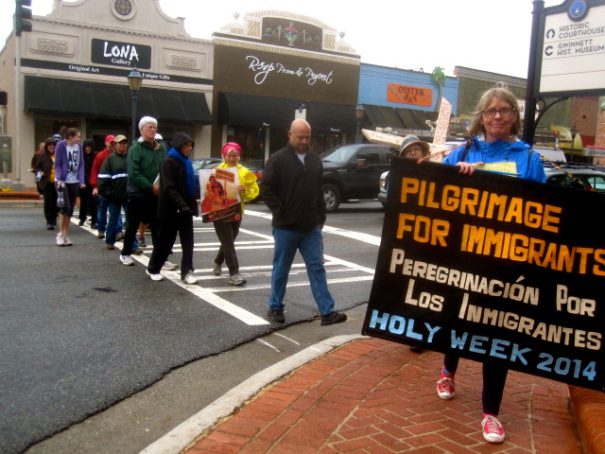 A few years ago, I had participated in the Pilgrimage for Immigrants in the Atlanta, Georgia, area, a moving and meaningful event that I still have vivid memories about. Because of my parish duties, I haven't been able to attend again since then, but thankfully organizer Anton Flores-Maisonet of Alterna Community in La Grange, Ga., posts nightlyreflections about the experience.
Seriously, I hope you will read his daily reflections. It is how I am walking through Holy Week myself, and I'm thankful he posts nightly for those of us who cannot make the trip. They are challenging, provocative, and direct.
His latest is fantastic. Click over and give it a read, and then read his other reflections.
34,000 of our immigrant brothers and sisters are currently held in detention centers without due process and not for any criminal sentence. In fact, many of those detained are asylum seekers whom our government incarcerates, often for very lengthy periods of time, whilst determining the best way to protect these individuals from persecution in another land.
Or from his Monday reflection:
Could it be that all this time I saw those who exploited the poor inside the Temple as the thieves when, in reality, it is any of us who enter the house of God to worship but check the demands of holy justice at the door? What a turning over of the tables!
Do yourself a favor, and follow along the Way of the Cross on this Pilgrimage for Immigrants.