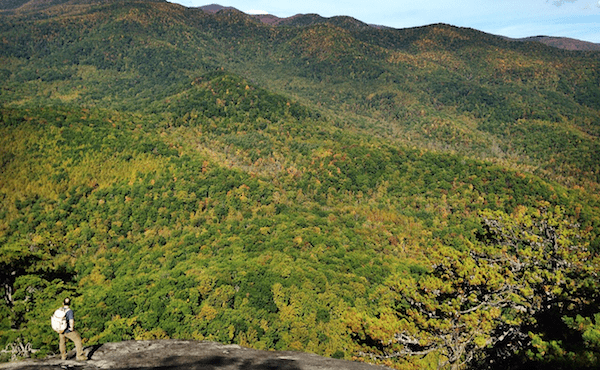 The Last Sunday After Epiphany — Year C — Luke 9:28-36 (37-43a)
Right now, we are in a season of seeking power and prestige. With the presidential election season officially in full swing, we see it in almost every news story on the front page or leading the 24-hour news cycle. It's an all-out race to the top that frequently seems more like a race to the bottom with each candidate vying to be their party's chosen one for the general election and the salvation to the United States.
Candidates and their surrogates on all sides are trying to build their power with fundraising, with debate performances, with stump speeches, town hall meet-and-greets, and, at times, downright demagoguery, pandering, and mudslinging. They are courting endorsements of America's most influential leaders and they are, at times, implying the posthumous endorsements of our nation's framers, founding fathers, and great reformers.
In a surprisingly deft and timely theological move, Jimmy Kimmel this week portrayed Jesus repeating actual quotes from our presidential candidates. And it was hard to imagine Jesus acting like this at first. It wasn't just the quotes his was repeating that was so jarring, but the very image of him stumping in front of a podium with his name on a campaign logo. I mean, Jesus  was so far above all this desire of power and prestige, right?
Increasingly, I'm not so sure. In fact, as I've read through Luke during Epiphany, a season all about glory and light, I'm beginning to think the kind of power and prestige our presidential candidates are after might just have been Jesus' greatest temptation throughout his life.
And if that's even close to true, it's hard not to read today's gospel text against the backdrop of power, cultural endorsement, and prestige. Because if the disciples had any question before the Transfiguration that Jesus was the real deal, it all should have been burned away by the bright dazzling light and the stunning appearance of two foundational people in Jewish history, Moses and Elijah, to say nothing of God's own proclamation again that Jesus is the Beloved Son.
Talk about an endorsement.
There's power and prestige rippling and shining throughout this story of Transfiguration. Traditionally, the church has interpreted the Transfiguration as a story of glory. But I can't help but wonder if, like most stories of tremendous glory, it's also a tale of temptation.
Stay with me. I promise this isn't heretical. It's actually quite biblical, and it says something critical to us about being followers of Christ in the midst of a season of politicians seeking power and cultivating endorsements.
In fact, the Transfiguration fits a striking pattern in Luke surrounding Jesus' temptation, which doesn't simply end after 40 days in the Judean desert. Instead, as Luke indicates, the temptation of Jesus continues throughout his life as the Slanderer searches for opportune moments. Each of these ongoing temptations are folded into events regarding Jesus' identity and an offer of prestige, popularity or power. And significantly each happens in high places.
In the desert, just after Jesus is identified as the Beloved Son in baptism, the Slanderer takes Jesus to the pinnacle of the Temple overlooking Jerusalem and offers him the power and prestige to reign over all of it.
In Nazareth, just after Jesus identifies himself as the fulfillment of Scripture and the people identify him as Joseph's son, the people initially lavish him with praise and offer him prestige and popularity in expectation that he will lift them all up economically.[1] When he rejects the popularity, they attempt to run him off the cliff.
On Mt. Tabor, just after Peter identifies him as the Messiah and Jesus foretells his death, Jesus is transfigured and he is seen with Moses and Elijah, and Peter offers to establish dwelling places in that safe, high place for them all.
On the Mount of Olives, overlooking Jerusalem, in a clear echo of his last temptation in the desert on the pinnacle overlooking the same city, Jesus identifies himself as a servant of all  and is then identified with a kiss by Judas. There, he experiences his final temptation to take power. When the guards approach to arrest Jesus, Peter draws the sword Jesus had instructed his disciples to purchase and to carry with them in Jerusalem and cuts off the ear of the high priest's servant.  What we overlook, though, is that just moments before Jesus had prayed to avoid the cup of suffering. What I've never heard mentioned his Jesus' own stony, perhaps indecisive, silence as the guards approach and the disciples ask him if they should strike with the sword. It is only after violence and blood is drawn that Jesus seems to make up his mind, accept the cup of suffering, and resist the temptation to take power through violence.
"No more of this," he says, a heavy, hard-fought phrase that at least defeating his temptation to power and prestige. And to avoid suffering.
In each of these four instances, Jesus is identified, by God, by others, or by himself. In each case, Jesus is in a high place — a pinnacle, a cliff, a mountaintop. In each case, Jesus is offered power, prestige, or popularity, which is another way of saying he was offered protection from hardship and from suffering.
At any point, he could have accepted. That was his temptation, to live a life of safety and security rather than of love and relationship which necessarily puts our lives on the line in some way. He could have accepted the Slanderer's temptation in the desert and been crowned a temporal king. He could have accepted his hometown's temptation to become a popular, local savior who healed and fixed everything. He could have accepted Peter's temptation to take up residence on Mt. Tabor, transfigured with Moses and Elijah. He could have accepted his Peter's temptation for violent revolt.
He could have succumbed to the temptation of the high places, to power and prestige.
Everyone seemed to want him to, from the people who loved him most right down to the devil himself.
So what do we make of the continually tempted Jesus? Does it seem sacrilegious to think that Jesus did desperately want these things, to avoid the cup of suffering and the cross? Does it seem to make him less than divine and more human to reflect on all these opportune moments in which he might almost have given up his call as God's Beloved?
It shouldn't. If it wasn't something Jesus truly, deeply desired, it wouldn't have been a temptation, only a charade.
His temptation, not just in the wilderness but on all these mountaintops, make him deeply human, even at his most divine, transfigured moments.
But more than that it's a reminder that when power and prestige are being offered, we as Christians should take a long hard look at whether this is an opportunity or an opportune moment, a gift from God or a temptation.
Because ultimately, the life and death of Jesus is one which consistently resists the temptation to political power and by doing so manages to terrify and confront the politically powerful for their injustice and hypocrisy.
Jesus time and again resists the tempting comfort of popularity and prestige offered by the lofty and high places for the solidarity with those who live in the shadows and the valleys of life.
The high places, despite their power and prestige, are actually very small, confining places. But God's love reaches even to the deepest depths, expansive beyond comprehension.
Jesus didn't reject the high places, though he was tempted by them. Over and over, Jesus choses to make his home not over and above us, not controlling and reigning over us as a despot or cosmic fixer, not from on high in the dazzling reaches beyond us. Rather Jesus choses to make his home with us and among us, empowering us and journeying with us, in the valley of the oppressed who are shadowed by the powers of death and destruction. And Jesus brings liberation not through power and prestige but through expansive, redemptive love in us and with us.
It is tempting for us, during this political season, to imagine voting for Jesus as president, to imagine his stump speeches, or even to believe that our candidate is really the candidate of Jesus.
But that is to fall prey to Jesus' temptation in the high places. And it's a vestige of that hierarchical thinking which Jesus ultimately rejects, that hierarchical thinking that relies on the powerful and prestigious to transform the world when our Lord chose the lowly and rejected to do so.
Jesus resisted the temptation of the high places, and in doing so, he revealed the glory of God. That's what I see happening in the Transfiguration: a revelation not just the glory of God in Jesus but our Lord's greatest temptation.
And that glory of God wasn't revealed in things on high, the dazzling ineffable, or prestigious company of saint. That was the temptation.
The glory was revealed when Jesus came down from the mountaintop, preferring the company of sinners and the daily grind of the impoverished and unloved. That was the glory.
The glory of God isn't found in the high places, in a vertical God.
The glory of God is the God standing right next to us.
++
This post is brought to you by my generous patrons, including Randy, Roseanna Goodman, Debra Warwick-Sabino, Denise Williams, Carren Sheldon, R.G. Lyons (pictured above), Zeb and Tara and many more. Please consider supporting my work by becoming a patron, too,  —at even just $1 a month— through Patreon. Thanks for reading. Thanks for sharing. Thanks for your support. It means more than you could know
References:
For more on Jesus' first sermon in Luke and the expectatons of the townspeople of Nazareth see: The Annotated Jewish New Testament, ed by Amy-Jill Levine
For further reading on the  end of the vertical God see: Grounded by Diana Butler Bass.