Here lies John Harper. Jun 12 1908 – May 18, 1972.
The simple grave marker is all that most people will ever know about John Harper. It's a simple testament to a a 64-year old man who was born and who died.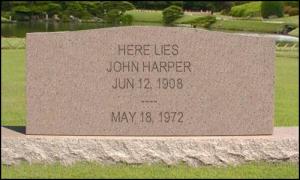 What kind of life did he lead? Was he simply a victim of circumstance to be commemorated only with a cold piece of stone? What on that tombstone could he have changed?
The name is one given through birth or marriage — There's no going back and fixing that
The date of birth was the result of the union of two people — No changing that one either
And the date of death was almost certainly the result of some external forceBut the one thing on that tombstone of John Harper — and billions of others like him could control — was the dash. The dash that represents the years between the birthday and the death day.
The dash represents a life lived.
The dash represents a thousand decisions, a thousand lives impacted, a thousand chances to change their world. The dash represent days live for some causes, some purpose, and some good
Beyond your own life
John Harper was my grandfather. He died when I was nine, so my memories of him are dim. He didn't leave us a cent. But I see the way he impacted my mother who impacted her children and by God's grace, we are impacting others. John Harper was a merchant marine and was a salty sailer. But he had a simple faith. I still have the plaque that hung in his kitchen. "Jesus never fails."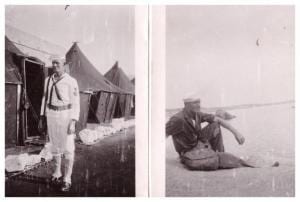 We need to be a people of the dash – not being trapped by the prison of circumstance or birth or events or even death.
Maybe you were born poor.
Or were raised in a house without love.
Maybe you are a minority.
Or suffer from a disability.
Instead, live for the dash. These precious moments that God has given you to do something for His glory.
We need to begin making a difference in our neighborhoods, our schools, and our workplaces.