The latest instrumental collaboration by Phil Keaggy and Jeff Johnson, Ravenna, comes at just the perfect time. In the middle of days that find us embroiled in political strife, cultural division and pandemic, a collection of wordless music by two musical masters is the perfect medicine for the pain that ails us. The music combines the skills of Johnson on keys and Keaggy on guitar in a soothing mix of acoustic, jazz-age, and even touches of art-rock.
Inspired by the mosaics of Ravenna, Italy, the songs are simply titled – "Mosaic 1" through "Mosaic 8." And by doing so, the interpretation of the meaning is left to the listener.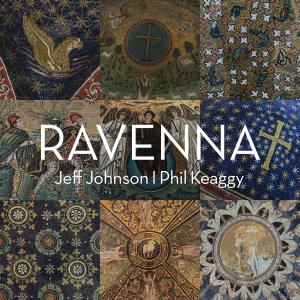 Mosaics are pieces of colored stone, ceramic or glass that are assembled to produce an image or to depict a scene. Looking at them up closely, you will only see the individual pieces. They will not mean a thing. But the full picture comes into view when you step back and take it all in.
Ravenna is much the same thing. With each song logging in at around the 7-minute mark, they are built note-by-note but are meant to be appreciated as a whole. I often found myself drifting during the music, washed up on some remote beach, or walking through an ancient forest, a soundtrack accompanying my every thought.
These two are giants in their individual right. Phil Keaggy has been wowing audiences since the early '70s with his guitar wizardry, exploring nearly every dimension of the instrument and creating or appearing on scores of albums. Jeff Johnson has been equally prodigious, producing keyboard-driven music for nearly as long with jazz, Celtic, contemplative, progressive rock, ambient and many other styles to his expertise.
Collaboration in a time of social distance would be a challenge for most, but not these two, who were separated by thousands of miles during the process and yet of one of mind toward the music.
"Phil and I truly love the process," said Jeff Johnson in an interview. "We trust one another and have a huge respect for each other."
"Musically, Phil can go anywhere he wishes to on the guitar. So, I find that place which supports Phil's wonderful playing and add my bits when I'm able."
This is the fourth collaboration between the two. 2019's Cappadocia wowed listeners with a sound that often reflected sounds of the world at large, yet felt right at home. This collection has some of the same stylings, especially when Keaggy uses the mandolin, mandocello, and acoustic guitars to mimic Arabic and European styles. "Mosiac 5" especially has an edgier side which will tickle the listener looking for electric Phil. Other tracks range from moody to gentle to inspiring.
But like a good mosaic, everyone will see and hear these a little differently.
A promotional video can be viewed here, https://youtu.be/hXIP1rTuSHo
** Signed CD, CD and digital download of the album will be exclusively available at the ArkMusic/ Bandcamp site (https://jeffjohnsonarkmusic.bandcamp.com/) starting on February 5th. The album will be available on all other music sites beginning February 17th. **
David Rupert, 1/25/2021