Musical collaborations aren't always easy to pull off, especially when you have two accomplished soloists who have defined their own roles over the decades. But the combination of keyboardist Jeff Johnson and guitarist Phil Keaggy on the newly released album Cappadocia, excels.
With a combined total of well over 125 albums between them, Johnson and Keaggy are veterans of recorded music. But this union feels fresh, invigorating the artists and the listener is the beneficiary.
Instrumental music isn't foreign to either of these two.  Keaggy first wowed Christian audiences with Master and the Musician in 1978, and later with such masterpieces as The Wind and the Wheat and Beyond Nature. Since then, he has included instrumentals on nearly every one of his dozens of albums. He just released an instrumental rock album, Bucket List.
Jeff Johnson has a long history of instrumental works, covering Irish, Jazz, and World Music. His musical genius can be found in his discography with successive years producing eclectically intricate Gregorian-chant inspired music, followed by rousing Celtic celebrations only to jump to lyrically rich releases featuring Johnson's warm voice.
This is the duo's third collaboration,  following Frio Suite and WaterSky.  There is obvious respect for each other and what they each bring to the project. They play off each other. They set each other up. They listen to the movements of the other and then enter in with their own. What's beautiful about this album is that the two never sat together. They each worked separately in their respective studios, swapping notes like separated pen pals, eventually creating a single work.
Johnson can create evocative rhythms, the kind that plays in your head deep into the night past the conscious state. Those rhythms are just what Keaggy needs to start with his flying fingers tapping out the strings with passionate purpose.
(Click here  for an exclusive interview with Phil Keaggy and Jeff Johnson.)
Cappadocia isn't an album of two musical greats competing to see who can scale the most powerful riff. Rather it's an obvious attempt by two giants, eyeing each other across the sheets of music, and then with a respectful nod, they feed off each other's strength.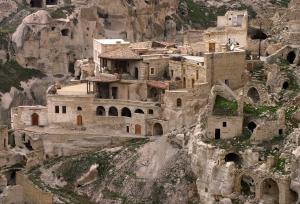 I've been to Cappadocia, a place where St. Paul established some early churches and the believers were known to reside in the caves and edifices found in the intricate geology of the region. Johnson was inspired by a recent visit to the region and named the entire project for the region.
In the liner notes, Johnson quotes Gregory of Nyssa, a 3rd century bishop who was one of three 'Cappadocian Fathers:'
One who looks to this divine and infinite beauty…his desire to look never tires, for the revelations he awaits will be more magnificent and more divine than what he had already seen.
Journey to Wonder
Johnson has long had a fascination with the concept of Wonder, going back to Fallen Splendor in 1995 and even before that with Through the Door in 1982.  His interpretations of ancient lore, the mythical works of Stephen Lawhead, and Celtic poets all play into the concept of a God that is deep, mysterious, and satisfying all at once. That's the Wonder of faith, and it's fully captured in this release.
He said this in a previous interview, "As an artist, portraying wonder is the insatiable goal of mine. To experience wonder is to jump off the 'merry-go-round' of day to day living to stop, look, listen and consider the fact that there is a something greater – a more enduring story – that exists beyond our little world."
And wonder continues with the stunning title track.
In the video you are taken on a balloon ride over the region, floating over the soaring chimney rock, the chalky ground and other-earthly playground that once housed ancient believers. Looking down on them you can almost hear the tunes of this song playing through the valleys. Johnson's keyboards soar while Keaggy plays the cümbüş, a fretless, 12-string Turkish guitar that almost sounds like an Arabic banjo.
Longtime Keaggy listeners will hear a fretless bass and hints of an electric guitar solo drawing on 1985's
"March of the Clouds."
One track that also plays into wonder is, "That Which Is Hidden." It was the first piece the two recorded for the project. According to Johnson, it plays off a statement that a friend said once. "We know God better because he has hidden himself."  At one point in the song, the opening chords stop and a simple guitar line transitions into the same chord progression. Then the piano retakes the stages. "The way forward compositionally was to discover 'that which was hidden' in that opening progression."
"Quo Vadis" is the second track, with Keaggy taking the lead with his familiar finger pick and stet flashing grooves. The phrase is Latin, and is the same words that Jesus used when he met Peter on the road after the resurrection. It means, "Where are you marching? Where are you going?" The sadness, the frustration, the uncertainty of Peter can almost be felt in the music, only to be resolved in the certainty and promise of the risen Savior.
Johnson says of this song, "It's definitely one of the best songs that Phil and I have done in our collaboration over the years." And for a good reason. It's truly "world music," with infusions of Spanish, Eastern European, and pop elements. If you listen close enough, Keaggy adds some classical guitar and Ebow effects.
"Valley of Swords and Visions" reminds me of some of Johnson's interpretations of Stephen Lawhead's novels, with it's dramatic structure and yet peaceful interlude weaved in. It's a complicated piece, perhaps reflective of the geography of this valley in the Cappadocian region.
I love "Dove Visions" with a sonic spatial sound that moves in and out of the sweet Keaggy melody that reminds fans of the "Wind and the Wheat."  This is the second digital single from the album and is meant to reflect the promise of Scripture that doves represent.
The video for "Parousia" towers over the Cappodician cliffs, with Keaggy's familiar guitar catching the updrafts from the cliffs. The word means, "a presence." In the song, Keaggy's classical guitar references "Deep Calls Unto Deep" from Master and The Musician. He even throws in some cümbüş for a little Turkish delight.
This album is contemplative in sound and simplicity. Aggressive, in-your face-notes are absent. Even the hooks are velvet- lined. The album is meant to work slowly, weaving its way into the heart and mind.
The duo has designed it this way.
"We both love and enjoy musical textures and melody," Phil told me. "We also appreciate music that has a gentler tone and dynamics."
(Click here  for an exclusive interview with Phil Keaggy and Jeff Johnson.)
The music reflects the Cappadocia, Turkey landscape.
The World Heritage site became a religious refuge during the early days of Christianity where many believers fled Roman persecution. These Christian communities excavated extensive dwellings and monasteries and created Byzantine frescoed paintings in cave chapels. Some of these date back to the seventh century, enduring the elements and time itself.
Those caves and the art that embodied them were often works developed over a lifetime, in marked contrast to today's tendency to create instant results.
Sticking with concept albums
Today, there are many casual listeners of music, downloading singles or adding them to Spotify playlists. The number of artists who record an entire set of music around a theme is dwindling, victims of short-attention span listeners. But Johnson is still bucking that trend.
"Throughout my musical career, I have enjoyed making recordings that are 'concept based,' like Cappadocia," said Johnson.
"I still believe that modern audiences would enjoy the full album experience if more of them gave it a chance."
Each of the songs stands on their own, but I'm with Jeff. Listen to the whole album at once and the songs morph into a symphony.
You can purchase Cappadocia here.
Click here  for an exclusive interview with Phil Keaggy and Jeff Johnson.