Before you read this interview, please digest the full review of Keaggy and Johnson's new collaborative effort, Cappadocia, found here.
JEFF JOHNSON
Rupert: "Cappadocia?" What inspired you to name an entire project after a relatively obscure region?  
JEFF JOHNSON: "While Cappadocia today is a fairly out-of-the-way location, the historical importance of the place is quite well known. Because of that, I had always been intrigued by the place. A few years ago, I met an American couple – Jeri and Curt Bidinger – who manage a Christian retreat ministry in their home six months out of the year in Kaş which is down on the Mediterranean side of Turkey. They invited Susie and me for a visit with the caveat of taking us up to Cappadocia for a few days. The Bidingers really know the area and so we got to experience all of their favorite "haunts" there and were just overwhelmed by the beauty and "spirituality" of the place.
"I had been considering another project with Phil, yet wanted to do something that wasn't related to the Frio Canyon in Texas, (ie. Frio Suite and WaterSky). The music we make together has a great sense of "place" in it and Cappadocia just seemed to me to be such an obvious starting point for the next collaboration.
"Like the many canyons and valleys in the region, there were SO many "launch" points of inspiration one could go with the music. And it wasn't just the geography of course, but the rich Christian heritage as reflected in the many carved out churches and stone frescoes that are literally everywhere! There was so much to be inspired by and we had more than enough to make the music!"
RUPERT: Talk about the title song? It's a stunning and stirring number that I can't seem to get out of my head.
 JEFF JOHNSON:  "Once Phil and I got into this one, it soon became the main theme for the whole CD project thanks to some of the "eastern" sounds that I incorporated with Phil's Turkish chumbus lines. One of my favorite sections on the whole album is when Phil sings the melody in the middle of this and then comes back to it at the end of the song. I also love the transition to the electric guitar solo and how it modulates back to the main theme with all of the parts coming together."
RUPERT: What do you love most about working with Phil Keaggy? 
JEFF JOHNSON:  "Phil and I have a unique way of working with one another. It started years ago when a mutual friend suggested that we collaborate on a piece of music that he needed for an audiobook. We send tracks back and forth via the internet. One of us comes up with an initial idea and then formats it in a way that allows the other person to add his bits and then continue with any new ideas. This approach wouldn't work for everyone, but it really works for us and it's a lot of fun.
"Phil is of course known for being an incredible guitarist. But in addition to being a great musician, he has a tremendous ear and fantastic sense of melody and arrangement. The bottom line is that he inspires me as a composer and I inspire him. Our process is so natural and there is a tremendous musical trust that we have with one another. That's a real gift and I'm grateful for it."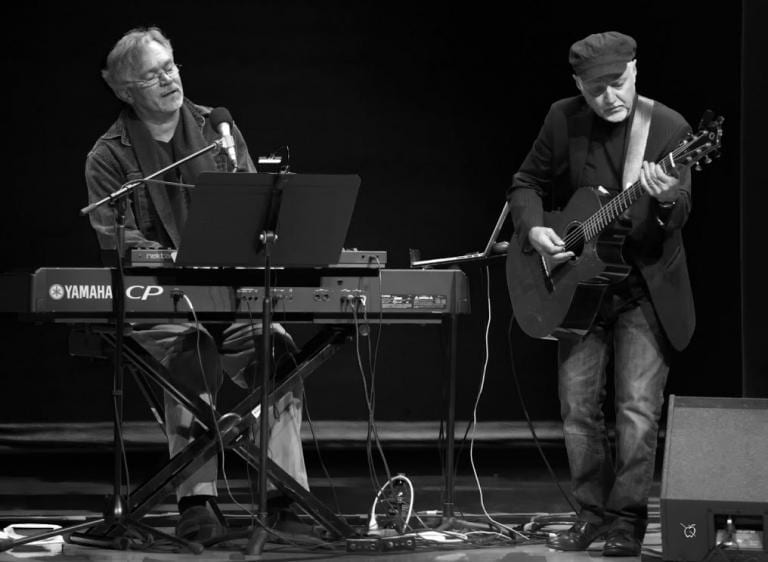 PHIL KEAGGY
RUPERT: Anyone who has seen you in concert knows you don't "need" any other musicians. What does a collaboration, especially with Jeff Johnson, do for your craft?
PHIL KEAGGY: "We all need other musicians! I play a lot solo because, these days, it's hard to keep a band going for live dates for a number of reasons. Collaboration sometimes brings the best out of us. It also helps you feel that you are contributing to another's gifts and creativity.
"I have collaborated a great deal over the last 3 years and working with Jeff is a work of art. We both love and enjoy musical textures and melody. We also appreciate music that has a gentler tone and dynamics. We both enjoy the musical influences from around the world and in particular our own musical inspirations of our homeland. Different artists and writers, because of their own unique style, help one to envision a larger musical picture. With Jeff, it's very panoramic!
Purchase Cappadocia, at this link.
RUPERT: What about the track, "That Which is Hidden? It's an interesting composition that utilizes a number of styles.
PHIL KEAGGY: "I love how this piece builds. It's an example of how a composition can slowly develop and eventually open up vistas of imagery that can be breathtaking. As with Jeff's other pieces he initially sent me, he allowed me to create the back half and then takes my musical ideas to a new sonic level. The electric guitars give a slight reference to music from the 1960s."
RUPERT: Where do you hope "to take" the listener of Cappadocia? 
PHIL KEAGGY: "I would like to inspire the listener to be free to travel in their mind to places they've never seen, simply by the feeling and emotion of the music. Jeff had a vision of a place in ancient Turkey that has an amazing history of people and faith. We hope the textures and melodies of "Cappadocia" will move listeners and make them interested in this distant and ancient world where people lived, loved, had families and expressed their way of life with thanksgiving and song."
"There's truly a lot of heart and passion in this third collaboration of ours."
Purchase Cappadocia, at this link.
Read the review of the album here.