His boyhood dream was to fly. When he graduated from high school, he joined the U.S. Air Force, hoping he would be able to pilot an airplane, but his poor eyesight was a disqualifier. He did his time and left the service, but he never abandoned his dream.
On July 2, 1982, 33-year old Larry Walters filled 45 weather balloons with helium and tethered them to a $10 Sears lawn chair. He had a bag that he filled with a liter of soda, a portable CB radio, an altimeter, and a camera.
He dubbed his flying machine, Inspiration I.
He cinched a parachute to his back and gave his girlfriend a "thumbs up." He released the cables, and he quickly found himself catapulting to the sky. In no time at all he was sailing 15,000 feet above the earth, floating across Los Angeles Harbor towards Long Beach.
Two airline pilots spotted him, uncertain of the flying object they could only describe as a "man floating through the sky on a lawn chair."
The terror he felt was real. All his earthen bravado was gone, floating several thousand feet below him. He was dizzy, and he was afraid he would pass out from a lack of oxygen. At three miles high, everything looked vaguely familiar and almost comforting – until he realized he was in a lawn chair.
He began to shoot the balloons one at a time with a pellet gun, hoping to gently guide his descent to the earth. But he found himself entangled in a set of lines marked "high voltage" about 10 miles from his initial launch point.
He dangled from the lines, protected from electrocution by the plastic tethers. Crews eventually lowered him down by cutting power to lines, blacking out Long Beach at the same time.
In an interview not long after his flight, he was asked why he would perform such a stunt. I loved what he said. "A man can't just sit around."
He later wrote this.
"It was something I had to do. I had this dream for twenty years, and if I hadn't done it, I think I would have ended up in the funny farm. I didn't think that by fulfilling my goal in life — my dream — that I would create such a stir and make people laugh."
The names they'll call you
You've heard Lawn Chair Larry's story before. Passed around in millions of emails, Larry was called a dunce, an idiot, and a fool. He received the very first "Darwin Award." According to the society that issues the awards, the standard is lofty.
"The Darwin Award commemorates individuals who protect our gene pool by making the ultimate sacrifice of their own lives. Award winners eliminate themselves in an extraordinarily idiotic manner, thereby improving our species' chances of long-term survival."
Those are harsh terms. And maybe that's why I love Larry. He had a dream. Sure, its defied science, common sense, and logic. But it didn't stop him from chasing it. He could have been severely injured. He could have died. But he said "yes."
For every dreamer like Larry, there are a hundred people who will stand by and criticize. Arms crossed, logic checked, reason in full display, they shake their heads in scorn. But isn't it great to surprise these doubters as we float by in our lawn chairs? We're Living a Life of Yes, and we're even making the city lights flicker on and off.
A few other dreamers have been called names. Noah was maybe the biggest dreamer and probably would have won the Darwin Award in his day. He was talking about buckets of rain in a time when the only moisture they had ever seen was a morning mist. He was talking about unfathomable amounts of water.
It wouldn't happen this week or next month or next year. It could have taken decades. And considering the workforce was just Noah and his immediate family, it was a long-drawn-out project.
I imagine a few disparaging names were thrown his way. And his family heard all of them too.

The dreamers are often the fools. And that's okay.
I have dreams – and some of them are big dreams. But I'm not sure all of them are rooted. I want to learn to play the violin. But I have never played an instrument in my life. I'll drive the neighbors crazy and inspire every cat for a mile around to head for the hills, but what's the worst that could happen?
I have dreams about travel, adventure, hobbies, and activities.
One of them is to kayak the Panama Canal. That may be the water equivalent of a floating lawn chair, but why not?
We all need to be building our arks. We all need to be going down to Sears, buying our lawn chairs.
I've found that when you ignore everyone else, it gives you a chance to listen to your heart. It gives you the opportunity to hear the voice of God that often speaks through your very mind in the stillness of the night.
The book of Psalms starts out just like this in chapter 1, verse 1. "Blessed is the man who walks not in the counsel of the wicked, nor stands in the way of sinners, nor sits in the seat of scoffers."
These scoffers are the people who say it can't be done.
These are the people who cross their arms in disapproval.
These are the people who are just sitting around.
---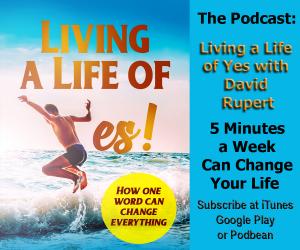 On the podcast we'll share some inflight audio from Larry and other clips.
Listen to the Living a Life of Yes Podcast on Apple . Try the New Google Podcast App and subscribe from there. Or you can simply download here.
But no matter how you listen, please help spread the word.