It's just a few inches deep and a few yards wide.
The small stream that flows out of Lake Itaska is recognized as the headwater of the Mississipi River. The waters flow for more than 2300 miles and eventually dump into the Gulf of Mexico.
Standing in that spot, "Mighty" and "Mississippi" would never come to mind.
But the Mississippi River is one of the world's major river systems. A significant segment of the economy in the U.S. depends on this river. Barges and their tows move approximately 175 million tons of freight each year on the upper Mississippi through a system of 29 locks and dams.
But it all starts in this little lake and stream in Minnesota. I've been there. I've tip-toed across the waters and skipped stones across the surface. I've also been at the end of the river and watched it's mighty force of water end the journey.
Between the beginning and the end, thousands of tributaries dump into the river. It ends mighty, but it started small. It ends with great force, but it is only that way because of the trickles of a thousand streams along the way.

Delayed Significance
Do you feel like your efforts don't matter, like they don't add up? Let me remind you of this — your drops of sweat and your tears are collected and they are added to what others have given. Those small flows collect into pools and then run in creeks which feed streams which feed The river which fills the ocean with good pure water
Did you know Vincent Van Gogh struggled in obscurity his entire life?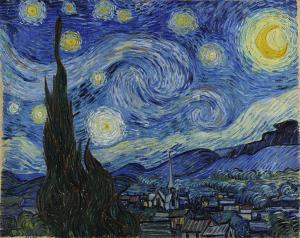 In one nine-year period, he produced close to 900 paintings. He used peasants and farmers as models and morphed to flowers, landscapes and self-portraits because he was too poor to pay his subjects. In order to live, he would barter his work for food and housing.
In all his life he sold exactly one painting.
Today, a Van Gogh painting is easily worth millions.
He's not alone in his talent being discovered long after his death.
Author Edgar Allen Poe, Poet Emily Dickenson, Philosopher Henry David Thoreau,  Astronomer Galileo, Composer Johann Sebastian Bach all shared similar post-humous success.
How about the efforts you give to change a community, a cause or a relationship? Is it possible that your work will not be realized as quickly as you hope?
Don't quit.
Be Faithful to Your Vision
But you may not be given the satisfaction of success. You may feel like your small effort means nothing. You never get to the river swell. You never get to see the blessing. Your work is obscure and done without any personal gratification.
To feed the River with your small talent isn't silly or minute or unnecessary. It's servanthood. To produce your finest, to give it your all, to give everything and at the end of the day, at the end of the season, at the end of the life the only result is a minor offering, it's important. It matters. Serving is giving and giving is freedom.
Be faithful to your vision do what's right. Be a servant to the greater good even if you do not always understand do not grow weary what you do matters.
Madeline D'Engle said this. "You work often knows more than you do.
---
Please listen to the weekly five-minute Living  Life of Yes Podcast. Thank you for subscribing and sharing.