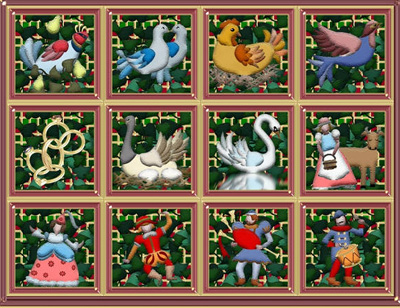 For the first time, the tally of everything in that famous Christmas carol has now crossed the $100,000 mark:
If you've ever thought about actually purchasing all the items (though we assume you'd need to rent the lords a-leaping, maids a-milking, and all the ladies dancing to the drumming drummers and piping pipers) listed in the holiday classic "The 12 Days of Christmas," you had better have a pile of cash at the ready.

According to the folks at PNC Financial, who have spent decades tracking the ups and downs of the gifts rattled off in the seemingly endless tune, the total cost of realizing the full 12 Days of Christmas has crossed the $100,000 mark for the first time, coming in at a total of $101,119.84.

While that's only a 4.4% change from last year, it's a 35% increase over the total price from only five years ago.

The single most expensive item on the list is the seven swans a-swimming at $6,300, followed very closely by the $6,294.03 you'd have to pay for the nine ladies dancing.

The cheapest item on the list are the eight maids a-milking, which somehow only costs $58. The partridge actually costs less at $15, but it has to come with the pear tree, which adds another $169.99 to the cost.

Keep in mind that even the least expensive item would need to be purchased several times over to fulfill the 12 Days bonanza.

Don't have $101,000 sitting around? Then for only $24,263.18 you can get one of each item on the list… You'd probably do better to just buy a nice car and throw a red ribbon on it. But then your neighbors will hate you.
In other "12 Days" news: for those who are certain the song is a hidden religious meaning…you might want to read this.