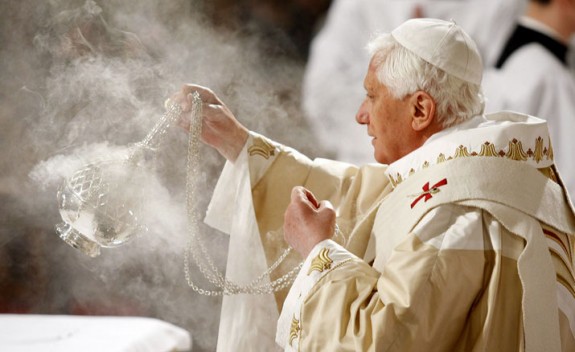 Italian celebrity perfume-maker Silvana Casoli, has created her most heavenly scent yet for a very special client, Pope Benedict XVI.

Known for creating a number of perfumes that can be used by both men and women with names like Chocolat Bambola (Chocolate doll) and Vanilla Bourbon, Casoli has designed unique fragrances for famous personalities like Madonna and Sting.

Speaking to Rome's daily paper, Il Messaggero, Casoli said that the name of the pope's specially-commissioned scent is top secret and she is not allowed to divulge all its ingredients. She did, however, reveal that she was inspired by the pope's love of "nature" and used a blend of fragrances from lime-wood, verbena and grass.

"I love speaking of my work," said Casoli, "but this time I can't. I am very devoted to the Holy Father." She promises his special cologne will never be reproduced for anyone else.

Casoli said she nearly fainted when she received the phone call from the Vatican and took months working on the commission in her small laboratory in northern Italy. At times she thought she would abandon it, but then she said she got inspired.

"I realized that an essence like this had to have at its core something pure and clean, recalling the idea of peace," she said. "I thought of the smells the pope would smell when praying at the Grotto of Lourdes" and about "his love for music, animals, green Bavarian forests."

Casoli is not new to "spiritually-inspired" scents. She created two perfumes for pilgrims on pilgrimages to Santiago de Compostela in Spain. They were called "Water of Faith" and "Water of Hope" and were so popular that priests presented samples to the pope, which gave him the idea that he would like his very own.