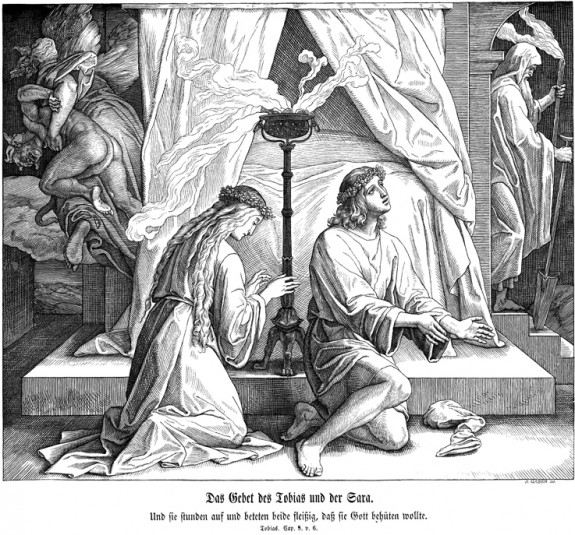 Admit it: prayer may not be the first thing that pops into your mind when the mood strikes.  But — proving once again that there is a prayer for everything — the wife of a deacon (!) has just the right words for the occasion, thanks to a book called "Prayer Book for Spouses."
Let us pray:
PRAYER BEFORE MAKING LOVE
Father, send your Holy Spirit into our hearts.
Place within us love that truly gives, tenderness that truly unites, self-offering that tells the truth and does not deceive, forgiveness that truly receives, loving physical union that welcomes.
Open our hearts to you, to each other and to the goodness of your will.
Cover our poverty in the richness of your mercy and forgiveness.
Clothe us in our true dignity and take to yourself our shared aspirations, for your glory, for ever and ever.
Mary, our Mother, intercede for us.
Amen.
Of course, there's also the great prayer from the Old Testament of Tobit and Sarah (shown above):
"Blessed are you, O God of our ancestors;
blessed be your name forever and ever!
Let the heavens and all your creation bless you forever.
You made Adam, and you made his wife Eve
to be his helper and support;
and from these two the human race has come.
You said, 'It is not good for the man to be alone;
let us make him a helper like himself.
Now, not with lust,
but with fidelity I take this kinswoman as my wife.
Send down your mercy on me and on her,
and grant that we may grow old together.
Bless us with children."