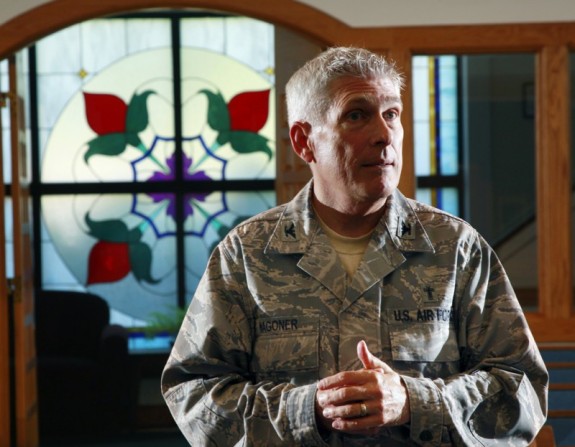 Col. Timothy Wagoner [shown above] has been an Air Force chaplain for 20 years, serving a denomination — the Southern Baptists — that rejects same-sex relationships.

Yet here he was at the chapel he oversees, watching supportively as an airman and his male partner celebrated a civil union ceremony.

"I wouldn't miss it," Wagoner said at the McGuire Air Force Base chapel, days later. "I don't feel I'm compromising my beliefs … I'm supporting the community."

Wagoner didn't officiate at the ceremony — he couldn't go quite that far. But his very presence at the gathering was a marker of how things have changed for active-duty clergy in the nine months since the "don't ask, don't tell" policy was repealed and gays could serve openly.

Prior to repeal, various conservative groups and individuals — including many conservative retired chaplains — warned that repeal would trigger an exodus of chaplains whose faiths consider homosexual activity to be sinful. In fact, there's been no significant exodus — perhaps two or three departures of active-duty chaplains linked to the repeal. Moreover, chaplains or their civilian coordinators from a range of conservative faiths told The Associated Press they knew of virtually no serious problems thus far involving infringement of chaplains' religious freedom or rights of conscience.

"To say the dust has settled would be premature," said Air Force Col. Gary Linsky, a Roman Catholic priest who oversees 50 fellow chaplains in the Air Mobility Command. "But I've received no complaints from chaplains raising concerns that their ministries were in any way conflicted or constrained." …

…According to the latest Pentagon figures, there are about 2,930 chaplains on active duty, most from theologically conservative faiths and organizations. The Southern Baptist Convention has the largest contingent, with about 450 active-duty chaplains; the Roman Catholic Church is next with about 220.

The Catholic official who oversees those chaplains, Archbishop Timothy Broglio of the Archdiocese for the Military Services, had vehemently opposed repeal of "don't ask, don't tell" and issued a statement after repeal conveying ongoing concerns "in this difficult time."

However, Broglio said he was unaware of any major repeal-related problems that had arisen for his chaplains during the first nine months of the new era.

"There have been no overt difficulties," he said. "It's more a question of what might occur in the future."

Broglio remains concerned that Catholic chaplains might somehow be pressured to participate in or facilitate ceremonies or programs that bestow recognition and approval on same-sex couples — "As time goes by, it will be a challenge, to make certain you're not silently condoning."

As for preaching the Catholic doctrine that homosexual behavior is a sin, Broglio said he expects chaplains to retain the freedom to do so as part of their religious services. But he said there is confusion as to whether that freedom extends to other settings where chaplains might face pressure to deliver inclusive messages.