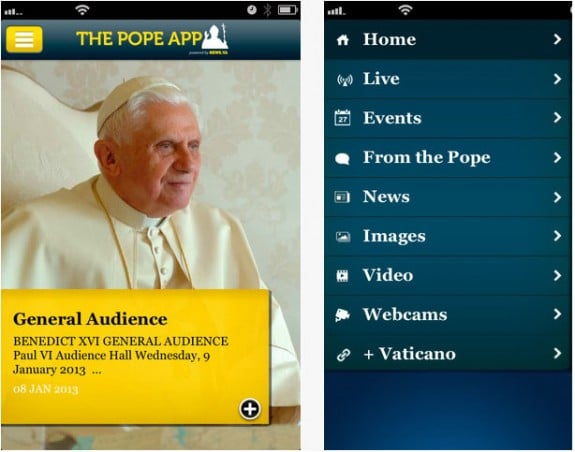 Our tweeting pontiff is delving deeper into the world of social media and modern technology, and now can be as close as your iPhone.
From CNS:
The Vatican launched a new "Pope App" on the eve of the release of the pope'sWorld Communications Day message, which will be dedicated to social networks as important spaces for evangelization.

The new app provides live streaming of papal events and video feeds from the Vatican's six webcams. It sends out alerts and links to top stories coming out of the Vatican's many news outlets as well as posts images and quotes from Pope Benedict XVI. The app is still in the 1.0 stage so as updated versions come out, there will be a search function for archived media, and links will eventually be shareable online.

"The Pope App" went live today for iPhone and iPad, while an Android version should be out by the end of February. It's currently available in English, Spanish, French, Portuguese and Italian.

The new app will allow people tofollow live broadcasts of papal events — like the Sunday Angelus, Wednesday general audience and other important events — as well as access images and other media from any mobile device or smartphone.

The new "Pope App" will alert users when an event is about to begin and the mobile device will receive the live feed directly from the Vatican Television Center.
And that's just for starters. Read the rest, and download it!