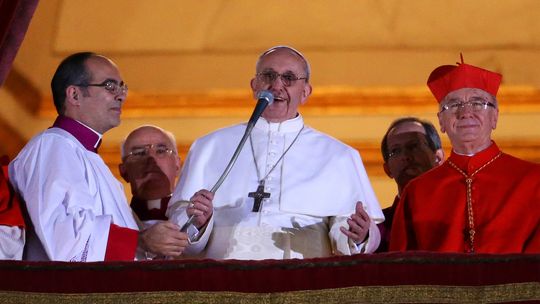 By bus. Like always.
The scoop, from Cardinal Dolan:
Cardinal Timothy Dolan of New York spoke Wednesday evening with members of the media following the historic election of the Catholic Church's new leader. And as usual, the head of the New York Archdiocese quickly got everyone's attention.

Dolan, who shared his thoughts on the process and selection of Pope Francis, called Argentine Cardinal Jorge Bergoglio, who became the first pontiff from the Americas, "a wonderfully simple man" with whom he was "impressed."

"He comes across as shy and reserved," Dolan said, while stressing "He's a man of confidence and poise."

"We'll sleep well tonight, knowing that the Church is in good hands," the Archbishop of New York added.

Bergoglio was known to ride the bus to work in Argentina, and did so going to and from the hotel where the cardinals participating in the conclave stayed this week.

Dolan told reporters the surprising story of how the newly elected pope decided to take the bus back to the hotel Wednesday with the rest of the cardinals instead of riding in the Holy Father's car.

"So we take the buses over and cardinals kind of wait outside to greet the new Holy Father as he comes back to Doma Santa Marta…and as the last bus pulls up, guess who gets off the bus? Pope Francis," Dolan said. "So I guess he told the driver, 'That's OK. I'll just go with the guys on the bus.'"
Read more and watch video here.
UPDATE: Meantime, the image below has begun circulating on the interwebs: the man many in Buenos Aires know simply as "Father Jorge" taking the bus to work.