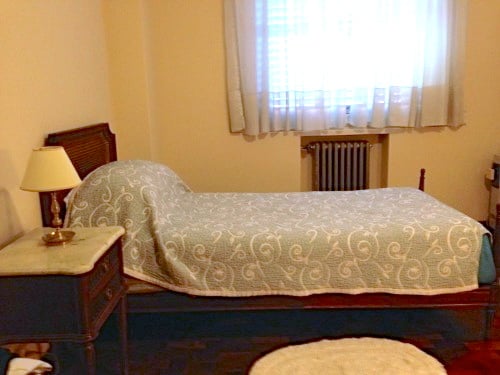 "A man drunk with God", the title (from the French) of the classic biography of Saint Sharbel by Fr Paul Daher, spontaneously comes to mind when listening to those who were close to Pope Francis when he was still the archbishop of Buenos Aires.

We are in the Archbishop's Palace in the Argentine capital. Thanks to a special concession and led by Episcopal Vicar Mgr Joaquin Succunza, the Maronite Patriarch, Card Beshara Rai, was able to visit the flat where the former archbishop lived: his bedroom, private chapel and office. Télé-Lumière, a Lebanese Christian TV network, was allowed to tape this exclusive visit.

Well-stocked bookcases stand behind the pope's desk. The bedroom has all the basic comforts, including a non-descriptive bed, but no TV or air conditioning. There is also a small private chapel. Together, they constituted the private quarters of the archbishop of Buenos Aires.

This explains why moving to Rome was such a trying experience, and why he chose not to live in the papal apartments on the second floor of the Apostolic Palace, but chose instead the humbler Santa Marta House.

Visitors who enter the bedroom are welcomed by a picture of Thérèse of Lisieux. Everything is there. The 'Little Way' that one of the most beloved figures of holiness in the modern world chose is also the one the pope chose for himself, a holiness that includes simple gestures and hidden heroism.

It was the archbishop's habit, when he came in and out of the room, to kiss the crucifix that hangs on the wall against a velvet background. On that same wall, visitors can see the impression left by the pope's hand as he kissed the cross.

On a shelf stands a statue of Saint Francis of Assisi, a model of poverty, simplicity and evangelical joy. The pope, who went to confession every week, modeled himself on this saint.

According to his staff, when the archbishop left for the conclave, he did so with a heavy heart, as someone who was saying goodbye, someone who knew that he would never see again the dear place where he used to rest.
Read more and see additional pictures here.