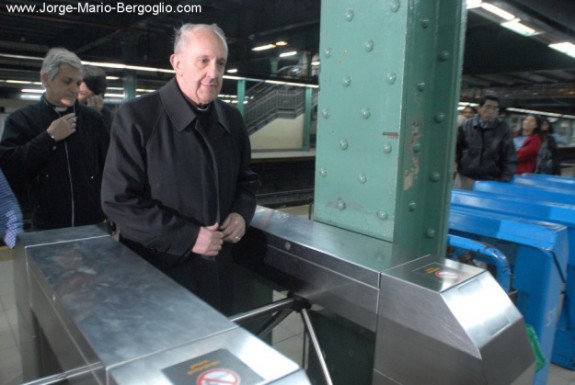 An excerpt from "Francis: Pope of New World" by Andrea Tornielli:
When he traveled, Jorge Mario—who likes to be described as "a priest who is happy to be a priest"—was inseparable from his date book, in which were written by hand the telephone numbers of his friends and acquaintances. And he always carried with him his Breviary, in which he preserves a letter and the testament of his grandmother, which were written before his priestly ordination, in case she died before the ceremony took place. "I am very attached to the Breviary", he explained in the book-length interview El Jesuita. "It is the first thing I open in the morning and the last thing I close before going sleep." Found among those pages is also the text of "Rassa nostrana", a poem in the Piedmontese dialect by Nino Costa.

At the request of the journalists Rubin and Ambrogetti, who were interviewing him, Bergoglio had opened the Breviary, taking out the letter from his grandmother for his ordination and reading it: "On this beautiful day on which you can hold in your consecrated hand Christ our Savior and on which a broad path for a deeper apostolate is opening up before you, I leave you this modest gift, which has very little material value but very great spiritual value."

Together with this letter, the grandmother, who nevertheless was able to attend the ordination of Padre Jorge, wrote also a little will and testament, which reads: "May these, my grandchildren, to whom I gave the best of my heart, have a long, happy life, but if someday sorrow, sickness, or the loss of a beloved person should fill them with distress, let them remember that a sigh directed toward the tabernacle, where the greatest and noblest martyr is, and a look at Mary at the foot of the Cross, can make a drop of balm fall on the deepest and most painful wounds."
Beautiful.