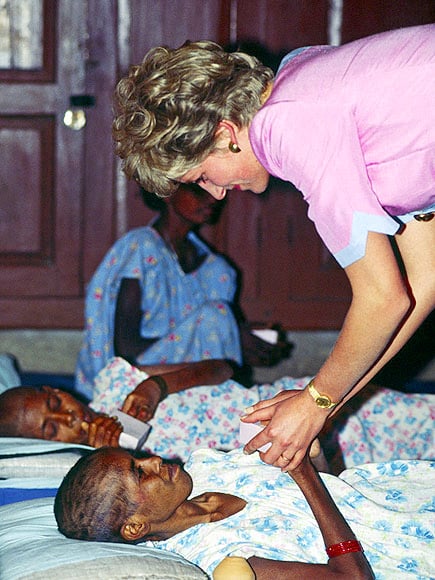 That's the provocative question at the heart of this piece over at CNN's Belief blog: 
There are obvious differences between a Catholic pontiff and a princess.

But watching Francis' first few months in office, it's hard not to notice that he seems to have taken a page from the late Princess Diana's playbook.

The Princess of Wales knew where she went, the media followed. Her activism brought global attention to homelessness, HIV/AIDs, and, most prominently, land mines.

Just as Diana ventured far from Buckingham Palace to wrap her arms around landmine victims in Africa and elsewhere, Pope Francis has taken the papacy out of the the Sistine Chapel and into the streets.

Through acts such as embracing a child with cerebral palsy, washing the feet of juvenile delinquents and celebrating Mass on a migrant island, Francis is using the power of his celebrity to bring media attention to dark forgotten corners of the world.

Spiritual life requires more than meditating and reading books, Francis says. Catholics and other people of faith don't need a "refresher course" to "touch the living God," he said.

"All we have to do is go out onto the street."

On the streets of Lampedusa the pope scaled back on the pomp to be with the migrants, many of whom were Muslim.

The Rev. Thomas Rosica, a Canadian priest close to the Vatican, said the pope had wanted to go to Lampedusa with just a small group, flying commercial.

"There was a simplicity to this that is not normally given to papal visits."

But challenging messages come with the pope's simple style.

While Francis was praying at the harbor, a tweet was sent from his @Pontifexaccount: "We pray for a heart which will embrace immigrants. God will judge us upon how we have treated the most needy."

The tweet was a 140-character shot across the bow at global leaders wrestling with immigration, most notably in Europe and the United States, said Rosica.

"I think he was giving a very clear signal to many countries, including the United States, about its outreach to refugees and all the blocks that are put it," Rosica said. "He's not just speaking as Jorge Bergoglio; he's speaking as the leader of the Catholic Church addressing the world."

The world has taken notice.