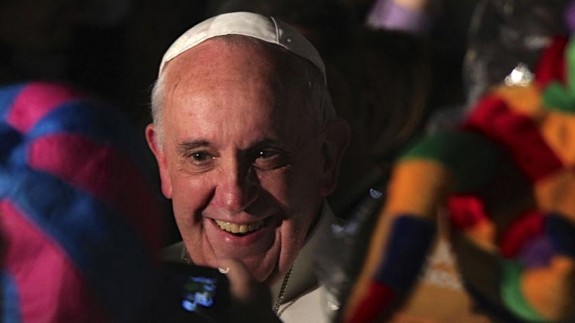 He filed this for the CNN Beliefs blog:
Francis was elected at 76, so he doesn't exude the animal magnetism of the early John Paul II, the last pope to command this kind of popular affection.

Elected at 58, John Paul delivered dramatic gestures like the actor he once was. For instance, he would kiss the ground of whatever country he was visiting, something Francis didn't do. John Paul would clap and stomp his feet during musical numbers, and at night he would pop out the window of his residence to tell jokes and boom out one-liners.

Francis has a more sedate charisma, allowing his smile, his genuine delight in meeting people, and his homespun wisdom to do the work.

During a visit to a Rio slum, for instance, he said the poor are often the most generous folk, quoting a Latin American proverb: "You can always add more water to the beans."

Francis may be a rock star, in other words, but not the "pump up the volume" sort. Think Simon and Garfunkel, not the Rolling Stones – or maybe Taylor Swift, not Lady Gaga.

If proof were needed of how much Francis has changed the storyline about the Catholic Church, consider that he'd been in the global spotlight for five days by the time Friday night rolled around, and no one had even raised the Church's child sexual abuse scandals until he did so himself.

Speaking at the end of a procession recalling Jesus' carrying of the Cross, Francis said Jesus is united with all who suffer, including those who "have lost their faith in the church, or even in God, because of the lack of consistency of Christians and ministers of the gospel."

Boston's Cardinal Sean O'Malley, a veteran of the Church's struggles with the abuse scandals who was in Rio for the pope's visit, said the scandals were "an aspect" of what Francis had in mind.

The veiled reference was a reminder of how much the scandals have hurt the Church. Yet the fact that they didn't cloud Francis' trip, as they likely would have for a different pope, was also a lesson in how much Francis has given the Church a new lease on life.