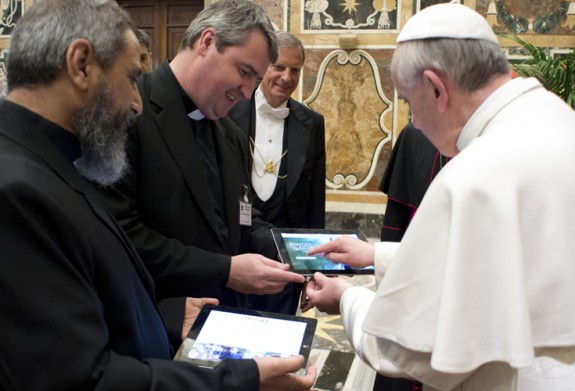 From columnist Tom Watson: 
Pope Francis – or @pontifex to his Twitter followers – has quickly become a social media phenomenon, adding five million followers since his installation six months ago. He is gaining more than 4,000 followers a day and knocking at the door of three million followers for his English language feed alone. He's got more than eight million total on Twitter, tweeting in Latin, German, Polish, Spanish, French, Portuguese, Italian and Arabic.

Small change, you say, for the 1.2 billion Roman Catholics worldwide? Perhaps in those terms – but I'd have to point out that what matters in social media isn't just raw numbers, but influence and engagement – including among non-Catholics – and the new Pope has them both.

And social media experts are noticing.

"Though Pope Benedict initiated the Vatican's use of social media, it is the new Papa that is taking on the mantle of Papal influencer," says Hart Hooton, president of the New York digital media consultancy Marketechnique [note: an occasional partner of the author's own consulting firm].

"Pope Francis has been doing things his own way, especially on social media: we've seen the first  Papal 'selfie' go viral, the papal Twitter account @Pontifex has risen by over five million followers in the past six months, the Pope's tweets are retweeted some 22,000 times on average, he's put news.va on Facebook and, even more incredibly, the first Papal promotion has seen the light of day — this Summer the Vatican offered 'indulgences' for followers of Papal social media and events online, this translates into time off in purgatory!"

That 22,000 retweets (across all the languages) for every short message the Pope sends out tends to get the social marketers and cause campaigners attention. That's the kind of engagement with a wide audience of influencers that can help change opinion. Of course, the Pope's widely reported remarks on gay people and atheists – and even the possibility of priests marrying – have shaken up the public perception of the modern Papacy, no small feat for a 78-year-old Jesuit. Unquestionably, Francis is a rising star on social media – especially among the politically active, social cause crowd.