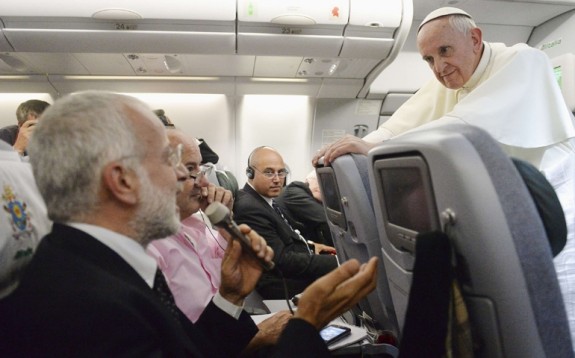 When Pope Benedict XVI answered a journalist's 2010 question about condom use by offering a nuanced reflection on the ethical complexities of a hypothetical case, his words led to a worldwide media sensation, a clarification by the Vatican spokesman, and a statement from the Congregation for the Doctrine of the Faith that the pope had not changed church teaching on contraception.

Three years later, papal interviews are still making news. Pope Francis, who during his time as archbishop of Buenos Aires was known for avoiding the press, has given three wide-ranging interviews in two months, drawing headlines and heated discussion with frank statements on sexual and medical ethics, Christian dialogue with nonbelievers, and reform of the Vatican bureaucracy, among other topics.

This time, however, the Vatican is letting the pope's words speak for themselves.

"This is a genre to which we were not accustomed," Jesuit Father Federico Lombardi, Vatican spokesman, told reporters Oct. 2, the day after Italian journalist Eugenio Scalfari published his account of a conversation with the pope. "Let's take it for what it is, seeking to interpret it correctly."

Catholics have traditionally heard or read a pope's words in certain authoritative forms: magisterial documents, such as encyclicals or apostolic exhortations, which carry the full weight of the papacy's teaching authority; canonical decrees with the force of church law; and homilies delivered at major papal liturgies.

In all such cases, Vatican officials ordinarily review the texts prior to delivery and provide official translations in major languages to reduce the possibility of ambiguity or confusion.

Pope Francis' addition to the magisterial, canonical and pastoral forms of papal communication, Father Lombardi said, is a genre that might be termed "conversational," comprising not only the pope's interviews with journalists but also his off-the-cuff homilies at daily morning Masses, of which the Vatican publishes only summaries with verbatim excerpts.

When the pope speaks spontaneously, his words should carry correspondingly less weight than in more traditional forms and contexts, Father Lombardi said. Yet lately the impact of the pope's statements has been inversely proportional to their official status.