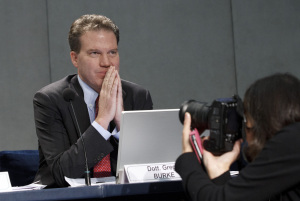 Carol Glatz at CNS has a blog post up today about how the Vatican's senior media advisor views the pontiff.
Former TV reporter Greg Burke describes the pope as "not politically correct," and goes on to list 10 important things to know about him.
1.Mercy — The story of the Prodigal Son is a recurring theme and the pope repeatedly says that God never tires of forgiving and welcoming his lost children back home.  "The church is waiting here for you with open arms," is the message, Burke said.

2. Moxie/courage — "We're all going to get challenged by Pope Francis. Get ready!" People who live comfortably or live in developed nations will be especially challenged, Burke said, adding, "This is good. This is the Gospel."

3. Margins, missions — Francis is continuing with his predecessors' criticism of a world divided by haves and have-nots. The pope "is not a fan of cheap grace and feel-good religion. He wants to see Christians who are not afraid to get their hands dirty," Burke said.

4. Prayer — Non-believers often don't notice how important prayer is for religious life. For example, Blessed Mother Teresa was often looked upon by the secular press as "a social worker wearing a habit." But, Burke said, the pope has constantly been stressing the importance of prayer and urging people to pray.

5. Encounter — The pope is asking people to embrace a "culture of encounter" where they experience God and meet with others, including non-believers. This attitude of encounter and communion also starts at home, with your family, Burke said.

6. Joy — The pope "gets a thumbs' up on that," he said, as he's able to show his joy so plainly. He said that according to Pope Francis, the biggest dangers and temptations in life are "discouragement, discord, the doldrums and the devil."
That's just for starters. Read the rest.