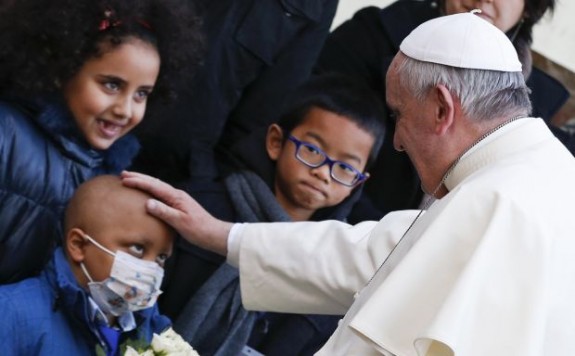 Some intriguing insight on Pope Francis and his personal imprint on Christmas, from the always-worthwhile John Allen in NCR:
In his brief speech to the Roman Curia on Dec. 21, Francis stressed the importance of a spirit of service in the Vatican, saying that without it, the place becomes no more than a "ponderous bureaucratic customs house."

He charged Vatican officials with striving to ensure that their work is animated by dedication to service, especially to local churches around the world, rather than constantly "inspecting and questioning" others.

Later that afternoon, Francis provided a new visual of what a spirit of service looks like by spending almost three hours visiting sick children and their families at Rome's Bambino Gesù hospital.

It's worth observing that the vigil Mass Christmas Eve lasted a little over an hour and a half, while the Urbi et Orbi address on Christmas Day, "to the city and to the world," took under an hour. Francis devoted more time to the Bambino Gesù outing, therefore, than to any other single activity on his calendar during the Christmas season.

While photographers and TV cameras were permitted to get images of the pope arriving and departing, the rest of the visit was off-limits, so coverage was largely dominated by young patients and their families talking about what the pope's presence meant to them. In the end that actually made the story more powerful, transporting it out of the realm of a mere photo-op.

There was another glimpse of the pope's special fondness for children at the end of the vigil Mass, when a group of youngsters, representing the five continents and had given him the Christ child for the nativity set, were presented to him. Francis delayed the closing procession for a few moments while he chatted with the kids and embraced them.

Fundamentally, what Francis seems to want to accomplish is to recalibrate public impressions of leadership in the Catholic church. When people see the insignia of office in the church, such as Roman collars and pectoral crosses, he wants them to associate those symbols with service rather than power.

Much of his first nine months has been about setting that tone, and it ran through his approach to the Christmas season.
There's much more. Read it all.