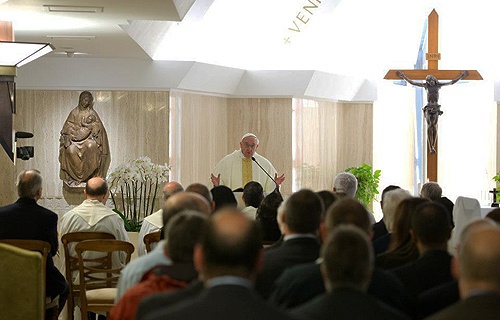 From the new year a handful of Romans will be invited to celebrate morning mass with the pope inside the Vatican.
The 77-year-old pontiff is well-known for embracing the young, old and disabled when they gather in St Peter's Square, or picking up the phone to make personal calls to individuals or families in distress.

As the pope is also formally recognised as the bishop of Rome, he will have the chance to get to know the Catholics closest to him.

In another first, around 30 people will be selected from Rome parishes chosens on a rotational basis to attend mass in the intimate chapel inside the Santa Marta residence where the pontiff lives next to St Peter's Basilica.

He celebrates mass there every morning but this is the first time members of the public will be invited to share the pope's daily ritual on a regular basis.
Italian churches have reported a rise in the number of faithful returning to church since the Argentinian-born pope's election in March, but Francis has so far made only two visits to local parishes in the Italian capital.

Vatican media spokesman Father Federico Lombardi told The Telegraph on Thursday the pope was likely to visit another Rome parish early next year and attend services at the major basilica, St Paul Outside the Walls, during the week of Christian unity on January 25 but the details were still being decided.