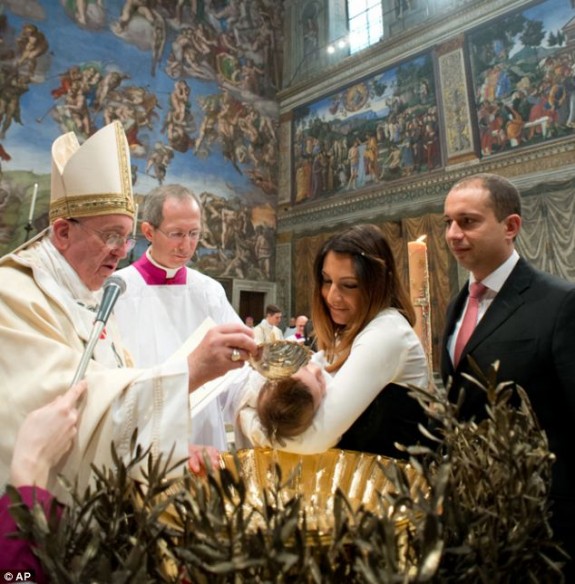 Some eyebrows (and some blood pressures) shot up on the news that Pope Francis had baptized a baby yesterday whose parents were reportedly married civilly, but not sacramentally.
To wit:
Among the baptized – according to the report in the daily "Il Tirreno" – there is also Giulia, caught of a couple married civilly but not in church.  And this is certainly a novelty.  Not for Bergoglio, who as a priest, bishop and cardinal baptized babies of teen mothers or unmarried couples many times.  Giulia's parents, last 25 September, had made their request to the Pope directly at the end of the Wednesday general audience.  "We were on the 'sagrato' (the 'porch' in front of the Basilica)", Ivan Scardia recounted, the father of the baby, "when he passed by and we asked him if he could baptize our second child.  He told us to get in touch with his collaborators and then they contacted us." When the time came to send in the documents there was a glitch: "We were married at city hall.  But this problem was also overcome," Giulia's father said.
Canon lawyer Ed Peters wrote:
The whole question of whether to baptize the baby of these parents surfaces a yet deeper question.

The only reason we describe this civilly-married Catholic couple as "unmarried" is because they apparently did not observe "canonical form" in marrying, that is, they did not marry 'in the Church' as required by 1983 CIC 1108, 1117. Now think about this: had two Protestants, two Jews, two Muslims, two Hindus, two Animists, two You-Name-Its, otherwise able to marry, expressed their matrimonial consent before a civil official, we Catholics would have regarded them as presumptively married. But, when two Catholics (actually, even if only one were Catholic, per 1983 CIC 1059) attempt marriage outside of canonical form, the Church regards them as not married at all. That's a dramatic conclusion to reach based only on one's (non)observance of an ecclesiastical law that is itself only a few hundred years old.

For more than 50 years, a quiet undercurrent of (if I may put it this way) solidly Catholic canonists and theologians has been questioning whether canonical form—a remedy that nearly all would agree has outlived the disease it was designed to cure (clandestine marriage)—should be still be required for Catholics or whether the price of demanding the observance of canonical form has become too high for the pastoral good it might serve.

Canonical form is an immensely complex topic. It has huge ramifications in the Church and it has major reverberations in the world. I am not going to discuss those here. But if the upcoming Synod on the Family and Evangelization is looking for a topic that needs, in my opinion, some very, very careful reconsideration, that topic would be the future of canonical form for marriage among Catholics. There is still time to prep the question for synodal discussion.
For my part, I think there is too much that we just don't know about this situation.
We don't know if "this problem was also overcome" means that the parents had their marriage convalidated before the baptism.
We don't know the circumstances that led to the civil (rather than sacramental) marriage in the first place.
We don't know what discussions took place between this couple and the Vatican officials who arranged the baptism.
Ultimately, it is left to the prudential judgment of the minister—priest, deacon, bishop or pope—to decide if there is "founded hope" that the child will be raised Catholic. It's open to debate. A significant number of families who meet with me to arrange baptisms at my parish have not been married by a Catholic priest. I try to find out why, determine what we can do to resolve that situation, and seek assurance that they are serious about their faith and serious about giving the child a Catholic upbringing.  After that, it's in the hands of God.
When I began doing baptisms, I asked a priest how to handle couples who are unmarried. He put it very simply: "It's not the baby's fault."  You shouldn't deny the sacrament to a child, he explained, because of the parent's sin. Ask questions. Use common sense and discernment and your gut.
And I might add, as another priest once put it: "When in doubt, give it out." Sometimes, it's best to let the grace of the sacrament take root.
You never know what God has in store.
UPDATE: John Allen notes: 
According to La Stampa, this was the first time a child from an "irregular" marriage was baptized in a public papal Mass. The parents, Ivan Scardia and Nicoletta Franco, told reporters they had been at a General Audience on Sept. 25 and asked the pope if he would baptize their second child, and he accepted.

To be sure, there's no bar against baptizing such children. Canon 868 states only that for a baptism to be licitly performed, there has to be a founded hope that the child will be brought up in the Catholic religion.

More generally, church law states that the faithful have a right to the sacraments and there has to be a good reason to withhold them.

That said, it's easy to imagine that under other circumstances, there would have been resistance to the idea of the pope himself performing such a baptism in a public setting based on concern that it might blur church teaching on marriage.

The choice by Francis to forge ahead was utterly consistent with his practice as archbishop of Buenos Aires, Argentina. Then-Cardinal Jorge Mario Bergoglio criticized priests who declined to baptize the children of unwed mothers in 2012.

"These are the hypocrites of today," Bergoglio said, "the ones who clericalize the church, who keep the people of God from salvation.

In effect, the pope's baptism Sunday profiles as another gesture intended to underline the priority of mercy.
Meanwhile, in other "when in doubt, give it out" news…Francis also had a few things to say yesterday about nursing in church: 
Pope Francis assured mothers that breast-feeding their babies in public, even during a papal Mass in the Sistine Chapel, is OK.

No chorus is as wonderful as the squeaks, squeals and banter of children, the pope said during a Mass in which he baptized 32 babies on the feast of the Baptism of the Lord, Jan. 12.

"Some will cry because they are uncomfortable or because they are hungry," he said during his brief and unscripted homily.

"If they are hungry, mothers, let them eat, no worries, because here they are the main focus," he said.

One of the mothers, Emer McCarthy, an Irish journalist at Vatican Radio, told Catholic News Service that while most of the other mothers had brought baby bottles for feedings, she did not hesitate to breast-feed her daughter, Polly Rose, discreetly during appropriate moments during the ceremony.

She said she hoped the pope's encouragement would help overcome social taboos against breast-feeding in public.

"Who would have thought the pope would be this great proponent," she said.