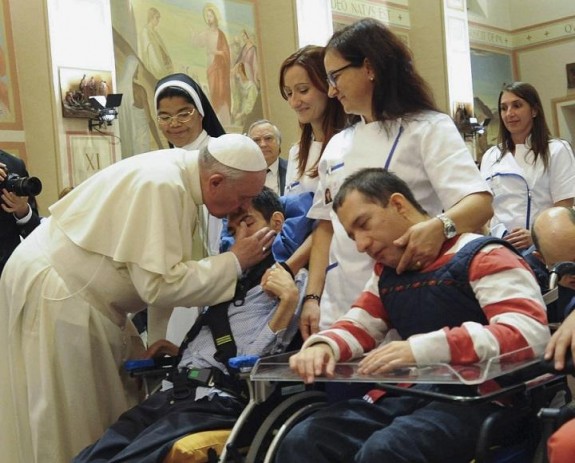 From writer and activist Timothy Shriver, who notes that the pope is challenging everyone:
When he invited the homeless to his home for his birthday, Francis was calling on the world to end the gulf that separates those who have from those who have almost nothing. To do so, the guest list at almost every party in Washington would have to change. Those who have no need for power over others should have an urgent longing to welcome those who are victims of power. Most of us have a lot of work to do to achieve that level of solidarity.

The initial praise for Francis may not endure. Prophets often enjoy popularity until people hear the full depth of their challenge. People on the political right are already distrustful because the pope, like many mystics, seems to be abandoning certainty and trusting in the spirit that "blows where it will." Order and control are at risk. The layers of conformity are being peeled away and what might emerge is uncertain.

But the left should be equally nervous because the spirit also invites a firm faith in the divine. It is not elitist. It is not arrogant. It does not come with doctorates in policy and economics and the sciences. It dethrones every kind of power. Its only principle is life—the more vulnerable the more beautiful. It only makes sense with an embrace of faith.

It is that faith in the goodness of God and that freedom in the spirit that are at the heart of Francis' example—the man of God who embraces those with disabilities, those with no home, those who are strangers among us. Beware, lest we miss the full challenge to each of us of a faith like his.