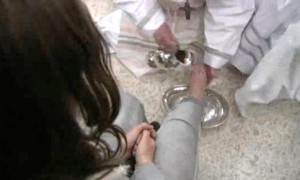 And yes, for those who are wondering: the Holy Thursday evening Mass and foot washing will again take place away from St. Peter's, and will be private.
From CNS: 
Pope Francis' calendar of liturgical services for March and April — including Holy Week and Easter — includes the addition of a Lenten "penitential service," but does not say where he will celebrate the Holy Thursday Mass of the Lord's Supper.

Last year, Pope Francis moved the Holy Thursday evening Mass and foot washing ritual from St. Peter's Basilica to Rome's Casal del Marmo juvenile detention center where he washed the feet of young offenders.

Jesuit Father Federico Lombardi, Vatican spokesman, said the pope once again will choose a "special situation from a pastoral point of view" for the setting of his Holy Thursday Mass. The location will be announced later, but it will not be a Mass open to the public, he said.
Check out the schedule so far here.