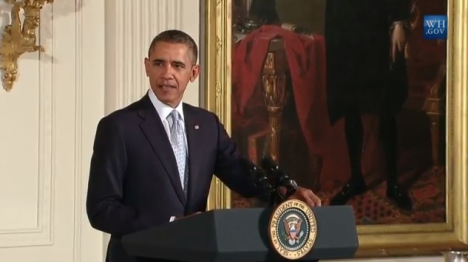 President Barack Obama praised Francis during an Easter prayer breakfast at the White House, April 14.
In his remarks, the president said he felt the spirit of the hope of the Resurrection and of following Jesus when he met Pope Francis on Mar. 27 at the Vatican.

"Those of us of the Christian faith, regardless of our denomination, have been touched and moved by Pope Francis," Obama said.

"Some of it is his words — his message of justice and inclusion, especially for the poor and the outcast. He implores us to see the inherent dignity in each human being," Obama said.

"But it's also his deeds, simple yet profound — hugging the homeless man, and washing the feet of somebody who normally ordinary folks would just pass by on the street. He reminds us that all of us, no matter what our station, have an obligation to live righteously, and that we all have an obligation to live humbly. Because that's, in fact, the example that we profess to follow."

Obama cited a passage of Pope Francis's apostolic exhortation "Evangelii Gaudium" ("The Joy of the Gospel"), published last November. The pope gave the president a copy.

"'Christ's resurrection,'" he writes, "'is not an event of the past; it contains a vital power which has permeated this world.' And he adds, 'Jesus did not rise in vain. May we never remain on the sidelines of this march of living hope!'"

Participants at the breakfast included Washington Cardinal Donald W. Wuerl, bishops of several other denominations, as well as other ministers and faith-based activists. One table was filled with teens who are part of Esperanza Academy, a faith-based mentoring program in Philadelphia.
And you can also check out the complete text of the president's remarks at the White House website.