Deacon Bill Ditewig, in Rome for the canonizations, found the most important spot in the Eternal City: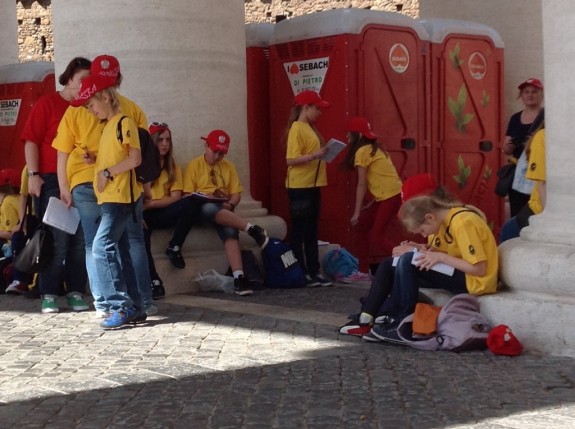 Bill will be blogging in the days ahead. His first impressions:
I'm sitting at the base of one of Bernini's great columns waiting for a deacon-friend to arrive from the Netherlands.

Sitting near me, the next column over, is a group of young Polish students. For the last hour they have been sitting quietly writing in their journals about their experiences. Wouldn't you love to read what they're writing?

The Roman traffic today didn't seem too different from the norm, except that the times posted at the bus stops have long since gone from pleasant, civilized suggestions to complete fictions! And then we turned onto the Via della Conciliazione! Unbelievable! Where taxis used to queue is now blocked off, largely by press vans. The taxis are now ranked up and down the street. There are huge lines getting into the shops and cafés.

My one task for the day was to pick up the credentials needed to assist with Communion during the Canonization Mass on Sunday. That involved getting to the Vicariate of Rome, finding the right office, presenting the necessary documentation — all before the deadline, which was noon! I'm happy to report that the mission was accomplished, and I have those invaluable papers and the instructions that go along with them. More details to come.

There's great excitement in the air. Reporters are everywhere, getting interviews. In fact, my young Polish friends were just led off to give an interview themselves. Images of John XXIII, John Paul II, and Pope Francis are everywhere.
And visit the blog periodically for updates. Triple DDD will have a front row seat for history, and I'm sure he'll have fascinating tales to tell.